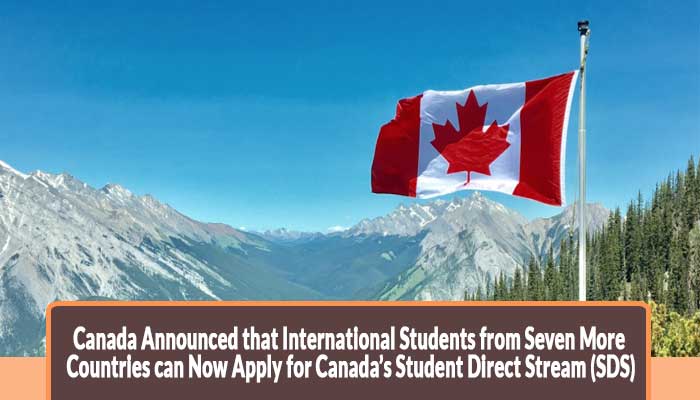 Canada has expanded the number of countries from which international students can apply for the Student Direct Stream (SDS).
This three-year-old program greatly benefits post-secondary students who wish to study in Canada, since it expedites the application procedure for study permits.
"The global pandemic has caused disruptions and distress for everyone, including international students. By expanding the Student Direct Stream to a more diverse range of prospective students, we have great optimism that international education will recover, and indeed flourish, as Canada emerges from the pandemic," said Immigration Minister Marco Mendicino.
Names of the countries covered by SDS
Immigration, Refugees and Citizenship Canada (IRCC) launched the names of the countries covered by SDS. Pakistan was added in the list in 2019.
India

Philippines

China

Vietnam

Pakistan

Morocco

Senegal

Antigua and Barbuda

Brazil

Colombia

Costa Rica

Peru

St. Vincent and the Grenadines

Trinidad and Tobago
Document Requirements by the Applicants
In 2019, the IRCC awarded over 16,000 study permits to applicants from the seven countries currently covered by the SDS, including about 10,000 from Brazil and 4,400 from Colombia.
The applicants are required to provide some documents, these documents include,
Result of their English and French language test.

You will also need to provide a proof that you have an access to the Guaranteed Investment Certificate with an amount of $10,000 in it, which will demonstrate that you are financially secure enough to finance your studies and yourself while in Canada.

You must also have completed an immigration medical exam and provided your biometrics before applying.
Travel to Canada amid the Pandemic
The Canadian Government has notified all the international students that they will have to strictly follow the Covid-19 readiness plan prepared by their respective College or University.
They must have to follow all the Covid-19 precautionary guidelines. Although Vaccination is not made compulsory for international students in Canada right now but the Government has suggested that all students who plan to travel to Canada for studies should get vaccinated so that they can enjoy the university life freely.
Students are also require to submit their quarantine and vaccination plan before their arrival to Canada, and those who are fully vaccinated and meet Canada's criteria of a fully vaccinated person will not be required to quarantine upon arrival.
For international students, Canada is a prominent study destination. International students contribute significantly to the country's economy. The Immigration Minister Marco Mendicino, speaking on how Canada has become a study hub for international students, stated that "Our country's diverse and inclusive society, high-quality educational institutions and opportunities to work or immigrate after graduation have made Canada a leading destination of choice for students from around the world."
X
FREE STUDY ABROAD

Free study abroad expert advice