Free Study abroad Seminar at Marriott Karachi 26th January 2019!!!
Saturday —January 12, 2019

163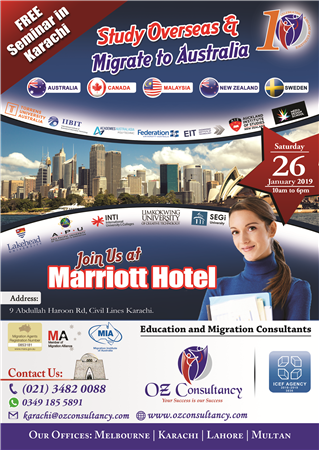 Free Study abroad Seminar !!!
OZ Consultancy is inviting you to attend FREE seminar on Saturday, January 26, 2019 from 🕙 10 a.m to 🕕 6.00 pm at Marriott Hotel. Do visit our seminar to know your possible study options in Australia, Canada, New Zealand, Sweden and Malaysia.
For details please contact us @ 0349 1855891
Register yourself today by filling our free online form; https://lnkd.in/gVQtiXv
Countries

Pakistan

Australia

Canada

Malaysia

New Zealand
Education Levels
Matric
Intermediate
Bachelor's
Masters
MPhil
PhD
Diploma
Consultant Info
X
FREE STUDY ABROAD

Free study abroad expert advice