GET MONEY BACK GUARANTEED VISA TO MALAYSIA THROUGH OZ CONSULTANCY!!!
Saturday —February 09, 2019

78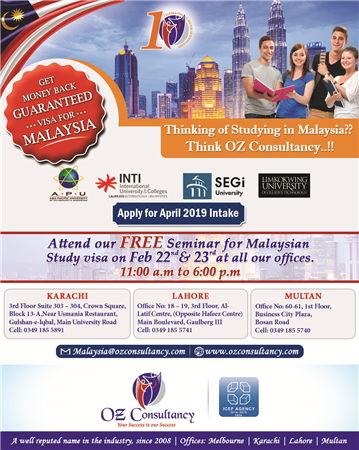 Attention Folks!!!
Have you missed our recent seminars?
Don't worry, Now attend our FREE Malaysian study visa seminar at our offices on 22nd and 23rd February 2019.
Do Visit our office to get "MONEY BACK GUARANTEED VISA FOR MALAYSIA".
Admissions open for April 2019 Intake!!!
For details please contact us at 0349-1855891
Countries

Pakistan

Malaysia
Education Levels
Matric
Intermediate
Bachelor's
Masters
MPhil
PhD
Diploma
Consultant Info
X
FREE STUDY ABROAD

Free study abroad expert advice