Monday —December 23, 2019

1653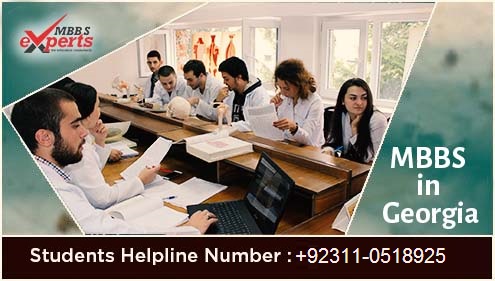 Introduction About Medical / MBBS Education in Georgia
Excellent Medical education in Georgia attracts many students every year from all over the world. Gradually it has become a booming hub especially for MBBs students. Due to finest quality education the student teacher ratio is 7:1 here. Study MBBS in Georgia because the simple admission method has made this country different from others. The top notch medical universities in Georgia offer 6 years of MBBS education that facilitates 1 year of internship in government hospitals. The intensive medical training helps the students to enhance both their interpersonal, professional career. The universities of Georgia rank among the top 10 universities in the world. It makes this country a home of renowned academicians, researchers and many medical scholars.
The fee structure of MBBS in Georgia is quite affordable here when compared to others. The students have to pay 4000-6000 USD as fees in MBBS from Georgia. Living cost of this beautiful country costs approximately 250-300 per month. MBBS universities in Georgia are recognized by leading medical bodies like FAIMER, WHO & PMDC. It ensures you with global acceptance of your medical degree from this country. Georgian medical universities got its ranking for excellent education system. This country has ranked 30th among the top 100 ranking medical universities.
Georgia MBBS Education System
| | |
| --- | --- |
| Degree Offered | MD (Equivalent to MBBS in Pakistan) |
| Program Duration | 6 Years |
| Eligibility Criteria | 12th (55% in Physics, Chemistry, Biology) |
| Entrance Test | Not Required |
| Tuition Fees | 4000 USD to 6000 USD per year |
| Accommodation, Food etc | 3000 USD per year (can be changed if required) |
| Medical Universities approved by | PMDC (Pakistan), WHO & other bodies |
| Teaching Medium | English |
Recognition of Georgian Medical Universities
Many of the medical universities in Georgia are recognized by following medical bodies in Pakistan and around the world:
PMDC (Pakistan Medical & Dental Council)
WHO (World Health Organization)
Ministry of Education, Georgia
WFME (World Federation for Medical Education)
ECFMG (Educational Commission for Foreign Medical Graduates)
FAIMER (Foundation for Advancement of International Medical Education and Research)
Courses Offered by Georgian Medical Universities
MD Program (equivalent to MBBS in India)- 6 years (includes 5 years of Academic studies+ 1 year of internship): The 6-Year MD Program follows US medical curriculum and USMLE, a medical licensure examination for medical licensure in the United States. The entire program is in English Medium.
Dentistry Program (5-Years Program): The 5-Years Dentistry Program introduces students with the fundamentals of oral medicine, diagnosis and radiology. It is a remarkable opportunity for students to get in direct admission after schooling.
Bachelors in Pharmacy (4-Years Program): The 4-Years Pharmacy Program, introduces the students with the next-level medical sciences, evidence-based medicine and familiarising students with the administration of important drugs and their mutual side-effects.
Bachelors in Nursing (4-Years Program): The 4-Years Nursing Program introduces students to the real- world of medicine by taking care of patients, diagnosing the problem of patients and providing proper medication.
Benefits of MBBS in Georgia
Looking to study MBBS abroad? Georgia has emerged as the top-notch destination for Pakisani & other Asian medical aspirants/students. Some of the perks of studying medical in Georgia are:
Globally recognized medical universities
Affordable tuition fees
English being used as the medium of teaching.
No cumbersome procedure of admission
Some of the universities in Georgia are amongst the top-rated universities.
The admission procedure is quite simple.
There are no entrance exams for MBBS admission in Georgia.
Less chances of visa rejection.
Universities in Georgia are WHO and PMDC of Pakistan recognized.
The medical syllabus is an amalgamation of both theoretical and practical knowledge.
The living cost is economical as well in Georgia.
The hostel facilities, labs, research and accommodation facilities are perfect.
There is no requirement to qualify English language exams like TOEFL, IELTS, PTE and others.
There is remarkable international exposure, highly trained and skilled professors.
There is an option of paying in instalments
Intake for Pursuing MBBS In Georgia
MBBS classes in Georgian medical universities usually commence in last week of September or October. Generally, the admission process begins from August. Candidate must keep in mind that the seats are limited and admission is done on first come first serve basis.
Therefore, a candidate must apply for MBBS course as early as possible i.e. in July or August
Fee Structure for MBBS in Georgia 2020
Fee structure in Georgia is lesser when compared to other countries. The cost of living in Georgia is reasonable which may vary owing to individual lifestyle. The medical universities assimilate the students with the skills required in carving out a niche for their successful career in healthcare sector.
The culture in Georgia is greatly influenced by Roman, Greece and Russian empires. The country is famous for its films, music and dance. The medical admissions in Georgia are not difficult anymore. Students must have zeal to study and choose university of their choice to pursue their goal.
Amenities Offered
Hostel Facility: Proper provision for the accommodation of the students is provided. Rooms are well equipped and cleanliness is taken care of by the hostel authorities.
Transportation: Georgia basically incorporates road, air, rail and waterways mode of transportation. The university authorities are keen enough to pick-up the students as they arrive for the first time.
Food: There is a provision of cafeterias and mess provided by the universities. The food is a perfect blend of different cuisines which includes Pakistani & Indian cuisine as well for the Asian students. Medical aspirants from Pakistan can relish the Sub Continent cuisine and can fine-tune in Georgia.
Eligibility Criteria for Studying Medicine in Georgia
Medical aspirants who want to pursue MBBS from Georgia must fulfil following eligibility criteria:
IELTS/TOEFL isn't a necessity in maximum Georgian Universities, but some of universities make it mandatory for overseas students.
Student must be 18 years or more.
Completion of 12th from a regular board with 55% marks minimum
Student must have scored at least 55% in class 12

th

with Physics, Chemistry and Biology as main subjects.
No long study gaps are accepted, students must be under 21/22 years
Document Required for MBBS in Georgia
For the benefit of Pakistani students, the communication in medical courses in Georgia are entirely in English. It is mandatory to submit 12th standard marksheet. Student must qualify the intermediate from a recognized board inside Pakistan.
You are required to submit following documents before enrolling for Georgian MBBS:
Health and Travel Insurance.
10

th

and 12

th

Marksheets
Valid Passport and Visa.
Birth Certificate (in English).
Six passport size photographs with white background.
Six-month bank statement of parents/guardian.
Letter of Authorisation
No Objection Certificate.
Sponsor Letter.
Apart from above mentioned documents, each medical college in Georgia may require some individual documents.Georgia is famous for its master's degree program as well, as the universities here aim at academic excellence and thereby developing competent doctors. Medical students here target for working towards contributing improved quality health care amenities.
Reviews About MBBS in Georgia
Georgian medical universities have a positive review from all over the world.
Georgia is one of the countries that has successfully achieved almost 100% of literary.
It is indeed considered to be one of the perfect places for medical study in the world.
Medical universities in Georgia are amongst the premium and one of the finest options for students who wish to pursue MBBS abroad.
Students who have studied in Georgia says that the admission process is easy and straightforward.
There is no requirement of any entrance test and the admission is done on the basis of 12

th

class marks, minimum 55%.
Georgian MBBS further enhances the ability of the students as they can directly apply for the screening test to obtain license for practice.
The high-quality education offered by the Georgian universities with reasonable cost make it the hub for MBBS students.
The amenities and services offered by the universities are world-class and they have a worldwide recognition as well.
The students opting for Georgian MBBS are eligible to work in any part of the world.
Why Study MBBS in Georgia?
The survey and the statistics highlight that Georgia is among top 10 safest countries athwart the globe.
Georgia is considered to be one of the outstanding places in terms of living standards and harmony of life.
There is a variety of choices for students to lead a pleased and comfortable life that too within budget.
The crime rate is very less even though Georgia is a democratic republic. Indeed, Georgia provides a secure environment for the students.
Georgia offers a multicultural society and welcomes all the overseas students realizing the importance in the world's economy.
The universities in Georgia offers countless employment opportunities for the students featuring some of the top medical universities in medicine.
When compared with other countries like USA and UK then Georgia is almost 2 to 3 times cheaper. Therefore, Georgia is considered as a seamless place for students who wish to pursue MBBS from Georgia medical universities.
Georgian medical universities fundamental aim is to imbibe excellence and expertise in all the students.
Georgian universities adhere to the quality standards set by UNESCO and WHO.
The medical universities in Georgia are recognized globally thus opening up new avenues for the students who study in Georgia.
Medical education from Georgia is a sure shot win game for the Indian aspirants who wish to study MBBS.
PG Options in Europe/ UK / USA after MBBS in Georgia
There are many students who wish to practice medicine and settle in the USA after completion of MBBS from Georgia. Other students attempt to pursue postgraduate course from Pakistan after getting a medical degree from Georgia. If a student has studied MBBS/MD from Georgia then fortunately many opportunities are opened around the world like:
Eligibility for USMLE to practice
Study PG courses in the US
Qualify PMDC Screening Test and become eligible for pursuing higher education from Pakistan in the field of medicine
Once a student has obtained a MBBS degree from Georgia then he/she is eligible for appearing in any international medical entrances.
Some Pakistani & Asian students take a bolder step and give an opportunity for choosing PG course from Germany.
About Georgia
Georgia is an independent state in Caucasus region in Europe. The country is situated at the crossroads of Western Asia and Eastern Europe surrounded by bank sea from west, Russia from north, Turkey and Armenia from south and Azerbaijan from southeast.
The capital of Georgia is Tbilisi. Georgia covers a territory of 69,7000km and its population ranges to almost 4.7million. Georgia has amazing culture, religions and mesmerizing landscapes with ancient history.
Georgian is the language of Georgia and is considered as one of the oldest languages in the world.
The food and the living expense in Georgia do not exceed over $300. The food expense also depends on the food habits of an individual. Sharing of a room with other students can also reduce expenses to a certain limit.
The Global Peace Index highlights that in terms of safety, Georgia ranks at the 85

th

spot which itself says it all.
| | |
| --- | --- |
| Language | Georgian |
| Currency | Georgian Lari |
| Population | 4.7 million (Almost) |
| Religion | Orthodox Christianity (Approx. 80%) |
Climate of Georgia varies from rainy on the coast side and western plain, continental and arid in central and inland areas and colder in the mountains.
Exchange Rates Georgian Lari is the currency of Georgia. The currency rankings highlight that the most popular Georgia Lari exchange rate is USD to GEL rate. GEL is the currency code for Lari.
Pakistan is 2 hours ahead of Georgia.
The travel time from Islamabad,Pakistan to Tbilisi, Georgia is 10 hours 30 minutes.
MBBS Experts Pakistan Services for Medical Studies in Georgia
We extend our helping hand to students with our following services for MBBS/Medical courses in Georgia:
We try to broaden the student's perspective by providing them with reliable and authentic study material, notes, FMGE Test Series in order to make sure that students excel in their studies.
We make it a point to enable counselling for the medical students abroad in order to motivate them that they have chosen the right choice. This makes us best in the educational sector.
For Pakistani medical students, we always assist them in attaining the best in class education by extensive knowledge, research, expertise which makes them feel they are at one of the most prestigious medical universities in Georgia.
We assist the students in selecting the right university from the list of medical universities which are cost-effective and leading when MBBS in Georgia is concerned.
We encourage the students to choose and take admission in some of the top-ranked, PMDC and WHO recognized medical universities in Georgia from which they can pursue MBBS.
Starting from the documentation work, VISA application formalities which includes stamp from Embassy & Ministry, translation of academic documents, notarisation we are keen to assist the students in every way we can. We make sure that the students get zero rejection of VISA issue.
For the secure travelling coupled with travel insurance, suitable and comfortable accommodation abroad, our study Europe Consultants work hard to make all this happen.
For the students who have completed there MBBS degree from Georgia or elsewhere, we offer our counselling programs to motivate them to continue their Post-Graduation program in medicine.
We do an entire research and provide the students with complete information on PG programs in Medicine which the various medical universities are offering around the world.
We work to attain that trust that is required in the admission process of the candidate so that they can attain MBBS degree from abroad. We are also the authorized representatives of PMDC / WHO approved medical universities in Georgia for all the students who wish to pursue their MBBS from Georgia.
Countries

United Kingdom

Australia

Canada

United States

Cyprus
Education Levels
Bachelor's
Masters
MPhil
PhD
Diploma
Consultant Info
X
FREE STUDY ABROAD

Free study abroad expert advice