Wednesday —February 05, 2020

1368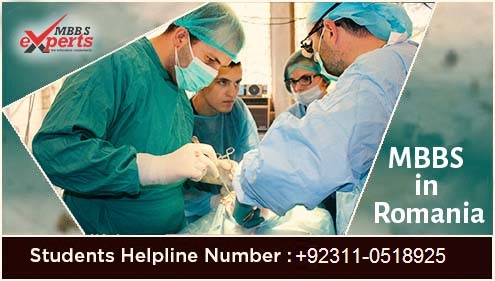 Medical Education in Romania -
Now a days, many countries offer high-quality medical education at very affordable prices but Romania has become the preferred country for MBBS Studies. The students from various countries including Pakistan are willing to study MBBS in Romania at a low expense.
The universities in the country are approved by the major organizations like WHO and enlisted with PMDC. The affordable expenses make MBBS in Romania accessible for all categories of the Pakistani medical students.
Romania has become one of the hottest destinations for MBBS study among the aspiring medical students in the country because of the many advantages it provides to its international students. Contact us for the admission assistance for MBBS from Romania right now!
Why Choose Medical Universities in Romania for MBBS Program?
No entrance exams for admission to MBBS course
Duration for medicine study is 6 years
Tuition fee for study medicine is PKR 8.5 lakh approx. per annum
Medical Universities in Romania are recognized by PMDC/Pakistan along with WHO
Quality of education is higher
Medical certificate is valid worldwide
Hassle-free admission process
Simple eligibility criterion
Minimum documentation
Easy visa and admission
Medical - MBBS Education In Romania / Key Features
| | |
| --- | --- |
| Intake | Sept / October |
| Percentage in FSC | 65% in Pre Meical |
| Entrance Test | No |
| Fees Structure | 4500 – 7500 USD Per Year |
| Hostel | 200 to 260 USD Per Month |
| Duration | 6 Years |
| Medium of Instruction | English |
| Admission Start Date | April/May each year |
| Recognition | PMDC and WHO approved |
Eligibility Criteria for MBBS in Romania
The medical aspirants needs to follow the eligibility criteria for Study MBBS in Romania.
The age of the Medical aspirants should be at least 18 years
The candidate's age should not exceed 25 years before 31

st

December
The medical seekers need to complete 10+2 examination along with the 65 % marks.
The candidates do not have to give any language proficiency test for Romania MBBS
The candidates must be from science background to get admission in Medical Universities in Romania.
The candidate must read Physics, Chemistry, English and biology from the recognized board.
Advantages of Studying MBBS in Romania
The MBBS aspirants from Pakistan are attracted towards Romania for higher education in medicine. MBBS in Romania is a top choice for all the international students.
They provide ample number of advantages to the students as mentioned below:
The universities of Romania are authorized by the foreign authorities such as World Health Organization (WHO), British Medical Council (BMC), Medical Council of European Countries (MCEC), United States Medical Licensing Examination (USMLE) and the PMDC (Pakistan).
The language used in universities of Romania for teaching is English which is quite comfortable for the entire student to understand and to be understood. English is used as a language of communication.
In addition to this, the local language taught to all the international students, so that the students can properly treat the patients locally during the internship.
The duration of MBBS in Romania is of six years which includes five years of clinical study and one year of internship. It maintains a right balance between the theoretical knowledge and how to apply the theory practically.
The eligibility criteria are quite clean and clear. The candidate must clear 12

th

standard with the medical stream and scored 65% in it.
The session for MBBS in Romania commences in September. So, it is recommended to start the application process in April/May after completion of senior secondary. Moreover, the admission seats will be allotted on the basis of First Come, First serve basis.
The universities of Romania are equipped with the best medical equipment. Apparatus such as Spectrophotometer with UV radiation, microscope that coordinate with a camera, CT scan instruments, radiology and many more. Professional education will be planned to enhance the career of students.
The tuition fee is also low if a comparison is made between universities of Romania and other universities.
The living cost in Romania is also low and can be easily afforded by the Pakistani students. To live in Romania, living expenses stays between EUR 150-250 per month.
There is no need to fulfill any kind of language requirement that is IELTS, PTE, and TOEFL. So, it becomes easy to get admission into the Romanian Universities without any extra stress of any examination.
Students will also get an opportunity to do internship with the local hospitals and it will enhance practical skills.
The degrees from the universities of Romania are recognized the globe and the students can get employment opportunities anywhere in the world.
The best teaching staff having high qualification is teaching in the universities of Romania. They do have relevant medical knowledge and experience. They follow the standard quality of education which includes practical approach too.
There is no bar for category and no importance is given to the family names. The whole importance is given to the marks scored in Senior secondary Examination.
Wide range of courses is also offered with specialization such as gynecology, gastroenterology, surgery, cardiology and many more.
Two intakes are available in Romanian Universities that is May and September. It is a kind of flexible entry so the student can choose an intake, but the admission and visa procedure must start at least 3-4 months before the intake commencement day.
RECOGNITION OF ROMANIAN MEDICAL UNIVERSITIES
Many of the medical universities in Romania are recognized by following medical bodies in Pakistan and around the world:
World Health Organization (WHO)
British Medical Council (BMC)
Pakistan Medical & Dental Council (PMDC)
United Nations Educational Scientific and Cultural Organization (UNESCO)
United States Medical Licensing Examination (USMLE)
European Council of Medical Orders (ECMO)
MANDATORY DOCUMENTS
You are required to submit following documents before enrolling for Romanian MBBS:
Marksheet of 10

th

and 12

th

class
School transfer certificate
Code of Conduct Certificate
School leaving Certificate
Passport copy
Passport size photos
No criminal record Certificate
Health record and medical check-up Certificate
Bank statement of parent or guardian showing the first year of the medical education fee structure
Other application forms required as per the university
No criminal record certificate and Medical check-up certificate has been made mandatory by Romania MBBS Education Institution to submit for Pakistani students when they apply for student VISA in Romania Embassy.
PROCESS OF ADMISSION FOR MBBS STUDENTS
The procedure for MBBS admission in Romanian Medical Universities is quite easy and candid. Let's deep dive in know more about the admission in MBBS in Romanian Universities. The admission procedure for MBBS in Romania is very simple and hassle free.
Step 1

: Sign up with us. We will assit you to select appropriate best university, fill in the application forms with precise and accurate education and other personal details required.
Step 2: Candidate is required to submit all the scanned copies of educational qualifications and passport details with us, we'll then register him/her with some particular university/universities.
Step 3: The medical university after reviewing your application form will inform us, then later on we'll generate the admission letter within 10 to 15 working days.
Step 4: Candidate is then asked/ required to submit the tuition fees of the chosen university by himself/herself.
Step 5: Once the admission for the candidate is confirmed then he/she can begin with the visa process. Candidate must then apply for the student VISA.
Step 6: Then, it's time for the candidate to book a flight and enjoy MBBS study in Romania.
IMPERATIVE DETAILS FOR MBBS IN ROMANIA
Have a glance at vital dates necessary for Romanian MBBS:
Application Date

: the date for applying for MBBS admission is in the months of April & May.

Admission Letter Date

: It takes duration of 30 days for the medical university to sanction the admission letter to the candidate.

Ministry and VISA Approval

: It takes at least 45 to 60 days' time for the Ministry to sanction the VISA of the candidate in the month of August and September.

Course Commencement Date

: After all the formalities, the course begins during the months of September and October.

Admission Start Dates / Important Notice

: We always insiste our students to start the whole procedure at least 3-4 months prior to the upcoming session, so that we can end up successfully intime, wihout missing anyting.
Bright Career After MBBS Study from Romania
A graduate completing the tough MBBS course has a bright future ahead.
He/she can go for the full time employment in a private hospital or apply for a job in a government hospital.
He/she can also opt for the private practice in Romania or return back to Pakistan to explore the endless world of opportunities.
A medical graduate can also go for the PG courses with specialization in certain areas of interest.
A candidate can also go for the course in Hospital Administration for a stable career in the field of medicine.
Learn About Romania in Brief
Romania is the one of the members of the European nation which is most populated and 12

th

largest country.
It is situated in the southeast region of Europe.
Bucharest is the capital city of Romania and famous for its natural beauty.
In the last one decade, the development in the European nation has been remarkable.
In these days, Romania has been on the growing stage and a nation with modernization.
With a peaceful environment, it is a beautiful country.
It is becoming a seamless destination for overseas students.
It attracts a lot of students from different corners across the world as the teachers use to teach in number of languages such as English, Romania, German and French.
Plenty of educational programs are available in Romania which makes it one of the most proclaimed foreign destinations with high quality infrastructure.
Most importantly, Romania is featured in the list of Schengen country in the European Union and the students can take advantage of all the benefits like any other Schengen student.
A Look On Modernized Romania
Modernized Romania was established in 1859 via a mutual union of the Danubian Principalities of Moldavia and Wallachia.
It is placed at number 52

nd

in the index of Human development and has the 47

th

largest economy in the world.
In the year 2017, it had seven percent growth rate which is the highest in the European nation.
Since 1955, it has been a member of United Nations, part of the North Atlantic Alliance Organization since 2004 and since 2007, part of the European Union.
There are various official names of Romania such as United Principalities of Moldavia and Wallachia, Romanian United Principalities, Romania, Kingdom of Romania, Romanian People's Republic and Socialist Republic of Romania.
General Data of Romania
Capital city:

Bucharest

Official language:

Romanian (a neo-Latin language of the Romance languages family)

Religion:

Eastern Orthodox – 86.7%; Roman-Catholic – 4.7%; Protestant – 3.2%, etc.

Ethnic structure:

Romanians – 89.5%; Hungarians (including Szecklers) – 6.5%; other ethnic groups – 4%

Features:

mountains (31% of area), hills and plateaus (33%), plains (36%), Danube Delta

Climate:

temperate-continental, four seasons

Administrative

organization:

There are 263 cities and towns, of which 80 municipalities, and 2 685 communes with over 13 285 villages.

The Legislative

: The Parliament of Romania (4-year term) has two houses: the Senate and the Chamber of Deputies.
Know Why Students Choose MBBS Experts Pakistan Only?
Career in medicine is on the top priority especially among the Pakistani students. For the same, there is a strong competition for the admission in the prestigious government and private universities in the country offering MBBS Program.
Pool of experienced and professional career counselors
Cooperative and supporting team members
Travel and VISA assistance
Comparatively low consulting fee
Trusted study MBBS abroad admission solution
Single destination in Islamabad, Pakistan for admission to MBBS Course in Romania and other countries in the world
Services at MBBS Experts Pakistan
There are certain things that every student should consider, while they are choosing a study abroad consultant in Islamabad/Pakistan for MBBS in Romania.
Professional counseling related to MBBS abroad
Admissions Assistance for 25+ countries
Expert Guidance on Application Process
Admissions Assistance for many European states including Romanian MBBS
University Research and Shortlisting of the top PMDC approved medical universities for the students
Assistance in Submission of Documents
Support in visa application
Help in finding suitable accommodation along with the food sources
Booking air ticket
Pickup from the airport to the respective university/college campus
Staying in touch till your MBBS Degree program from Romania
Seeking admission in the top 10 medical universities in Romania for Pakistani students is not a tough task. You only need to look for a 100% trusted MBBS abroad consultant in Islamabad, Pakistan.
You can contact us at MBBS Experts Pakistan anytime for the expert counseling and admission support to the medical colleges in Romania or even in other nations worldwide.
Countries

Pakistan

United Kingdom

Australia

Canada

United States
Education Levels
Intermediate
Bachelor's
Masters
MPhil
Consultant Info
X
FREE STUDY ABROAD

Free study abroad expert advice