MBBS In China
The bachelor of medicine, bachelor of surgery (MBBS) program is one of the most sought-after degrees in China and the world. Every year thousands of International students are applying in china especially in MOE Listed Universities for English Medium MBBS (bachelor of medicine and bachelor of surgery) and BDS (bachelor in dental surgery) in china.
China is a reliable place for Pakistani students who want to do MBBS in China. In China there are magnificent universities for the medical field. Without too many dues or the inexpensive cost, students can complete their MBBS degree in China as compared to other countries.
MBBS In China For Pakistani Students
Students who are interested in making a good career in the medical field china is the best city for MBBS from an economical and study point of view. In the last minority of years, most Pakistani students have been going to study MBBS in China. In China, there is an increasing number of worldwide students, especially Pakistanis and other countries taking admission in china. According to research all over the world, 4.40 lakh foreign students are enrolled in MBBS degree programs from different countries. The previous 20 to 30 years have seen a big number of Pakistani students approaching to study Clinical Medicine in China as well.
MBBS In China For International Students
China has become one of the fastest growing destinations for international students to study MBBS (Bachelor of Medicine and Bachelor of Surgery) in the world. It has approx. 50 authorized medical institutes that accept international students for the MBBS degree program.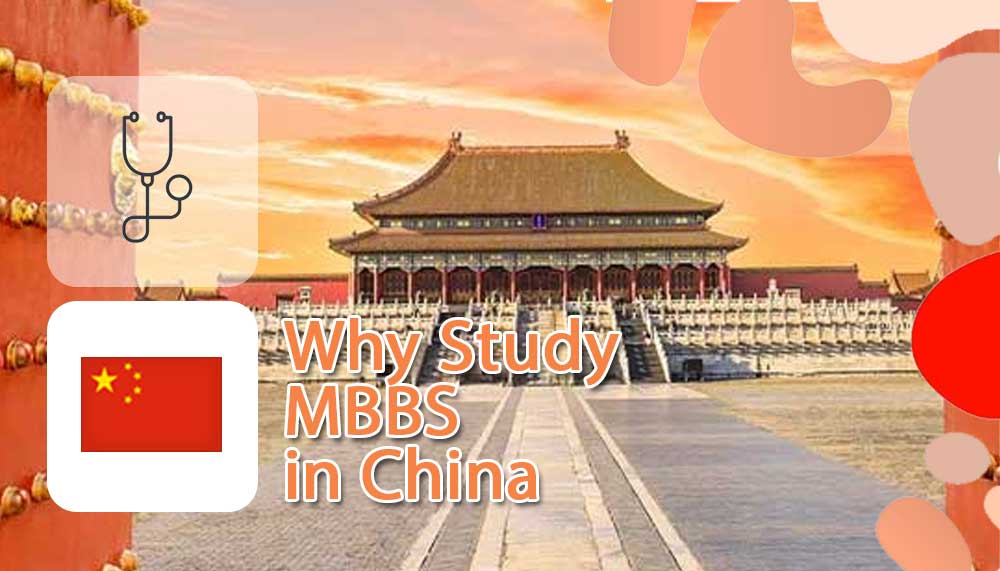 Why China?
As an international student, you must wonder why you should choose MBBS in China compared to several other opportunities throughout the world. Here are some of the reasons why you should opt for an MBBS in China.
Globally Recognized Degree
The medical universities in China are globally recognized. Most of the Chinese medical universities have accreditation from well-known international organizations including WHO, ECFMG, PMC, FAIMER, WFME, and many more. Students who complete their MBBS in China can practice anywhere throughout the world. They will only need to take the license exams of different regions, like USMLE, AMC, PLAB, NLE, or others.
English Medium MBBS In China
China has become one of the most aggressive and best value English-medium medical programs providers in all over the world. Various authorized medical degree programs for international study are offered to take admission in China. China is highly acknowledged for its excellent medical education and competitive English medium MBBS program.
Cost Of MBBS In China
To take admission in china the average cost of MBBS is 16 lakhs for five years, which is a less than the cost of all other medical education in every other university that is famous for MBBS.
Jobs In China As MBBS Doctors From Pakistan
The average duration of MBBS in China is 6 years long which also includes an internship of 1 year. A graduate is granted a degree after successful completion of MBBS in China and can practice medicine in the country instantly. Pakistani students can work as a doctor in China after completing the MBBS studies.
It is not hard to obtain a license to work as a doctor in China. MBBS doctors from many other countries are already working in China.
Monthly Salary Of MBBS Doctors In China
In china an entry level MBBS doctor with 1-3 years of experience can earn an average salary of PKR 794,877. On the other hand, a senior MBBS doctor with 8-9 years of experience earns an average salary of 1,507,166 PKR.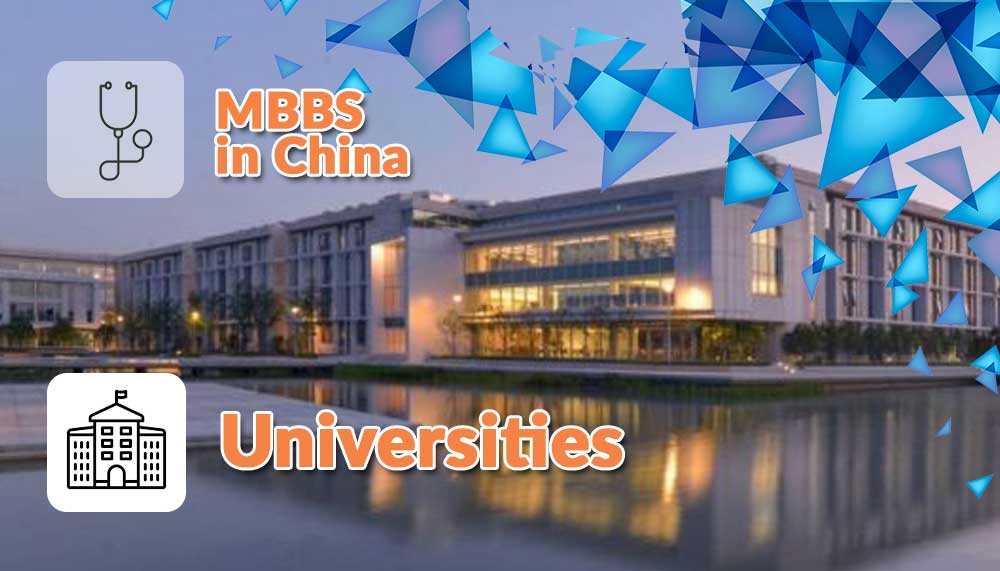 Universities In China For MBBS
China has the best 50 global universities for MBBS (Bachelor of Medicine and Bachelor of Surgery) programs. The following are the best medical institutes in China for MBBS.
Tongji University School of Medicine (TUSM)

Jinzhou Medical University (JZMU)

Xinjiang Medical university

Tianjin University

Nanjing Medical University (NJMU)

Zhejiang University School of Medicine (ZUSM)

Zheng Zhou

Zhejiang university

Shanghai Medical institute of Fudan University (SHMC)

Guangzhou Medical University (GMU)

Capital Medical University (CCMU)

Xian Jiaotong
Best Medical Universities For MBBS In China
These are following English-medium universities in china
Nanjing Medical University

Chongqing Medical University

Zhengzhou University

Dalian Medical University

Southern Medical University

Harbin Medical University

China Medical University

Liaoning Medical University

Kunming Medical University

Shihezi University

Guangzhou Medical University

Ningxia Medical University

Qingdao University
Facts About MBBS In China
| | |
| --- | --- |
| Recognition | World Health Organization (WHO) |
| Duration | 6 years |
| Medium of Instruction | English |
| Session Intake | June |
| Tuition Fee | Approx. RMB 40000 per year |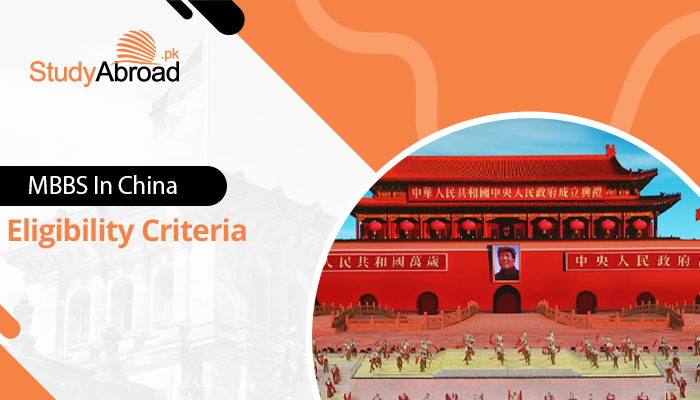 MBBS In China For Foreign Students Criteria
Eligibility criteria of MBBS for foreign students is not complex. It is so simple because Chinese universities offer an easy process to get admission and they are fully content with their process. In China, the number of students who take admission in MBBS degree programs are mostly international students and they are not required to pass any examination or entry test. They directly recommended admission to the foreign students. In China, highly top standardized universities provide a quality and standard education system in all medical institutes.
The federal and provincial government of China has also inaugurated scholarships for Pakistani students for MBBS in China and has restricted some eligibility criteria as follows.
All those students who are Pakistani or AJK nationals and noncitizens of China.

Students should not be more than 25 years old.

Undergraduate students must hold an HSSE certificate.

Students also must have a 50% score in the aptitude test taken by the China MBBS Scholarship authorities for relevant University.

Students who are medically fit and approved by other conditions.

The minimum marks in intermediate are 60% in PCB.

The age limit of students should be 17 years old.
Requirements For Admission In MBBS In China
Applicants must have a minimum of 70% in Physics, biology, chemistry.

The age limit is 18 years or above upon application.

Or they must hold a high school diploma.

Students must have to approve financial support to afford the study in china and living expenses.
Age Limit For MBBS In China
There is an 18-25 age limit officially announced by most of the universities in China to undertake students for MBBS. China has set a age limit regarding students when they are applying, most universities don't accept applicants over 30 for a MBBS degree program in china.
MBBS Merit In China
Students who have F.Sc Pre-Medical or A- Levels students can apply for MBBS in China Medical Universities who have a minimum 60% marks.
Documents Which Are Required To Apply For MBBS
Applicants must read the admission letter attentively before applying for the visa in the Chinese Embassy. The following documents are compulsory to apply for admission in china.
SSC certificate

HSSC certificate

Passport 1st page in Scan

Medical checkup on Chinese physical form

Police license certificate

Passport size photo with white background.

Bank statement (6 months) of student or defender with balance of 6000 U$D.

There are two recommendation letters

Research plan with more than 900 plus words.
Entrance Exam For MBBS In China
Selection of students does not demand any entrance exam/entry test. No MCAT is required. To take admission in any institute in China, a passport is compulsory. Only Fsc Pre-Medical qualified students can apply for MBBS in China.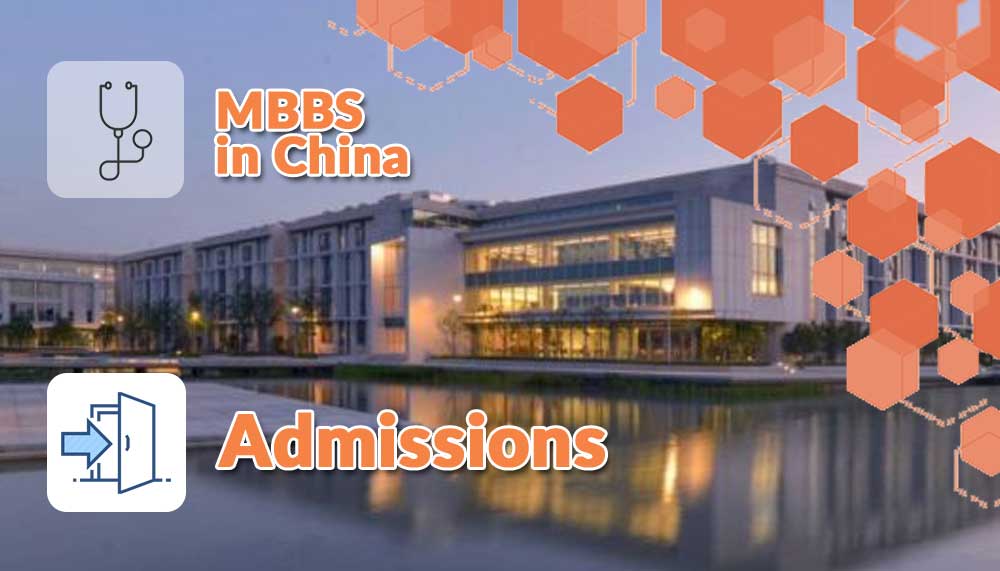 How To Apply For MBBS In China
To Apply for MBBS in china these are following steps mandatory to get admission in any medical institute of china.
Search Chinese Medical Institutes
Students can't tarnish directly in any medical university. Select an authentic agent in your city. Agents charge a particular fee which is 5000 to10000. Additionally, the agent would be answerable for all the matters related with MBBS in China.
Admission Letter
You require the original/authentic admission letter dispatched by your institute and student visa form in order to apply for your visa at the embassy in the Republic of China which is located in Islamabad.
Apply for Police Certificate
Students need to apply for a police certificate. For that intention just go to your local police station. They would give you guidance about the police certificate submission process. Generally, within a few days, the police station gives you a police certificate as well.
Verification of Academic Documents
Students are informed to get verification of your academic record matric as well as FSc details sheet from your particular board of intermediate and secondary education, also verified from board chairman commit Islamabad.
Visa Application
Applicants are giving transitory information concerning the visa application for MBBS in China. They have to apply from the embassy for your visa.
Options To Apply In Chinese Medical Universities
Concerning the application process, Chinese universities allow Pakistani students to choose one of the following options to apply in medical universities:

For many, the easy and the most convenient way is to apply online through the university website, students are informed to go directly to the website of your desired Chinese university.

Apply through CUCAS which is known as China's university and college admission system. It is an official online self-application portal that allows students to apply for any medical Chinese university. It acts as a negotiator between students and the university.

Apply through CUAC. Students can apply for a medical Chinese university. This official website is also an online counselor and professional guidance which helps students to make the right decision with respect to their MBBS in China.

Students can submit their applications with the help of their friends who are already studying in a Chinese university. In this way they can easily collect all the information about the mandatory application certificate documents. They can send the documents to their friends and also they can submit the application for you.
Required Documents For MBBS In China
Personal Statement Letter: This letter should contain 150 words including introducing yourself, goals, and future plans after your graduate program.

Curriculum Vitae: this includes details of applicant educational details, work and other experiences, and other related required information

Diplomas and transcripts: applicants will need to be converted if not in English or Chinese.

Physical examination record: they must have blood test results with a hospital stamp. English or Chinese translation are both acquired.

Valid passport

Recommendation letter: this letter should have details of the recommender's affiliation with all personal information including position, email, contact number and signature.

Proof of financial support: it is mandatory they have an account statement of the sponsor for the past 3 months issued by the bank on letterhead signature, with at least closing balance of USD $7,000 or equivalent. If the account holder is not yourself, provide the sponsor's passport for proof of identity.

Verified English or Chinese translation of all your documents.
MBBS In China Last Date Of Admission
Mostly Chinese universities are offering September fall Intake, but if the seats will not filled by the university, they Start enrollments in March Spring intake. But various universities are offering only March Intakes for MBBS Applicants.
PMC Test After Completion Of MBBS
Once you carry out your MBBS in China, it's mandatory to clear the Pakistan medical and dental council test names as NLE. Once you clear the test successfully, PMC will provide a certificate. Then you will be able to practice as a doctor in Pakistan.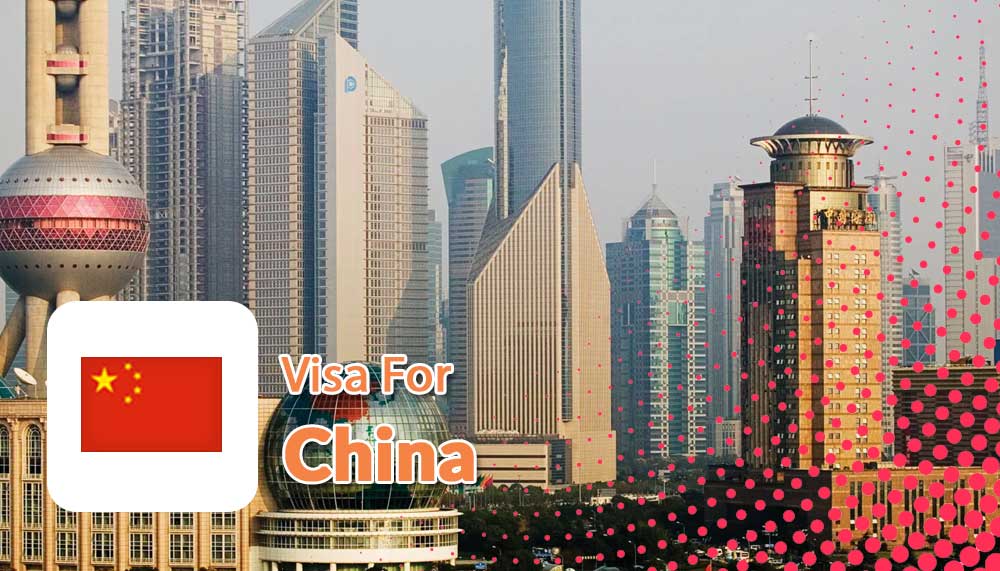 Visa For MBBS In China
The two kinds of student visas include:
For students who need more than 180 days for stay in China.
For students who do not want to stay for more than 180 days.
How to apply for China visa?
Candidates are required to submit the application form to the Chinese embassy in their area or can consult travel agent or any study abroad consultant if you aren't able to visit in person. The regular processing time for visa application is 4 days.
Required Documents
The following are the required documents to apply visa to study MBBS in China.
Application form

Passport

Photographs

Previous academic documents

Admission Letter

Bank Statement

Affidavit for money

Personal Statement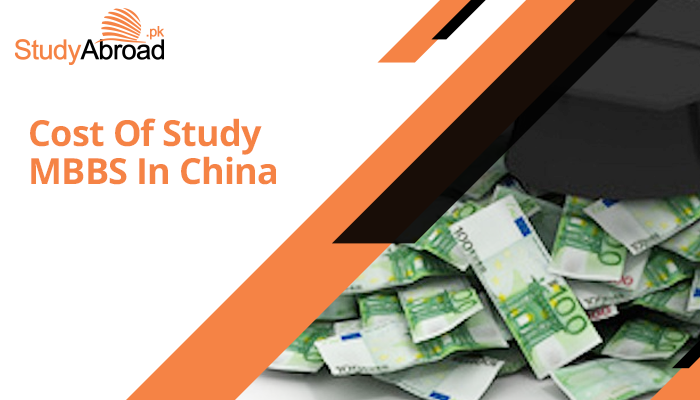 Cost Of Studying Medicine In China
The average cost of MBBS in china for Pakistani students is in between 6 – 8 Lakh/ year which also comprises tuition and hostel expenses for one year. MBBS in China costs for 6 years, the range will be in between 40 to 46 lakh. But in MOE Listed Universities which are offering Fully English Medium MBBS, the range of tuition fee Starts from 11 – 12 Lakh/ year. That is why China is one of the best possible options for Pakistani students to MBBS in Economical price.
MBBS In China Fee structure For Pakistan Students
| | |
| --- | --- |
| Tuition Fee | PKR 1,290,470 per year |
| Hostel Residence | Starts from PKR 225,832 per year |
| Health Insurance | Starts from PKR 16,130 per year |
| Visa Extension | PKR 22,583 per year |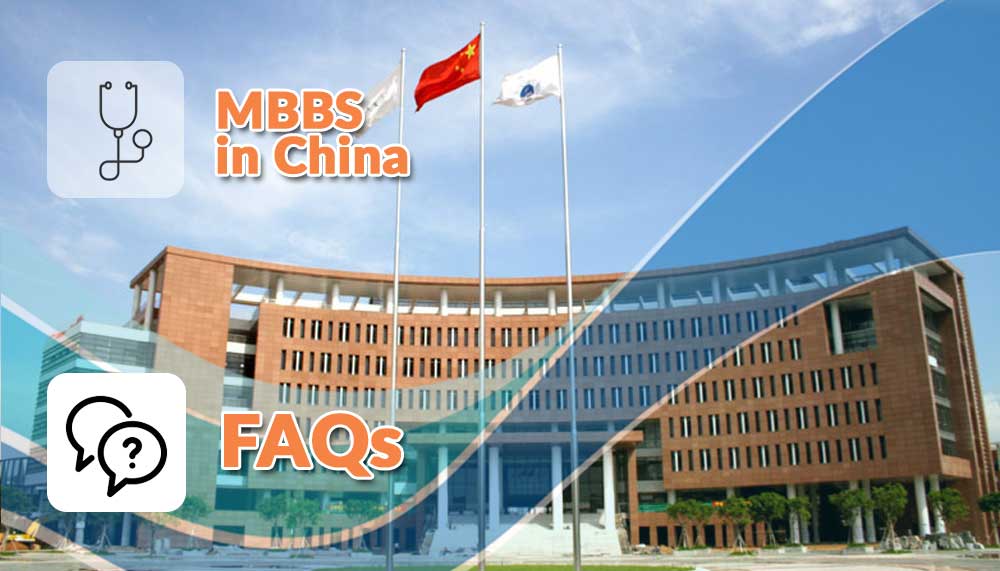 Frequently Asked Questions
1 - Is an MBBS in China worth it?
MBBS in China is globally recognized due to its academic brilliance. Another reason to study medicine in China is the low tuition fee at most medical universities.
2 - What is the medium of instruction for MBBS in China?
English is the medium of instruction for MBBS in China.
3 - Is MBBS in China valid in Pakistan?
MBBS in China is well-known throughout the world. It is recognized by the World Health Organization and by the Pakistan Medical Council as well.
4 - What is the eligibility criteria for MBBS in China?
In China, the prerequisite for MBBS is an intermediate or equivalent degree with science subjects.
5 - Are there any scholarships for MBBS in China?
Yes, you can attain different scholarships for MBBS in China. International students can also avail of different government-funded scholarships.
6 - What is the MBBS fee structure in China?
The MBBS in China fee structure varies among different universities. However, MBBS in China is considered affordable.
7 - Is MBBS in China recognized throughout the world?
Yes, MBBS in China is recognized throughout the world for its excellent academics. The universities in China are also recognized by the World Health Organization and UNESCO.
8 - Is the HSK test a requirement for admission to MBBS in China?
Hanyu Shuiping Kaoshi (HSK) is a Chinese language proficiency test which is a compulsion at the universities where Chinese is the medium of course. However, it is not a requirement for admission to an English-medium university.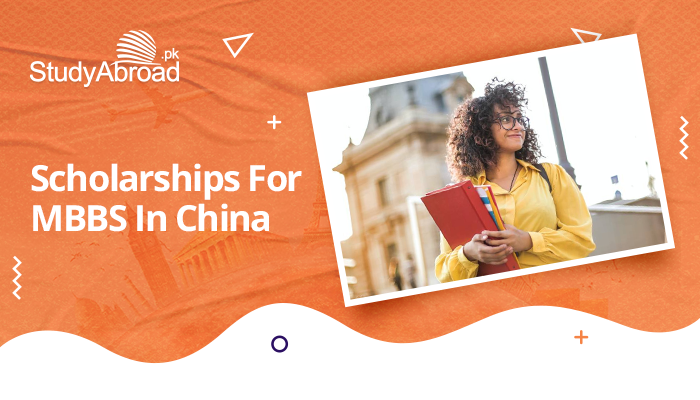 Scholarships For MBBS In China
CSC scholarships are available for all international students who want to study in china. Students are required to fill out an online application form and select one of the all Chinese universities which are offering CSC scholarships.
MBBS Scholarships In China For Pakistani Students
Generally Chinese universities are not offering MBBS and BDS scholarships on admission basis, but at times regional government offers some kind of limited scholarships and sometime full free MBBS scholarships which can be apply through the approved agent of desired/any university. The authorized agency will take some scholarship seat charges and apply. In some Chinese universities there are recital based scholarships for MBBS degree programs, but this scholarship is only offered by university and it is obsolete depending on the student's performance. Some scholarships are announced for only special nominated countries.
Fully-Funded Scholarships For Pakistani Students In China
China is one of the progressing countries which offers partial and fully funded scholarships to all the countries of the world. Chinese government scholarships for Pakistani students are national government scholarships, and these are all entirely fully funded depending on the institute in China. The governments of major cities offer opportunities to international students, especially Pakistan.
Apply Online For MBBS Free Of Cost In China
Take the perspective of the Chinese government. Go to the official website of the medical university.

Students must fill the form of admission requirements.

Apply applications online by adding personal information.

Submit all required documents.

Get an admission letter and visa.

Apply for a Visa to China.

Get ready to fly.

Study in your desired medical university.
X
FREE STUDY ABROAD

Free study abroad expert advice