MBBS In Ukraine
For giving an excellent education to students at very affordable prices, MBBS in Ukraine is considered as one of the renowned and popular choices.
As MBBS in Ukraine gives many options to students graduating from Ukrainian universities, it is a great career choice for them. It is the first choice for most of the students in Pakistan. The biggest attraction for selecting medicine course in Ukraine is the availability of PMC recognized institutes imparting quality education in English-medium at a reasonable fee.
MBBS in Ukraine is a strong option for students who are seeking admission overseas. Ukraine Medical Universities provides students world class educational environment and that too at lower fee structure. Ukraine welcomes more than 66,000 international students from 145 countries every year as per the figures given by Ukraine's Ministry of Education.
Higher Education in Ukraine is regulated by the Ministry of Education and Science of Ukraine. This includes both academic as well as professional qualifications in Ukraine. Therefore, the Medical Universities in Ukraine are also recognized by the Ministry of Education and Science of Ukraine.

Why Study MBBS In Ukraine
Ukraine become one of the preferred destinations for study MBBS. The following reasons behind this
No Entrance test is required, students can take admission easily based on their FSc results percentage
No English language test IELTS/TOFEL is required to take admission for MBBS in Ukraine medical universities
The fee structure at medical universities Ukraine is very low
The quality of education in medical universities in Ukraine is excellent
Well-developed and advance medical equipment's are there for medical students
Tuition fee is low, but Ukraine facilitates the medical students to pay this fees annually if they can't afford semester wise fees
Degrees awarded by medical universities of Ukraine are globally recognized by international organizations such as WHO and Pakistan Medical Commission
Medium of education is English in Ukraine
Better job prospects
Pleasant climate throughout the year
Duration Of MBBS In Ukraine
Total tenure of MBBS in Ukraine is 5.8 years to 6 years, medical universities in Ukraine open admission in September for MBBS course study.
Affiliation Of German Medical Colleges
Medical universities in Ukraine are affiliated with
Ministry of Education, Ukraine
PMDC (Pakistan Medical and Dental Council)
WHO (World Health Organization)
FAIMER (The Foundation for Advancement of International Medical Education and Research)
ECFMG (Educational Commission for Foreign Medical Graduates)
Currency Used In Ukraine
Currency of Ukraine is Ukrainian hryvnia (UAH) that is equal to 6.14PKR
Cost Of Study MBBS In Ukraine
Tuition fee for MBBS study in Ukraine is affordable it varies from 1.2 -2.5 lac UAH (7-14 lac per year)
Post Graduate Studies Options After MBBS
After MBBS completion, students can start post graduate course from Ukraine. Post graduate courses offered in Ukraine are of one year internship, two to three years MD/MS course and specialization in described fields
Orthopedics and Traumatology
Neurosurgery
Forensic Medicine
Dermatology
Gastroenterology
Medical biology
E.N.T
Psychology
Language Of Teaching
Pakistani students are taught MBBS in English in all PMC recognized universities
Books of the students and exam will be conducted in English
Vacations During MBBS In Ukraine
While studying MBBS in Ukraine, students get holidays two times in a year for two months. It lasts for July and August. Winter vocation of two weeks start from end of January to 1st week of February.
Difference between the Pakistan and Ukraine MBBS degree
| | |
| --- | --- |
| MBBS in Program in Pakistan | MBBS in Program in Ukraine |
| 90% aggregate required | Students must have scored minimum of 60-70% in intermediate. |
| Entry test/MDCAT required | No entry test is required to study MBBS in Ukraine. |
| Medium of instruction is English | Medium of Instruction is also English |
| PMC NEB test is not required after graduating from any medical college of Pakistan. | PMC NEB test is required for foreign graduates. |

Green-Listed Medical Universities of Ukraine by PMC
In terms of efficiency, facilities, and expense, Ukrainian medical universities have the best value for medical education for students from all over the world. Here are names of the Green-listed Medial Colleges of Ukraine by Pakistan Medical Commission (PMC).
Kharkiv Intenational Medical University

Lugansk State Medical University

Ukrainian Medical Stomatological Academy

Zaporozhye State Medical University

Vinnitsa National Pirogov Memorial Medical University

V.N. Karazin Kharkiv National University School of Medicine

Uzhhorod National University Faculty of Medicine

Sumy State University Medical Institute

Stanislav Medical Institute

Stalino Medical Institute

Oles Honchar Dnipro National University

Odessa National Medical University

Luganskij Medical Institute

Lugansk State Medical University

Kyiv Medical University Faculty of Medicine

Ivano-Frankivsk National Medical University

I. Ya. Horbachevsky Ternopil National Medical University

Donetsk National Medical University Faculty of General Medicine

Dnipropetrovsk Medical Academy of Health Ministry of Ukraine

Danylo Halytsky Lviv National Medical University

Bukovinian State Medical University

Bogomolets National Medical University

Dnipro Medical Institute of Traditional and Non-Traditional Medicine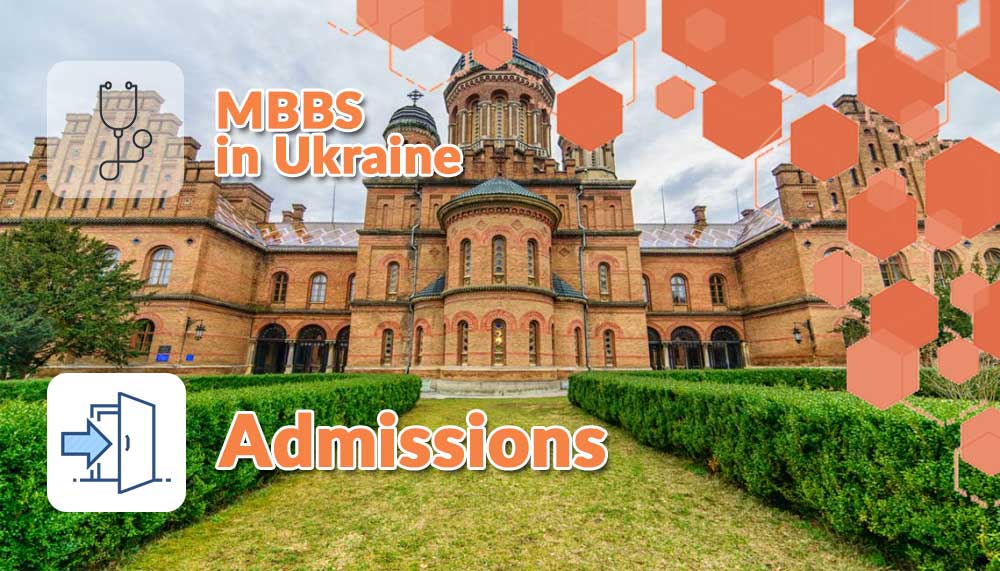 Admission
Ukraine is the best option for Pakistani students to get admission in Ukraine medical universities for MBBS. There number of green listed universities that are recognized by PMC and WHO
Eligibility Criteria For Admission
To take admission in Ukrainian medical universities for MBBS must have to fulfill the following eligibility criteria
Applicant must have completed 12th class from regular board with minimum 60-70 % marks in science subjects
Must have English as compulsory subject in their 12th standard
Documents Required To Get Admission
Following documents required at the time of admission in Ukrainian medical universities
10th class certificate with clear date of birth
Marks list and certificate of class 12th result
6 passport size photographs
Photocopy of passport
Eligibility certificate from the medical council of concerned country
Ukraine Embassy's legalization for all documents
Medical certificate with HIV negative test result
Admission Process
Here is step by step process to apply for admission
First, you need to select the University according to your choice and budget from the list of available medical universities in Ukraine
Fill up the application/ registration form for the University which you have chosen
Send scanned copies of your mark sheets for class 10 and class 12 exam mark sheet along with passport to the university
Pay the admission fee
You will receive the admission confirmation letter from the university once your admission is confirmed.
Then apply for visa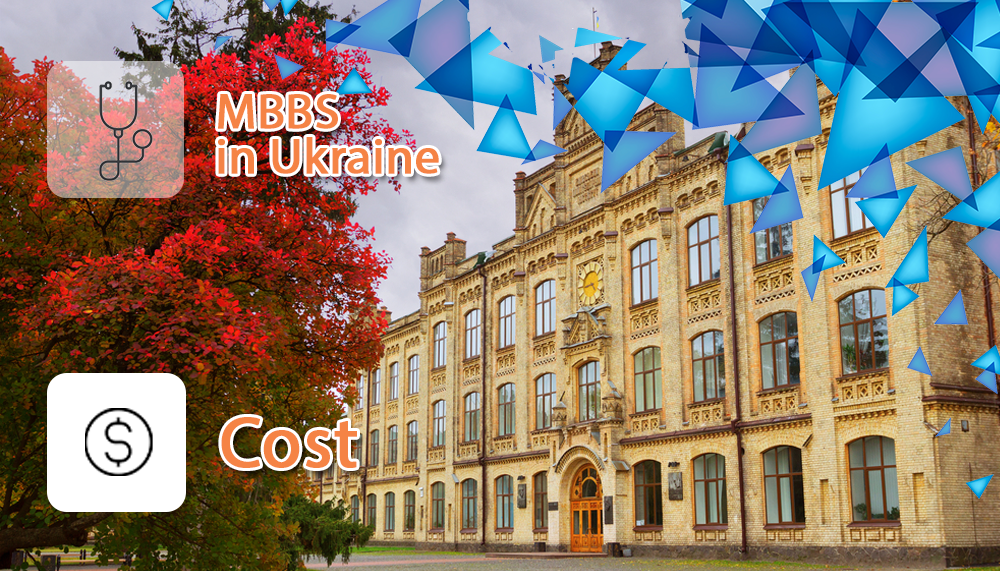 Cost Of Study MBBS In Ukraine
One of the many reasons why medical students choose Ukraine as their study destination is because of the low cost of MBBS degree programs in Ukraine. There are numerous medical colleges in Ukraine that provide inexpensive MBBS and MD degrees while also providing students with a high-quality education.
Total estimated tuition fee for MBBS in Ukraine is 7- 16 lac UAH (40 – 80 lac PKR)
Living expenses per month varies from 4000- 4500 UAH that is equal to 25-28000 PKR
MBBS Scholarships in Ukraine for Pakistani students
One advantage of studying MBBS in Ukraine is that students can be given several scholarships during the six-year degree program. These grants pay for students' fees and other costs.
One can apply for these scholarships after getting acceptance from the university, or they can also mention about the scholarship while applying for the university. The application for the scholarship is submitted online. Students with bright academic record are more likely to be awarded these MBBS scholarships in Ukraine.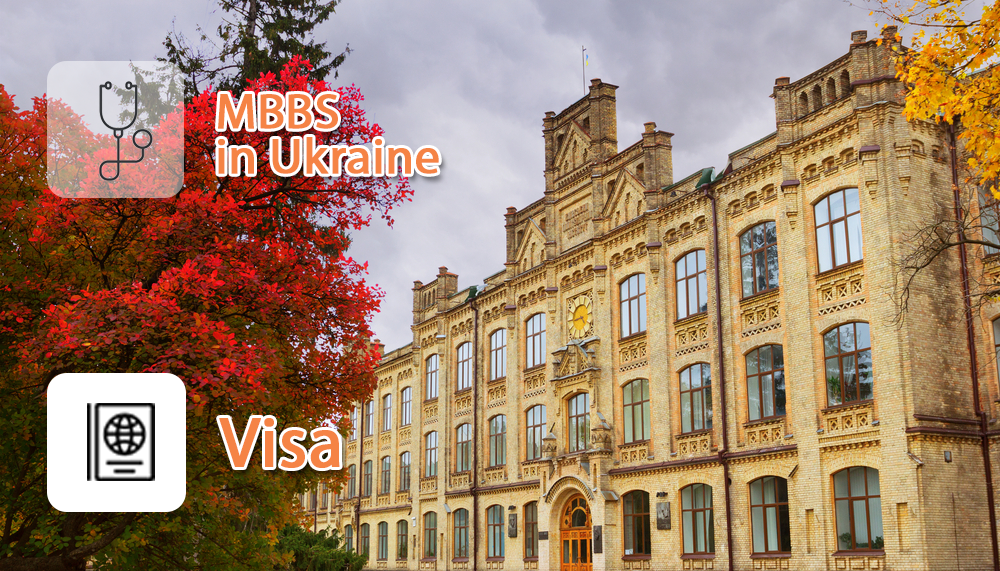 Visa Guide
After receiving the admission confirmation letter from the university once your admission is confirmed The immigration procedure will begin after your MBBS admission is confirmed
You would then need to arrange and send the documents for visa and deposit visa processing charges
Students should visit the Embassy of Ukraine in Pakistan after they get the invitation letter
After you complete the visa process and get a visa in hand, you can book a ticket and fly to Ukraine
Documents Required For Visa Application
All educational documents attested from ministry of foreign affairs
Passport
Bank statement
Medical certificate attested from ministry of foreign affairs
Birth certificate
Character certificate from police department
Passport sized 10 photos with white background
Quick Facts
| Particulars | Details |
| --- | --- |
| Degree Course | Bachelors in General Medicine (MBBS) |
| Duration | 6 years |
| Basic Eligibility | Intermediate with minimum 60% in (subjects: Physics, Biology, Chemistry) |
| Language of Teaching | English |
| Currency | Ukrainian hryvnia (UAH) |
| Living cost | 4500 UAH |
| Total Tuition Fee | 1.2 -2.5 lac UAH |
| Entrance Exam | NOt Required |
| Language Requirement | No English proficiency test (IELTS/TOFEL) is required |
| Contact to Consultant | Click here |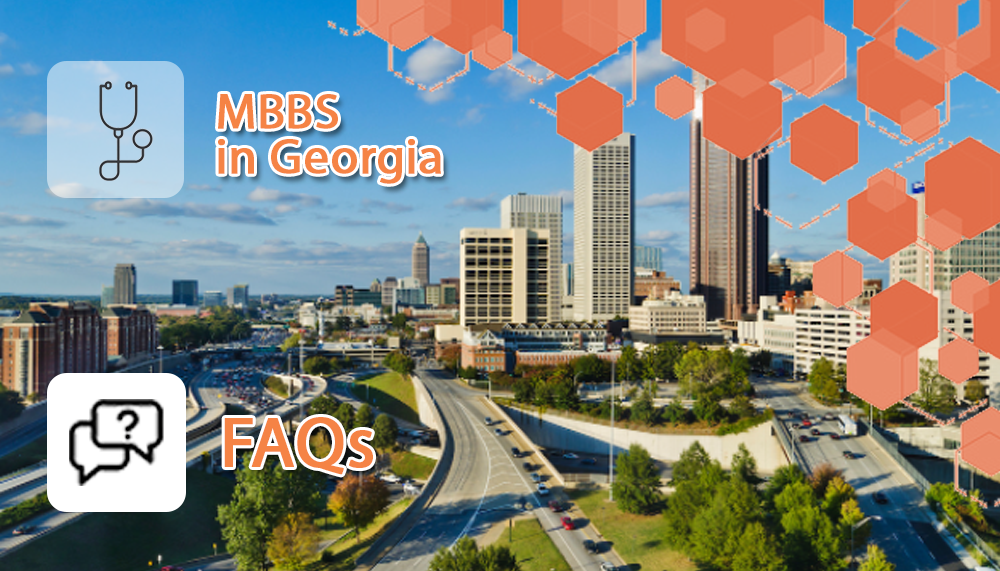 FAQs
1 - Is Georgia a safe country for students to study?
Yes, Georgia is a safe country for students to study MBBS. There is no such criminal records have been found in Georgia.
2 - Are there any scholarship opportunities in Georgia for international students?
There are plenty of scholarship opportunities for international students, including Fulbright scholarships, the President's Scholarship Competition, and many more. The students are also provided internship facility by the Georgian medical universities.
3 - How long is the course duration of MBBS in Georgia?
The MBBS course duration in Georgia is 6 years. 6 Years, 5 Years of Studies and 1 year of Internship.
4 - What is the medium of language for MBBS in Georgia?
All the universities in Georgia use English as a medium of instruction. English is the medium of teaching.
5 - Do the students get any stipend during the time of internship in the Georgia?
No, the students do not get any stipend during internship time in the Georgia.
6 - Is Georgia MBBS degree valid in Pakistan?
Yes, it is valid in Pakistan, condition is the degree is from a university recognized by the Pakistan Medical Council.
7 - Do we need an English proficiency test for admission to MBBS in Georgia?
It is mandatory in some universities that students have to appear for the English proficiency test; IELTS or TOEFL. It is not compulsory to learn the Georgian language as the teaching medium is English, but it is a good idea as it would help simplify daily life and communication with patients.
8 - What is the general criteria to get admission in Georgian medical university?
To be applicable to study MBBS in Georgia 2022, the student is required to be over 17-years-old as of 31st December 2022.
9 - What can I do after MBBS in Georgia?
MBBS graduated have options for pot graduate courses in Georgian medical universities or start their practice in Georgia or at their home country.
10 - Is it worth studying MBBS in Georgia?
Since it has successfully attained 100% literacy, Georgia is regarded as the best country in the world to study medicine. The most expensive and ideal choice for any student who wishes to study MBBS abroad is the medical University of Georgia.
11 - What are the top medical colleges in Georgia?
The top medical colleges in Georgia include Georgian American University, University of Georgia, East European University (EEU), Tbilisi Medical Academy, and more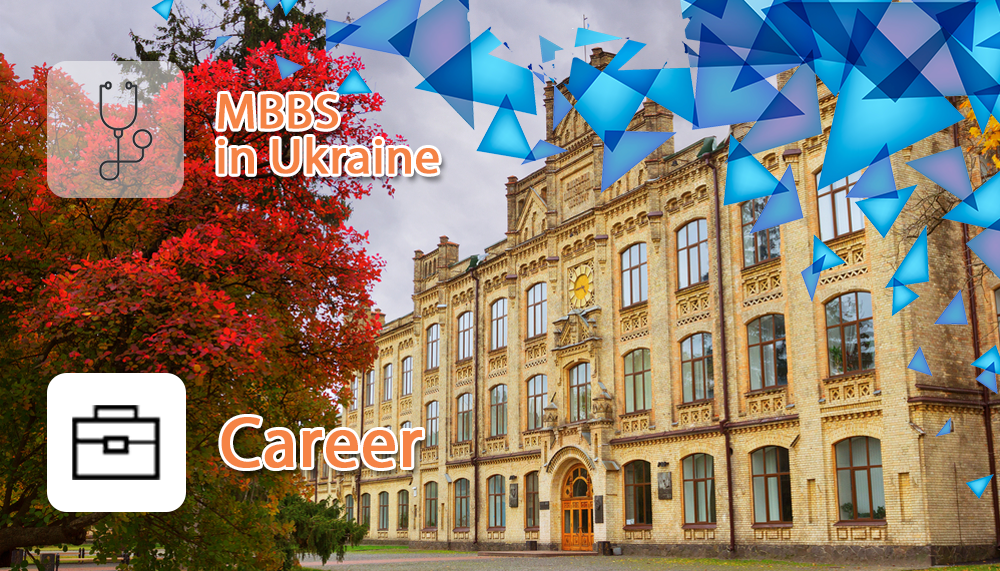 Career Opportunities In Ukraine After MBBS
There are a lot of options for MBBS graduate, like
Return to Pakistan for practice
Start practice in Ukraine
Certification for USMLE, this United States Medical License Exam is conducted for MBBS graduates to start their practice in USA
Appear in PLAB test (Professional and Linguistic Assessment Board) to start practice in UK
Start practice in hospitals in Ukraine
Start hospital management masters (two years) course from Ukraine medical universities
X
FREE STUDY ABROAD

Free study abroad expert advice