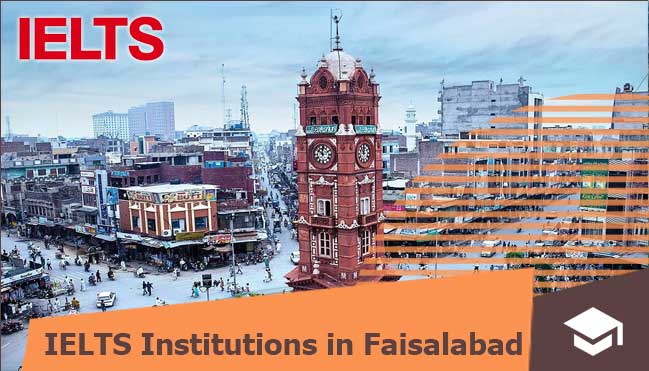 International English Language Testing System, IELTS is an English language skill evaluation test conducted by the British Council to assess the English language skill of the students interested to apply for study abroad. Students who are thinking about the IELTS preparation and are searching for the best IELTS coaching centers in Faisalabad are advised that they have reached the best destination. This is because here at this page students are offered the complete guide that why they should choose an IELTS coaching center and how they can find the best IELTS coaching academy in Faisalabad.
Why You Should Choose An IELTS Coaching Center?
There are several reasons behind choosing an IELTS preparation center in Faisalabad and the major ones are discussed here:
Practice: IELTS is comprised of four basic modules. Students are offered the complete practice of every single module through the best and technical tools offered by a coaching center that you cannot find at home.
Study Material: IELTS coaching centers offer the exact and related study materials with the help of which you can easily cover almost all the major modules of IELTS. These study materials are not easy to get anywhere else.
Environment: Coaching centers provide students a professional learning environment because of which the candidates can seek the relevant skills within a short time duration.
Professional Teachers: Students who get prepared from online teachers or online platforms may or may not get the professional faculties. But, the faculty you get through the IELTS preparation academies is professional and knows all the major ideas that how to cover all the IELTS modules and how to get maximum of scores.
Grooming: The best IELTS coaching centers also offer self-grooming to the candidates. They also build an attitude in students' personality that they cannot find while following the online and other moods of practices.
Get All The Top IELTS Coaching Centers In Faisalabad
Students who belong to Faisalabad and are still failed in choosing the right platform for IELTS practice, they are invited here to get the complete list of all the top IELTS coaching centers in Faisalabad. Candidates can find the list of coaching centers with their complete descriptions including fee structure, location, course duration, and contact details, etc. So, by following this list you can easily choose your best coaching center. However, users are also provided the IELTS dates or IELTS exams schedule 2020 in Faisalabad. Moreover, for all other updates regarding the IELTS exam 2020 in Faisalabad feel free to contact us and you will respond as soon as possible.
List of IELTS Colleges In faisalabad
Add IELTS Coaching Center

Not Sure where to get IELTS Coaching
our team will help you find the best IELTs coaching center throughout the pakistan click on the black button on the right, fill in your info and we will guide you.
X
FREE STUDY ABROAD

Free study abroad expert advice
Address: 1st floor,P-6,above Nando's, Main Boulevard, Kohi Noor City, Faisalabad
Contact: 03202820003
Email: info@abneducation.com
Website: http://abneducation.com
Address: 24, College Road, Koh-e-Noor Town, Faisalabad.
Contact: +92-41-8733153
Email: faisalabad@auspak.edu.pk
Website: https://www.auspak.edu.pk
Address: Batala Colony, Gate Square, Near Chank n Cheese, Satyana Road
Contact: 0321 6629250
Email: N/A
Website: N/A
Address: P - 49, Chenab Market, Susan Road, Madina Town, Faisalabad, Pakistan
Contact: +92 (300) 7662050
Email: info@career.edu.pk
Website: https://www.career.edu.pk
Address: Kotwali Rd, Faisalabad 38000
Contact: (041) 9200886
Email: info@gcuf.edu.pk
Website: www.gcuf.edu.pk
Address: Opposite City School, ChenOne road, Peoples' Colony, Faisalabad.
Contact: 03217653578-04185465
Email: hallmarkist@live.com
Website: http://css-preparation.blogspot.com/
Address: 125-A,Peoples Colony No.1, Small D-Ground Faisalabad
Contact: 041-8531155
Email: N/A
Website: http://www.pacans.com/kaplan-ielts-faisalabad
Address: 2nd Floor, Lyalpur Plaza, Satiana Road, Opp Ideal Sweet & Bakers, Faisalabad
Contact: 03056482061
Email: info@nimsworldwide.com
Website: www.nimsworldwide.com
Address: 1-KM Novelty Bridge, Sammanabad Road, Aminabad No. 2, Faisalabad
Contact: 041-2565001
Email: N/A
Website: www.numl.edu.pk
Address: P-75, Liaquat Road, Near Police Lines, Faisalabad 38000, Punjab, Pakistan
Contact: +92-(312)6533134
Email: ifno@eslms.com
Website: http://www.eslms.com/