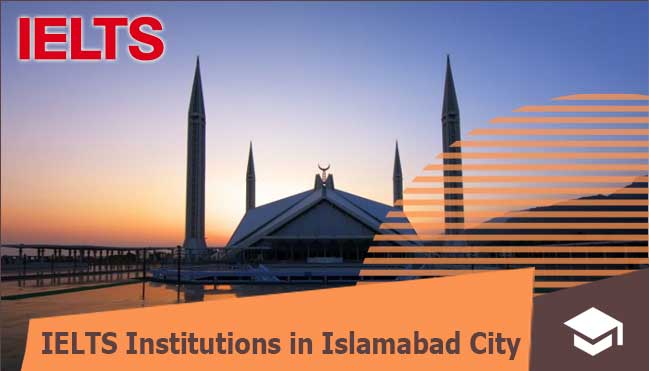 Islamabad provides hundreds of coaching centers for academic and training courses. It comes hard to find the best coaching center as per requirement while getting prepared for a particular course or subject. Students who are seeking for the best ielts coaching centers in Islamabad and are still confused in choosing the best institute? They are invited by Studyabroad.pk, the best platform to make the destination of your study abroad dreams possible. At this platform, students can find the complete list of all the best and well-known ielts preparation centers in Islamabad.
Things You Should Clear Before Choosing A IELTS Preparation Center
While searching for the best ielts preparation center, everyone wants to join a preparation center according to their choice. First of all, you have to get to know all of your requirements and by comparing your requirements with the services of a preparation center you can easily choose the best ielts academy in Islamabad for your best preparation:
What time is free for you to join an ielts coaching center in Islamabad? You are to be suggested that you must join the class within the time which is suitable for you and during which you do not have any other schedule or stress.

Search out the IELTS coaching centers established near to your home. This tip will help you to save the time of traveling to reach your center.

Check the portfolio of your choosing or suggested center that what progress the coaching center has been made in the previous years.

For obtaining the class assessments, class environment, and teachers' capability you should take one or two demo classes.

Some other aspects are necessary to know before choosing an ielts academy in Islamabad that what is the class or course duration your coaching center is offering, how much tuition fee the coaching center is charged, and, above all, you need to know that how the institute covers the requirements of all the four IELTS modules.
Find Your best IELTS Coaching Center By Studyabroad
Out of the basic requirements to make the way of your study abroad journey smooth, IELTS is the major one. So, never compromise while choosing your ielts preparation center. Studyabroad.pk helps students in finding the best coaching center. For this purpose, all the top ielts coaching centers in Islamabad are listed here on this page. just after slightly scrolling down this page you will be able to find all the coaching centers. All these centers are arranged separately. After clicking on a single coaching center you will be directed to the complete profile of the coaching center. You can find the complete detail including class timing, fee structure, location, faculties, and contact details, etc. So, before going through this given list you will be able to choose the best academy that is just according to your needs.
Besides this, students are also provided here the helpful tips that how to prepare ielts for getting a maximum of bands. Moreover, students will also be able to find the complete ielts exams schedule 2020. Students can find city-wise ielts exam schedule such as ielts exam schedule in Islamabad 2020, Ielts exam schedule in Karachi 2020, and so on.
In the end, we offer the best wishes to all the students who are going to appear for the ielts exam 2020. However, students are informed that here at studyabroad.pk you can find the complete list of the worlds' best study abroad destinations. Moreover, students can also start their study abroad application through Pakistan's best study consultants linked with studyabraod.pk. So, for any single assistance during your study abroad application keep visiting us.
List of IELTS Colleges In islamabad
Add IELTS Coaching Center

Not Sure where to get IELTS Coaching
our team will help you find the best IELTs coaching center throughout the pakistan click on the black button on the right, fill in your info and we will guide you.
X
FREE STUDY ABROAD

Free study abroad expert advice
Address: 5 STAR INSTITUTE, G-10 Markaz , Park View Plaza, In Front of Park, Islamabad, Islamabad 44000, Pakistan
Contact: 0344 5000120
Email: info@5starinstitute.com
Website: https://5starinstituteislamabad.blogspot.com/
Address: 2nd floor,Redco Plaza, Block 78-E, Main Jinnah Avenue,blue area, islamabad
Contact: 03212870008
Email: info@abneducation.com
Website: http://abneducation.com
Address: 190-A, Street 10, E-7 Islamabad
Contact: 051-111-236-000
Email: isb@aeo.com.pk
Website: http://aeo.com.pk
Address: Suite # 5, 2nd Floor, Umer Centre, F-8 Markaz, Islamabad-Pakistan
Contact: 051-2282505
Email: info@allisonsconsulting.com
Website: http://www.allisonsconsulting.com/
Address: House#130,Street#54,G-10/3, Islamabad.
Contact: +92-51-8737355
Email: islamabad@auspak.edu.pk
Website: https://www.auspak.edu.pk
Address: House 747 Street 23 Shan-ul-Haq Haqqee Road G 9/1 Islamabad
Contact: 051-2855683
Email: bahali@yahoo.com
Website: http://bahali.pk/
Address: 1st Floor, (West Wing), Block-13 R F-7 Markaz, Jinnah Super Islamabad - 4400
Contact: 051-111 237 548
Email: infoIslamabad@berlitz.com.pk
Website: http://berlitz.com.pk
Address: PO Box 1135 Islamabad
Contact: 0800-22000
Email: info@britishcouncil.org.pk
Website: https://www.britishcouncil.pk/
Address: Career Institute, 24-D, Rashid Plaza Jinnah Avenue (Blue Area), Islamabad, Pakistan.
Contact: +92 (314) 5000083
Email: info@career.edu.pk
Website: https://www.career.edu.pk
Address: Office # 6, 1st Floor, Al-Babar Centre, F-8 Markaz, Islamabad
Contact: +92 (0)51 228 7203
Email: info@emergingvisions.co.uk
Website: http://emergingvisions.co.uk/