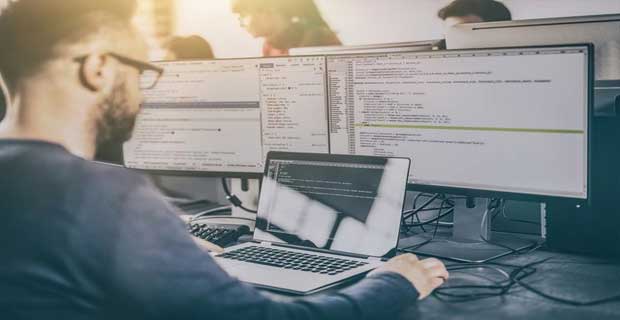 Computer science and IT professionals are one of the most highly paid employees in Pakistan and have increased job satisfaction. A career in Computer science and IT has a promising career ahead.
The fields of IT and computer science differ in their content. A degree in Computer science trains a student to deal with algorithms, and data structures using programming languages such as C, C++, Java, and Python. A Pakistani student must keep in mind that knowledge of only one language is not beneficial but multidimensional will provide them with employment opportunities.
Pakistani student studying computer science and IT from a foreign university has an increased chance of employment at companies like Microsoft, Facebook, and Google.
An IT professional generally deals with internal system setups, system administration, and database administration in an organization.
Scholarships In Foreign Universities For Computer Science And IT:
The Pakistani student will come across a lot of scholarships in the field of Computer science and IT for Pakistani students and will be provided full guidance to apply for the same in any country with the help of the guides provided.
The various popular international scholarships IT for Pakistani students are as follows-
Shirin folder funding by Singapore management university, ETH Zurich masters scholarship, international awards scholarship, Luther college scholarship, etc.
Many nations' governments are providing scholarships such as the Beijing government scholarship, Swiss government excellence scholarship, Amsterdam excellence scholarship, and Turkiye scholarships, etc.
Attractions In The Field Of Computer Science And IT:
Fresh graduates from foreign universities are taken into companies and hired as software developers, web programmers, support engineers, database administrators, system administrators, and network engineers.
Pakistani student can advance their career in research, intelligence programming, and artificial intelligence in the field of computer science.
Consultants:
The consultants available on this website are from all parts of Pakistan. They will guide a Pakistani student through all sorts of formalities that have to be undertaken from admissions to visa and availing of scholarships. These consultants will guide a Pakistani student for admission to any university the student wishes.

Get Latest Scholarships in Your Email
Get a regular scholarship alert. We'll deliver important and latest scholarships to your email
Sign up
for free
scholarship
alert
| Scholarship Name | Country | Education Level | Apply By |
| --- | --- | --- | --- |
| | Germany | Undergraduate | 05 Apr 2023 |
| | USA | Post-Graduate | 12 Apr 2023 |
| | Switzerland | Undergraduate, Post-Graduate | 30 Jun 2023 |
| | UK | Post-Graduate | 31 May 2023 |
| | USA | Undergraduate | 01 Apr 2023 |
| | Netherlands | Doctoral | 05 Apr 2023 |
| | Canada | Doctoral, Post-Graduate | 01 Apr 2023 |
| | Australia | Doctoral, Post-Graduate | 01 May 2023 |
| | UK | Undergraduate, Doctoral, Post-Graduate | 15 Jun 2023 |
| | UK | Doctoral | 31 Mar 2023 |
| | UK | Undergraduate | 31 Mar 2023 |
| | Germany | Undergraduate | 03 May 2023 |
| | Australia | Undergraduate | 07 Apr 2023 |
| | Israel | Undergraduate | 01 Jul 2023 |
| | Denmark | Doctoral, Post-Graduate | 16 Apr 2023 |
| | Australia | Post-Graduate | 15 Apr 2023 |
| | Netherlands | Post-Graduate | 01 Apr 2023 |
| | Netherlands | Doctoral, Post-Graduate | 01 Apr 2023 |
| | UK | Undergraduate | 31 Aug 2023 |
| | Canada | Post-Graduate | 25 May 2023 |
| | USA | Post-Graduate | 01 Apr 2023 |
| | UK | Post-Graduate | 22 Mar 2023 |
X
FREE STUDY ABROAD

Free study abroad expert advice