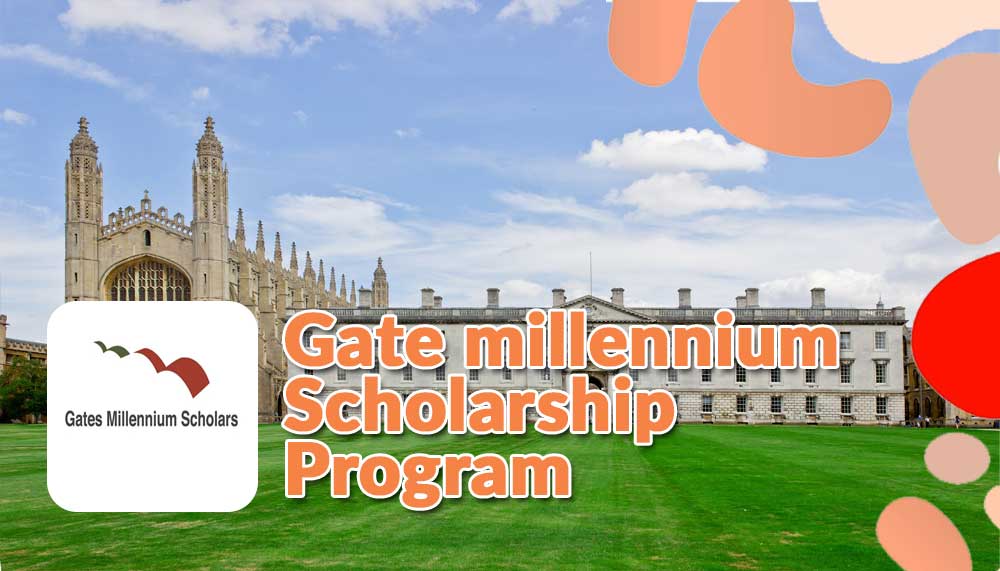 Gates Millennium Scholarship 2023 infomation for Pakistani students
The Gates Millennium Scholarship Programme is an initiative of Bill and Melinda Foundations aimed at providing financial aid to ethnic minorities for higher education. Through Gates Millennium programme, high achieving ethnic minorities can attend any US college or university for undergraduate and postgraduate degree. It is fully funded scholarship which offers opportunities of leadership development, mentoring, cultural and social support besides academic support.

The Gates Millennium Scholarship Programme was established in 1999. It commenced its functions through initial funding of 1 million USD from Microsoft founder Bill Gates. The programme is presently under administration of the United Negro College Fund and other partner organizations including Hispanic Scholarship Fund, the Asian & Pacific Islander American Scholarship Fund and the American Indian Graduate Center.

Bill Gates invested in this scholarship programme with goal of creating a strong group of future leaders from around the world through providing them high quality education and access to higher education opportunities so that they can improve overall quality of life in their respective countries upon returning back. Besides providing academic opportunities, the Gates scholars are trained to address global problems related to health care, equity, gender discrimination and learning. They are equipped with leadership qualities and problem solving abilities, their individual skills are nourished and they are offered specialization of their respective study fields.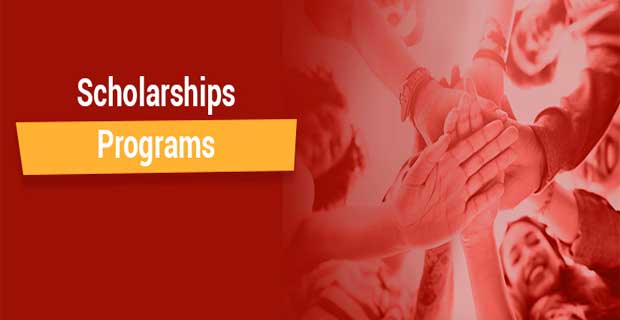 Programs Offered by Gate Millennium Scholarship 2023
No. of scholarships: GMS offer scholarships for 300 students
Host Country: Students can avail this scholarship opportunity in USA
Host Institutes: Any higher education institute of US; College or University is hosting institute of Gate Millennium Scholarship programme
Level of study: Scholarship award is for Undergraduate and post graduate (masters and PhD) degrees
Field of study: it depends upon the degree level
Undergraduate degree disciplines: Scholarships are available for any field of study
Post graduate disciplines: Education, Mathematics, Science, Engineering, Library science and public health
Deadline: GMS program has two phases, phase 1 ends in September while Phase two ends in January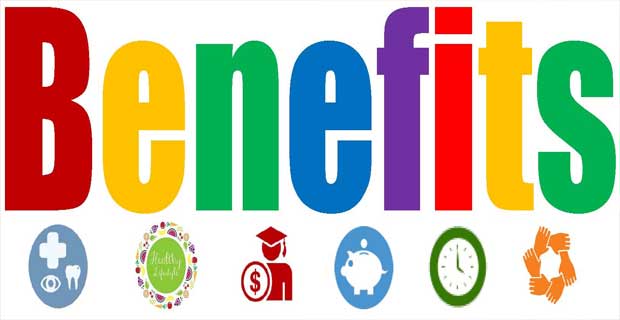 What Benefits will be provided by Gates Millennium Scholarship 2023?
The Gates Millennium Scholarship Programme Provides:
Financial support for tuition fee
For living expenses students can ask for loans
Funding duration is for five years
Students have option to renew the scholarship award if their academic records are maintained and satisfactory progress has been ensured throughout the previous award
GMS also offer online support service without charging ay cost
Online support services include: Academic support, mentoring lessons, advice and guidance regarding profession and financial literacy

Eligibility Criteria For Gates Millennium Scholarship Application
The applicants must have outstanding academic performer of his/her class. He must be among 10% top students of the class he/she is currently graduating.

The applicants must have leadership qualities, (involvement in community service, extra -curricular activities and other activities)

The applicants must possess exceptional personality attributes and success skills, (motivation, perseverance, emotional maturity)

The applicants must have a cumulative 3.3 GPA on an un-weighted 4.0 scale in his graduating degree.

The applicants must meet the federal Pell Grant eligibility criteria. (the federal Pell Grant eligibility means you must be in significant need of financial support)

The applicants must be motivated to be enrolled in a four-year duration undergraduate degree program at an accredited or a not-for-profit US college or university.

The Gates scholarship demonstrate substantial academic progress and maintained the excellent grades can continue on receiving grant for post graduate level studies in fields of education, engineering, library science, mathematics, public health and science.
Documents Required For Gates Millennium Scholarship Application
The transcripts of academic records

The cumulative GPA of previous degree

Your class rank

Enrolment verification number

Acceptance letter from US University or College (which must be enrollment for four-year duration under graduate degree program at an accredited and not-for-profit US college or university)

Financial aid award letter

Applicant's status as a dependent or independent student

A document demonstrating your personal gross annual income from the past year

A document detailing on applicant's leadership qualities, participation in community service certificate, prove of participation in extra curriculum activities, and experiences of the similar sort

A document detailing applicant's previous work experiences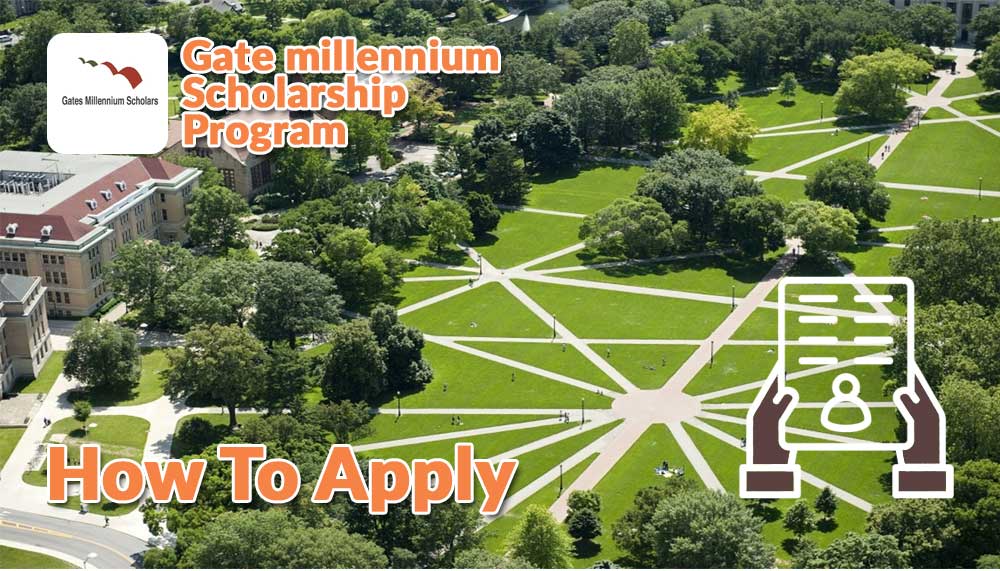 How to Apply for the Gates Millennium Scholarship 2023?
Student will create an account at MyTGS Profile
Submit required documents
Fill complete GMS program application with correct information
Application process completed in two phases
In first phase, the application will consist of questions
In second phase, the student would be required to answer a set of denser questions
Submit scholarship essay
Update transcripts
Interviews will be conducted
Submit letter of recommendation
Online Gates Millennium Scholarship 2023 Application Instructions
The GMS scholarship programme is looking for high achievers and best performers in their class. The competition is quite high therefore the students must dedicate themselves a 100% on their application.

Your scholarship essay must be exceptionally written for that you must be well versed about GMS requirements

Your scholarship essay must project you as an ambitious, passionate, hard working and dedicated student.

Mention your career goals and why you are eligible for selection in your essay.

Talk with your mentors and professors to arrange recommendation letters beforehand phase 2 of application

Work hard to get higher SAT/ACT scores because they can increase your chances of winning of GMS.
Deadline For Gates Millennium Scholarship Application Submission
The Gates Millennium Scholarship Program's application submissions have two phases
Phase 1:
July: Applications submission process open for phase 1

September: Applications submission are closed for phase 1

December: Semi-finalists are announced
Phase 2:
December: Application submission process open for phase 2

January: Application submission process is closed for phase 2

March: Finalists are announced calls for interviews of finalists are made

April: New class of selected scholars are announced

Fall: Scholarships awards are disbursed to winners
Official Website Link of Gates Millennium Scholarship 2023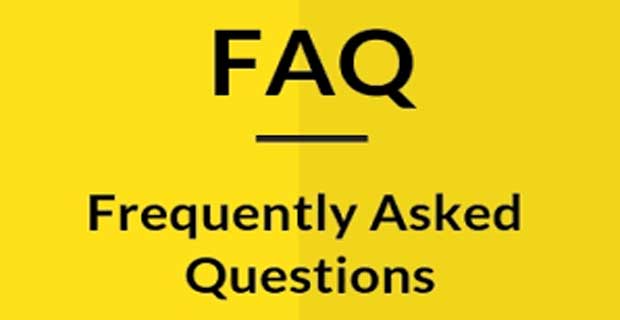 FAQs About Gates Millennium Scholarship
How much amount will receive from GMS if I get selected?
The selected students will receive grant based on their financial need as per the federal Pell Grant eligibility and financial aid letter. The scholarship offers cost of tuition fee, books, and living expenses including accommodation cost for each academic year. The scholarship will be renewed every year based on student's satisfactory academic status and progress.
Is GMS for post graduate students as well?
Yes, GMS is for post graduate students as well but the students must be existing gates scholars. The Gates scholars after completing their under graduate degree can apply for post graduate scholarship in the study fields of computer science, education, engineering, library science, mathematics, public health or science. But for that their under graduate academic records must be excellent and satisfactory.
What is the selection criterion of GMS 2022?
GMS offers fully funded scholarship to high achieving and academically excellent students belonging from ethnic minorities of USA. Besides academic excellence, the students must have leadership qualities (participation in community service and extra- curricular activities).
What is Pell Grant?
The Pell grant is federal financial guidelines for grants. The Pell grant eligibility criterion includes many factors based on financial status of student's family, family income, family members and number of students in the family. To apply for Pell grant, students will have to fill form for Federal Student Aid (FAFSA). The form is available at FAFSA official website. The eligible candidate will be granted financial aid from GMS.
Can GMS holders study abroad?
Yes, the GMS holders can study abroad at foreign universities outside the US but if they meet eligibility requirements of GMS.
How will I check the status of my GMS application?
To check if you have been selected or not, you can log in to your GMS account at the link here .
Can under graduate applicants of any study field get GMS?
To apply for GMS, you have must have attained an acceptance letter from any of USA's accredited university or college for any under graduate course of your choice without restriction.
Is the Gates Scholarship competitive?
Every year 300 scholarships are awarded through this program, but that doesn't mean the Gates Scholarship isn't competitive. If you want a chance at winning this prestigious scholarship, you'll have to dedicate yourself 100% to the application process
Do I have to write an essay for the Gates Scholarship?
Your essays matter most to get The Gates Scholarship. Start writing them as soon as the prompts are released. Your grades, extracurriculars, and recommendations cannot be changed at the time of the application, but your essays can.
Will GMS be granted without Pell Grant letter?
No, without Pell grant letter, your GMs application will not be approved despite of you having excellent academic records or leadership potential.
How can I convert my GPA to assess if I am eligible for GMS?
You can contact your guidance counselor for that because GMs does not provide GPA conversion chart. Your counselor must convert your GPA on a 4.0 un-weighted scale
How many GMS awards are granted each year?
Each year, 300 GMS awards are granted.
How much instrumental will be my scholarship essay at increasing chance of winning GMS award?
Your scholarship essay is extremely instrumental in increasing your chance of winning GMS award. A well written essay will leave a positive impact on selectors and they will prioritize your application. GMS wards are for leaders and high achievers, a well written essay demonstrates your exceptional personality traits and your promising potential.

Get Latest Scholarships in Your Email
Get a regular scholarship alert. We'll deliver important and latest scholarships to your email
Sign up
for free
scholarship
alert
X
FREE STUDY ABROAD

Free study abroad expert advice