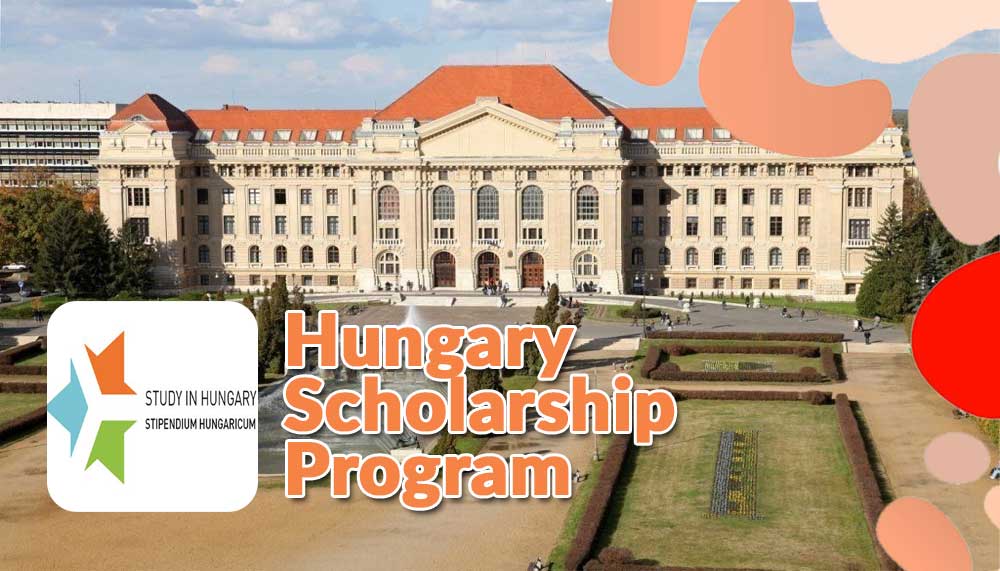 Stipendium Hungaricum Scholarship 2023 Latest Updates
| | |
| --- | --- |
| Current Status | Closed |
| Deadline | 15th January 2023 |
Updated 11th Jan 2023
Hurry up students, the last date for Hungary scholarships is near to end. So complete your applications as soon as possible before 15th January 2023. Submit online applications to both HEC and Tempus Public Foundation before the deadline.
Updated 13th Dec 2022
Hurry up, only two days are left for HAT/USAT application. Students who want to apply for Hungary Scholarships have to submit a valid HAT/USAT passing scores. The last date to apply for HAT/USAT test is 15th December announced by HEC Educational Testing Council. And the test will be conducted in January- February 2023.
Updated 7th Dec 2022
HEC is inviting applications for Stipendium Hungaricum Scholarships 2023-2024. This scholarship is for bachelors, masters, one-tier masters and PhD programs. So students who want to pursue BS, MS and PhD from Hungary, apply for this program till 16th January 2023.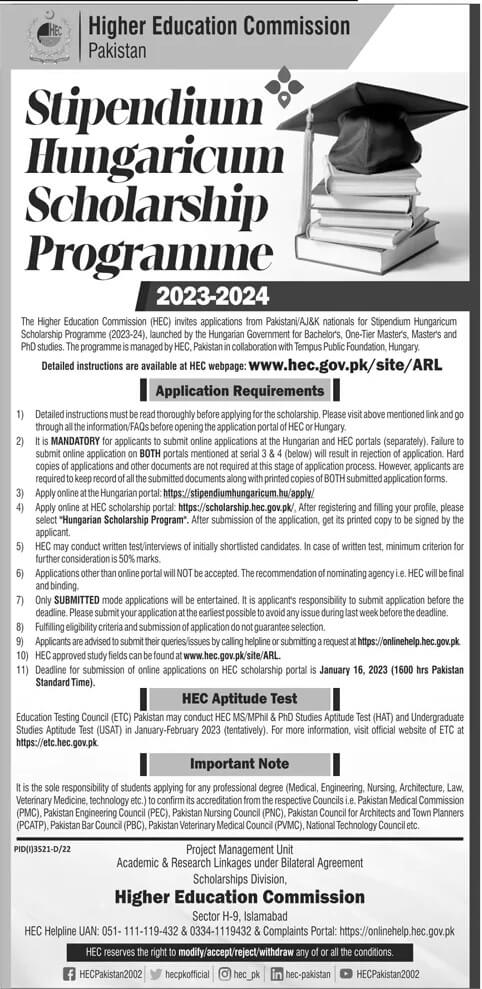 Updated 16th Nov 2022
Studyabroad.pk is pleased to announce that online application portal for stipendium Hungaricum is open now for the academic year 2023/2024. Pakistani students are highly encouraged to apply and start their studies for bachelors, masters and PhD programs. Deadline to submit application for stipendium Hungaricum Scholarships is 15th January 2023.
Description of Hungary Scholarship
The Hungarian Government inaugurated Stipendium Hungaricum Scholarship Programme in 2013.

The Stipendium Hungaricum Scholarship Programme was launched with the motive of increasing more enrollments of foreign students and high performers in Hungarian Higher Education Institutions.

The Stipendium Hungaricum Scholarship Programme is based on mutual academic agreements and bilateral cooperation between higher education ministries/ individual institutes of different sending countries with Hungarian higher education ministry.

The Tempus Public Foundation under the supervision of the Ministry of Human Capacities Hungary is responsible for operation and management of Stipendium Hungaricum Programme.

At present, there are more than 70 sending partners of this programme belonging from 5 different continents.

The students availing this scholarship programme can apply for long term, short term and preparatory courses in Hungary at under graduate, post graduate (masters) and post graduate (PhD) levels.

The Stipendium Hungaricum Scholarship Programme involves provision of tuition free education, monthly stipend, medical insurance and monthly housing allowance to scholarship bearers.

There are 28 higher education institutes in Hungary that are participants of Stipendium Hungaricum Scholarship Programme.

These 28 institutes are offering over 460 study programmes in foreign languages for different study fields and academic level.

Out of 460 study programmes, 414 are offered in English language and others in French and German languages.

The students belonging from 68 countries can apply for Stipendium Hungaricum Programme 2023 including Pakistan.
The Hosting Institutes For Stipendium Hungaricum Scholarships
Corvinus University of Budapest

Budapest Business School

Ministry of Foreign Affairs

Trade (legal successor of Balassi Institute)

Budapest University of Technology and Economics

University of Debrecen

University of Dunaújváros

Eötvös József College

Eszterházy Károly University

Eötvös Loránd University

University of Kaposvár

Károli Gáspár University of the Reformed Church

Liszt Ferenc Academy of Music

University of Miskolc

Hungarian University of Fine Arts

Moholy-Nagy University of Art and Design

Hungarian Dance Academy

National University of Public Service

University of Nyíregyháza

University of Sopron

Óbuda University

Pallasz Athéné University (Szolnok, Kecskemét)

Pető András College

University of Pannonia

Pázmány Péter Catholic University

University of Pécs

Semmelweis University

Széchenyi István University

Szent István University

University of Szeged

University of Physical Education

University of Veterinary Medicine

Facts
No of scholarships: More than 5000 scholarships will be awarded to students
Host country: Hungary
Host institute: 28 Higher Education Institutes in Hungary
Level of study: Scholarships are available for undergraduate and post graduate study programs
Courses: Technology, Engineering, Economics and Natural Sciences
Benefits: Tuition Fee, Monthly Stipend, Accommodation Allowance, Medical insurance
Deadlines: 15 January
Top 5 Study Fields by Hungarian Scholarship for Pakistani Students
The Stipendium Hungaricum Scholarship Program accepts application for every study field taught at Hungarian universities. Fields often studied for undergraduate, masters and PhD programs including
Computer Science and Information Technology

Economic Science

Engineering

Medical and Health Science

Natural Science

What Hungary Scholarship HEC 2023 Offers?
The Stipendium Hungaricum Scholarship Programme is fully funded by Hungarian Government, it offers
Tuition free education in Hungarian higher education institution

Monthly stipend

Accommodation allowance

Medical insurance.
The Pakistani students who get Stipendium Hungaricum Scholarship will get specific financial coverage and benefits as explained below:
Tuition Fee:
The Stipendium Hungaricum Scholarship holders of each study level that is under graduate or post graduate will be exempted from tuition fee.
Monthly Stipend:
For undergraduate and post graduate (masters)
Ø The Pakistani students getting Stipendium Hungaricum Scholarship at under graduate and post graduate (Masters) level will get HUF 43,700/ month.
Ø This amount will be granted to them as a contribution for their living expenses for entire duration of their study program until its completion.
Ø The Pakistani students selected for doctoral program will receive a grant of 140,000 HUF/month for first two years and for remaining study period will get monthly 180,000 HUF
Ø This amount will be granted to PhD scholarship holders for entire duration of their study program until its completion.
Accommodation Allowance:
The Stipendium Hungaricum Scholarship holders of all study levels will get a dormitory place or contribution of HUF 40,000/ month for accommodation cost outside the campus. This amount will be granted for entire duration of study program until its completion.
Medical Insurance:
The scholarship holders will be granted a national health insurance card or supplementary medical insurance of amount worth HUF 65000/ year/person for availing health care services during their stay in Hungary until completion of study program.

Documents Required for Eligibility of Hungary Scholarship Applicarion
The documents required to be submitted along with scholarship application form are as follows:
Online application form of Hungary Scholarship 2023:
All the applicants respective of their nationality will be required to fill and save the requested information in English language on the online application form.

Two photographs of applicant will require to be uploaded on the form; the photographs must not older than 2 years.

The students applying for an exchange study programme (I-e for 1 or two semester) must clearly specify in the form and also mention the semester start date (i-e September or February).
Write Motivation letter for Hungary Scholarship:
The letter of motivation is required to be submitted by all applicants regardless of their nationality and applying study level.

The motivation letter must be written in the language of their applying study course in Hungary.

The letter of motivation must be formatted in Times New Roman 12 size font.

The students will explain their academic aspiration and motive to apply for certain study course.

The letter must be written in minimum 1 page.
Language Proficiency Certificate:
Scanned copy of original language proficiency test certificate with minimum passing grades as per the criteria of your hosting institution and course requirement.

The language proficiency test certificate must be translated in the language of applying course.

If the student has passed his/her previous study programmes in the same language as the one applying admission for through this scholarship, then previous degrees might be accepted as proof of proficiency in language but it depends on your hosting institution's rules.
Educational Transcripts
Scanned copy of Higher Secondary School Diploma or equivalent certificate (for undergraduate admission)

Scanned copy of Undergraduate degree or equivalent certificate that must be translated in the language of applying study course (for masters programs)

Scanned Copies of Undergraduate degree, Postgraduate (Master) degree or equivalent certificate that must be translated in the language of applying course (for doctoral programs)

Scanned Copy of higher secondary school diploma or equivalent certificate translated in the same language (preparatory courses)

Scanned photocopies of original academic records including degrees, certificates, and diplomas and with semester wise records translated in the language of applying course.

Scanned photocopy of applicant's valid national passport
Medical Certificate:
Scanned copy of original health examination certificate stating the applying candidate is in good health condition.
Acceptance of Statement for Application in the online system:
All applying candidates will have to accept the "Statement for Application" on the online form.

The statement of application will appear on your online application system after you have registered and submitted the required documents

The candidates have to click the statement of application option and accept it in order to finalize submission of application.
Additional Documents for Doctoral Level Studies:
Research proposal will be required that should be written at least in two pages explaining your research methodology, plan of work and time schedule.

Letters of recommendation from two of candidate's current or previous tutors or research supervisors will be required. Both of the letters cannot be issued by same tutor or supervisor and the letters must be translated in the language of selected study program.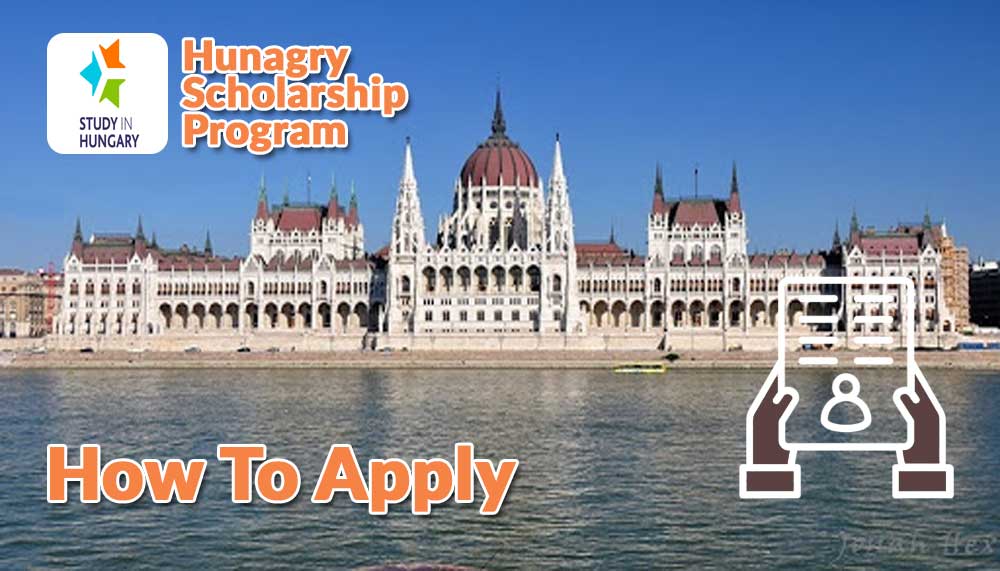 Application Procedure For Stipendium Hungaricum Scholarships
Students have to submit online applications to both portals one by one, as the nominating agency for Pakistani students is HEC (higher education commission) so students will submit application to HEC and Tempus Public Foundation
Tempus Public Foundation Application
All the applications for scholarship from students of sending partners will be submitted at online application system of Tempus Public Foundation.

The applicants will have to create an account at online application system of Tempus Public Foundation and register themselves.

After registration at the website, the applicants will be allowed access to application surface and permission to upload required documents.

Make sure that you fill the required information on the online form carefully, leaving no unfilled section and give authentic information.

After filling the form, submit the application and do not leave it saved because it will only be accepted if you click on submit option.

It must be noted here no application will be accepted without online submission and after application submission deadline.

No hard copies of any documents need to be submitted.
Submit Online Application To HEC
Go to HEC official website

Completely update your profile

Deposit a fee of 500RS (account number given on the site)

Upload deposited slip scanned copy
Hungarian Scholarship Application Instructions
Make sure to read and understand all the sections of applications and fill it accordingly.

Read eligibility criterion (age limit, entry requirements, nationality specifications)

To know about eligibility criterion of hosting institutions of Stipendium Hungaricum Scholarship Programme, visit their official website, select the course you intend to study and explore their admission requirements and if you meet the requirements, you can submit the application.

If you are doctoral student, find out which of the hosting institutions of Stipendium Hungaricum Scholarship Programme offers doctoral study and explore the available research topics and contact research supervisor for further details and then submit the application. If you have already being assigned a research supervisor, your application for scholarship will be put first for consideration of scholarship grant.

Fill your contact details precisely and with complete accuracy after double check because your contact details will be forwarded and used for revealing selection results. (Don't mistype your e-mail address, name or any persona detail).

You can't apply for different study levels in one application. Make sure you have typed right study level and right course and right hosting institution name. (Undergraduate degree holder students can't apply for Undergraduate study programmes, Postgraduate Degree holder students can't apply for postgraduate degree courses and likewise you can't apply for doctoral studies of your Postgraduate (master) degree is not complete.

Make sure the study course you are applying for is the same you selected. For example, there is difference between exchange study programme, full time study programme and partial or preparatory study programme. Once you click submit option, you cannot undo your application. Re- read it carefully and double-check all the details you have entered onto the online form.

Make sure the files you upload have no more than 4 MB size.

Your application must be submitted under the duration of application deadline.

Saving the application will only save the content you have submitted it will not be submit. The application will only be submitted if you click submit option at the end of application.

Write down and save your login details and username after registering at websites of both Tempus Public Foundation and HEC.

The registration number allotted to you while submitting application will be your id and it will be later used to access your user-id at Tempus Public Foundation and t will be your roll number if you get successful to achieve scholarship.

To increase your chance of getting admission, it is highly recommended to apply for two different study programmes according to your preferences.
Official Website Link with Official Application Link of Hungary Scholarship
Stipendium Hungaricum Scholarship Programme Official Website Link
Stipendium Hungaricum Scholarship Deadline
The deadline for Stipendium Hungaricum Scholarship application submission is country specific and might differ from one another. It is best to avail information from sending partner of Stipendium Hungaricum scholarship of your country (For Pakistani Students that is Higher Education Commission HEC). But in most cases, all the required documents and scholarship application for year 2023 should be submitted till 15th January 2023.

Till 28th February technical checking and nomination process of application will be completed

The second selection phase will start from 15th March to 31st May during which institutional admission procedure will be conducted

The last date to submit medical certificate is 15th April 2023

30th June to 15th July: Final selection and official results of application will be notified to candidates for start of classes.

Visa application process can be done till August 2023

Start of classes in Hungary: 30th September 2023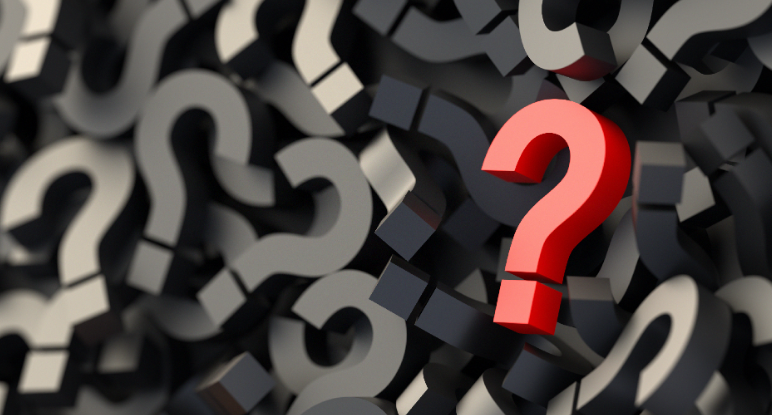 Frequently Asked Questions
Is Hungary poor country?
Hungary is a nation of 10 million people in Central Europe. Even though the country has a very high standard of living, many of its people live in poverty.
Is Hungary a good place to study?
Hungary is becoming an increasingly popular study abroad destination, having gained great credibility over the years and has a very strong tradition in the sciences.
Is there any fee for Stipendium Hungaricum Scholarship Program application submission?
No, there is no fee for online application registration and for participation in admission examination. Stipendium Hungaricum Scholarship Programme application submission is totally free of charge.
Do countries nominate applicants for Stipendium Hungaricum Scholarship Program?
Yes, the countries nominate the candidates for Stipendium Hungaricum Scholarship Programme. In Pakistan HEC nominate the selected candidates.
Can Hungarian scholarship holders request for extension of study period?
Yes, If you are studying a full time under graduate or post graduate (masters) study program.
Can students submit application after deadline is over of Hungarian Scholarship?
No, you cannot submit application for scholarship after the deadline is over.
Is application for Hungarian scholarship submitted more than once a year?
No, the application for Stipendium Hungaricum Scholarship Programme is only submitted once a year till 15th January.
What if you miss the application deadline of Hungarian Scholarship 2023?
In this unfortunate case, you can apply for Stipendium Hungaricum Scholarship Programme next year.
Can applicants study English taught study programmes in Hungary?
Yes, there are over 500 study programmes at different academic levels offered at Hungary to international students.
Can scholarship holders work during studies or if yes then will universities help students in finding jobs?
Yes, the scholarship holders can work during their studies in Hungary. The universities have career centers that help students in finding appropriate jobs in Hungary.
Are there many international students studying in Hungary?
Yes, there are almost 3000+ international students enrolled in Hungarian Universities for full time or partial study programmes
Is the general public in Hungary able to communicate in English?
English is taught to Hungarian students from primary classes so yes, the general public can communicates in English fluently.
Where can you get detailed information about Stipendium Hungaricum Scholarship Programme?
You can get detailed information about Stipendium Hungaricum Scholarship Programme through its official website or E-mail: stipendiumhungaricum@tpf.hu
Apart from submitting application at Stipendium Hungaricum Scholarship's application system, do the applicants have to register anywhere else?
It depends on the requirements set by sending partners. A Few of sending partners have exempted students from submitting application to them and a few have made it an obligation to submit application to them as well. To get complete detail you can consult here

Get Latest Scholarships in Your Email
Get a regular scholarship alert. We'll deliver important and latest scholarships to your email
Sign up
for free
scholarship
alert
X
FREE STUDY ABROAD

Free study abroad expert advice