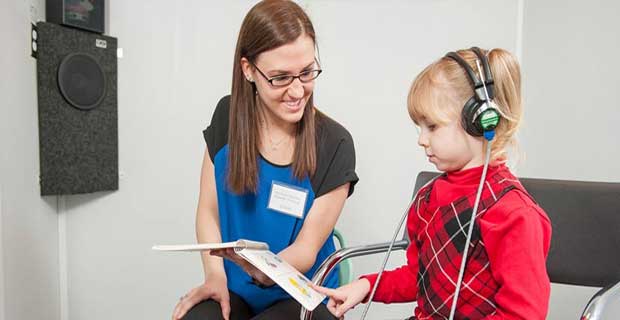 The speech and hearing sciences is for those Pakistani students who are keen to serve the purpose of human welfare in Pakistan for greater good.
Speech and hearing sciences is a form of rehabilitative sciences. Speech pathologists and audiologists work with people with speech and hearing deficiencies help to sketch out treatment or beneficiary plans for them.
A degree in speech and hearing sciences trains a person to train to work in hospitals, community welfare centers, rehabilitation centers or they could be private practitioners.
Foreign Universities that offer course in speech and hearing sciences for Pakistani students:
University of IOWA in United States of America.

University of Washington in Washington in United states of America
Consultants:
It's a relatively new field previously it was taught under rehabilitative science now has been separated from it to address the special needs of people with speech and hearing impairments therefore a Pakistani student must consider our consultants to guide them.

Get Latest Scholarships in Your Email
Get a regular scholarship alert. We'll deliver important and latest scholarships to your email
Sign up
for free
scholarship
alert

Study in Canada Scholarships Program for International Students 2020-2021
Diploma-Certificate, Post-Graduate, MPhil
Art & Design,Engineering&Technology,Business & Management,Computer Science & IT,Medical & Pharmacy,Education,Religion & Ethics,Social Sciences,Tourism & Hospitality,Media Studies ,Agriculture & Veterinary,Humanities,Mathematics,Chemistry,Physics,Philosophy,Environmental Sciences,Human Sciences,Psychology,Speech and Hearing Sciences,Clinical Psychology,Public Health,Medicans
Apply By 03 Mar 2020

Canada

VCIS Global Allianz Fund Assistance Scholarship at Macquarie University in Australia, 2020
Undergraduate, Post-Graduate
Art & Design,Engineering&Technology,Business & Management,Computer Science & IT,Medical & Pharmacy,Education,Applied & Pure Sciences,Medical Sciences,Environmental Sciences,Human Sciences,Psychology,Speech and Hearing Sciences,Clinical Psychology,Public Health
Apply By 30 Nov 2019

Australia
X
FREE STUDY ABROAD

Free study abroad expert advice