Saturday —December 04, 2021

31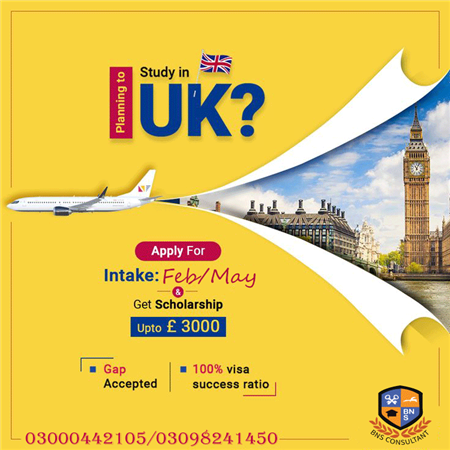 Apply Now for 2022 Intake.
🏚 Study in UK.
✈ 2022 intake are open Now.
🥇With and Without IELTS options available.
👨‍🎓 Post study work visa of 2 years for every student.
💎 Scholarship of upto 5000 £ available.
🌈 courses with 1 year work placement available.
📌Top Universities
🔹Undergraduate
🔹Postgraduate taught
🔹Scholarships Available
🔹All Courses Available
Qualified Solicitors firm in Pakistan.
Highest visa success ratio.
Hurry up !!
Apply Now for February/May, 2022 Intake.
Address: Office#810, 8th floor High Q Tower Jail Road Gulberg V Lahore
Call/WhatsApp:
Mob:03000442105---0309-8241449
Tel:042-35771606-7
Email: bnstudyconsulting@gmail.com
Website: www.bnstudyconsultants.com
#studyinaustralia #CAIEResult2021 #CIE #Olevel #Alevel #CAIE #lowgrades #ukvisa #IELTS #WithoutIELTS #DAE #ICOM #lahoregrammarschool #atchisoncollegelahore #dhalahore #lgsphasev #LACAS #inter #FSc #FA #ICS #ushighschooldiploma #studyaustralia2020 #studyfirst #austria🇦🇹 #Australia #studyinuk🇬🇧 #UCAS
Consultant Info
X
FREE STUDY ABROAD

Free study abroad expert advice