Friday —July 30, 2021

86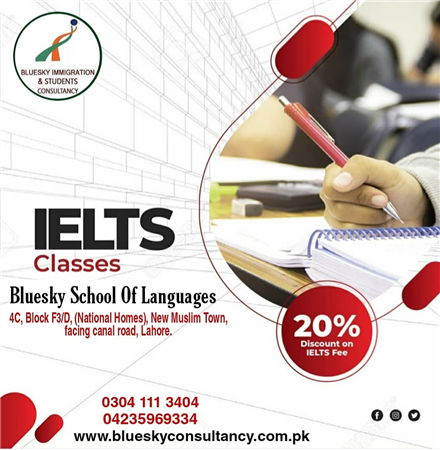 Get IELTS, PTE and English language classes at Bluesky school of languages.
At main Canal Road, New Muslim town, Lahore.
𝘾𝙖𝙡𝙡 𝙉𝙤𝙬 - 03095556002, 04235969334
Flexible Timings: 3 classes in a day
𝘈𝘥𝘥𝘪𝘵𝘪𝘰𝘯𝘢𝘭𝘭𝘺 𝘎𝘦𝘵 𝘥𝘪𝘴𝘤𝘰𝘶𝘯𝘵 𝘪𝘯 𝘴𝘵𝘶𝘥𝘺 𝘷𝘪𝘴𝘢 𝘤𝘰𝘯𝘴𝘶𝘭𝘵𝘢𝘯𝘤𝘺 𝘢𝘧𝘵𝘦𝘳 𝘨𝘦𝘵𝘵𝘪𝘯𝘨 𝘺𝘰𝘶𝘳 𝘳𝘦𝘲𝘶𝘪𝘳𝘦𝘥 𝘣𝘢𝘯𝘥𝘴.
Office address: (4C, Block F.3/D, National Homes,
New Muslim Town, Facing Canal Road Lahore.
Near to New Campus Punjab university.
Web:
www.blueskyconsultancy.com.pk
Apply:
https://blueskyconsultancy.com.pk/admission_study/
Address on Google Maps; follow
https://goo.gl/maps/SSfX2HS8iZNtB5eP6
#LanguageSchool
#ForeignEducation
#ieltsexam
#IELTS
#PTE
#TOEFEL
#Englishlanguage
#IELTSTrainer
#ieltscoachingcenter
Countries

Pakistan

United Kingdom

Australia

Canada

United States
Consultant Info
X
FREE STUDY ABROAD

Free study abroad expert advice