Sunday —September 19, 2021

68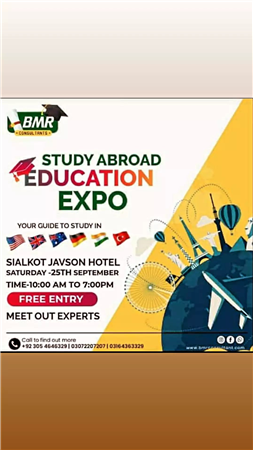 Join our International education expo in Sialkot on 25th September 2021.
Free Entry for all students.
Free counselling, on spot admissions and Scholarship programs.
Free give aways for students including earpods, bluetooth speakers, power bank and many more.
English test guidance for IELTS, PTE, LINGUASKILLS, OEITC.
Contact 03164363329.
Bring your documents for assessment.
Countries

United Kingdom
Education Levels
Intermediate
Bachelor's
Masters
Consultant Info
X
FREE STUDY ABROAD

Free study abroad expert advice