Tuesday —December 06, 2022

57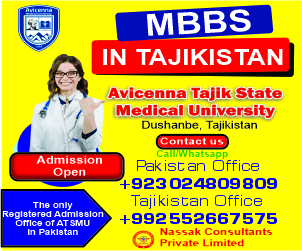 MBBS/MD in Tajikistan-Avicenna Tajik State Medical University
Avicenna Tajik State Medical University (ATSMU) is a public university in Tajikistan. Established in 1939, it is located in the Capital of Tajikistan Dushanbe and is named after Avicenna. It is managed by the Ministry of Health and is the only higher medical education facility in Tajikistan preparing medical personnel for the country. There are 4 Departments at Tajik State Medical University,
Faculty of Medicine
Faculty of Pediatrics Faculty of Dentistry
Faculty of Pharmacy
Department of Public health
Why Avicenna Tajik State University?
ATSMU is a PMC "A" Listed University & recognized by WHO (World health organization).
Located in Dushanbe, the Capital of Tajikistan.
ATSMU is approved by Pakistan Medical Commission

(PMC A-List University)

Students can appear in PMC's NLE Exam after Graduation.
International students from different nationalities Pakistan, India, Bangladesh & others are studying MBBS/MD in Avicenna Tajik State Medical University.
Countries

Tajikistan
Education Levels
Consultant Info
X
FREE STUDY ABROAD

Free study abroad expert advice