Tuesday —June 06, 2023

81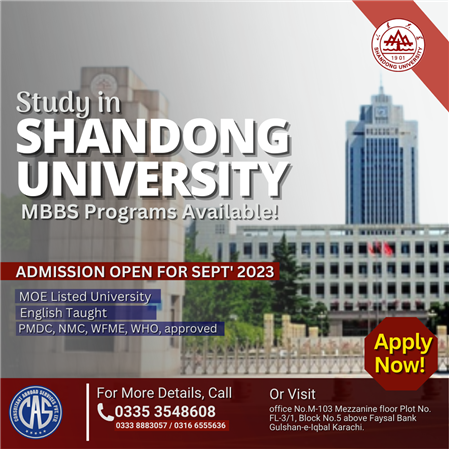 Exciting News! Study MBBS at Shandong University!


Are you passionate about medicine and eager to make a difference in people's lives? Shandong University is offering a fantastic opportunity to pursue your MBBS degree in one of the most prestigious institutions in China.


Why choose Shandong University for your medical education?

World-class Faculty

State-of-the-Art Facilities

Clinical Exposure

Global Recognition

Vibrant Campus Life

Cultural Experience

Don't miss this incredible opportunity to pursue your passion for medicine at Shandong University! Apply now and take the first step toward a rewarding medical career.


For more information about the admission process, courses, and other details, visit our website or contact their admissions directly.

Follow our page to stay updated on the latest news, admission information, scholarships, and success stories of students. Start your journey towards a bright and fulfilling future today!
For more information, visit our website or contact us at :
𝓕𝓸𝓻 𝓶𝓸𝓻𝓮 𝓲𝓷𝓯𝓸𝓻𝓶𝓪𝓽𝓲𝓸𝓷:
𝓦𝓱𝓪𝓽𝓼𝓐𝓹𝓹: https://bit.ly/3HIBZbr
𝐂𝐚𝐥𝐥: +𝟵𝟮𝟯𝟯𝟱𝟯𝟱𝟰𝟴𝟲𝟬𝟴 | 𝟎𝟑𝟏𝟔𝟔𝟓𝟓𝟓𝟔𝟑𝟔
𝖂𝖊𝖇𝖘𝖎𝖙𝖊: www.cas.com.pk

#ShandongUniversity #MBBSProgram #StudyAbroad #MedicalEducation #DreamBig #FutureDoctors #MedSchool #HigherEducation #StudyInChina #MedicalCareer #GlobalOpportunities #PrestigiousInstitution #MedicalExcellence
Countries

China
Education Levels
Consultant Info
X
FREE STUDY ABROAD

Free study abroad expert advice