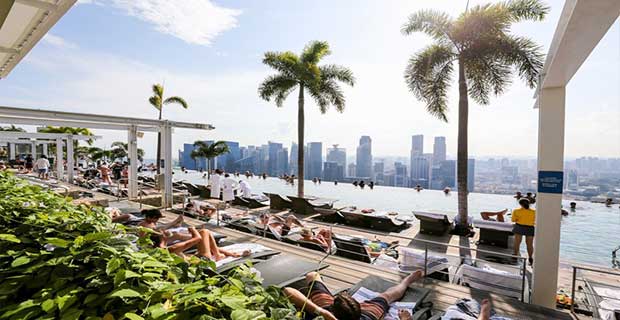 Singapore offers the most up to date living standards in South East Asia. Every contemporary facility is readily available at this small destination. An international student in Singapore can lives comfortably within a budget of S$750 to S$2,000 a month. The fluctuation in spending depends upon the study abroad resident's lifestyle and chosen course of study.
The best thing to study in Singapore is the high ranked universities like NUS and NTU. These universities offer the same living standard to their students which are conducted in western universities. Moreover, many renowned western universities have set up their campuses in Singapore
Accommodation Options in Singapore for Pakistani Students
The study abroad student who reached Singapore to attend a full-time degree course primarily searches for accommodation. Different types of accommodations are available depending upon your pocket.
On-campus residences include Halls of Residences, Residential Colleges and Student Hostels. These are the most affordable options and include meals and utilities in the whole package. Students can also participate in every activity like sports; gym etc without travelling anywhere else plus they have interaction with the fellow students belonging to diverse communities. Students can also take residence in off-campus hostels, shared rooms of an apartment or rent the whole apartment. The price varies with location, type of accommodation, demand, facilities provided & the number of people sharing, etc. These accommodations, as well as the universities themselves, offer swift and reliable internet and telecommunicating services to the students.
Multicultural Atmosphere
Another best thing about living in Singapore is the dominating South East Asian population. The student will find a familiar culture around like 8% of its population comprises Indian, 77% Chinese, and 14% Malay. The spoken languages are Tamil, Malay, Chinese, English, and Asians can easily adjust themselves with the English speaking surroundings. People of different beliefs live together in this city therefore religious believers from every religion can live independently in Singapore like Buddhists, Christians, Muslims and Hindus can perform their religious rituals without any fear.
Transport Facilities
Travelling in Singapore is simply enjoying. Students can easily find suitable transport to roam around the island. Ground transport is well-managed and accessible like taxis, busses etc.. Rail is another transport for students to commute; you can ride the Mass Rapid Transit or the Light Rail Transit according to the desired destination. To reach other islands the best means of transport is a ferry. Students can benefit from discounted student cards while using public transport in Singapore.
Food
Singapore is a city that offers diverse dishes with multicultural flavors. You can taste Chinese, Indian, Malay French, Filipino, and Turkish dishes. As a major population residing in Singapore is Muslim, therefore, Halal food is readily available at various places in Singapore. Even the renowned Singaporean universities are incorporating tasty cuisines in their on-campus dining and cafeteria.
Healthcare
Singapore Healthcare system is very sound. In fact, there are many private and government clinics in Singapore. However, hospitalization is very expensive therefore It is highly recommended that foreign students purchase health insurance to cover unforeseen medical issues. Some universities have included the health insurance coverage in their study program especially those attending a course on Scholarships.
On-Campus Student's Life
Students will enjoy every type of recreational activities within the campus like gym, sports etc. Students can also take help about the career from the career advisers available at the campus. They can take part in both co-curricular and extracurricular activities while living in Singapore. Students are involved in community services, they can avail opportunities in performing arts and join the student union to express their viewpoints.
Outdoor Activities
Being the tidiest country of the world with scenic landscapes and multiple natural resources Singapore is a hub for exceptional outdoor activities. The students can enjoy trailing, forest adventures, tree top walks, Kayaking in the mangroves and karting. Students can avail many discounts on these activities and other entertainment areas. Students can even watch movies at places that are very unusual like movie mobs, 'ArtScience' museums and the screening room. Students can enjoy the performing arts in theatres and can attend art festivals such as the annual "Shakespeare in the Park."
Nightlife in Singapore
Singapore is a safe country to live as the crime rate is very low in Singapore. The nightlife of Singapore thus attracts the students with its vibrant charm. There are night clubs, movie theatres and music events and other hanging out zones to cheer up the overseas students
Banks in Singapore
Singapore, in fact, is a global financial destination; therefore, students can find many familiar international banks like ABN-AMRO, ANZ, Citibank, HSBC and Standard Chartered in Singapore
Thus living in Singapore is like living at a destination where "East meets West" the international students can enjoy the tropical rainforest climate while living in Singapore with exceptional shopping experience, international cuisines, safe living and much more!
X
FREE STUDY ABROAD

Free study abroad expert advice