Study abroad in Singapore for Pakistani students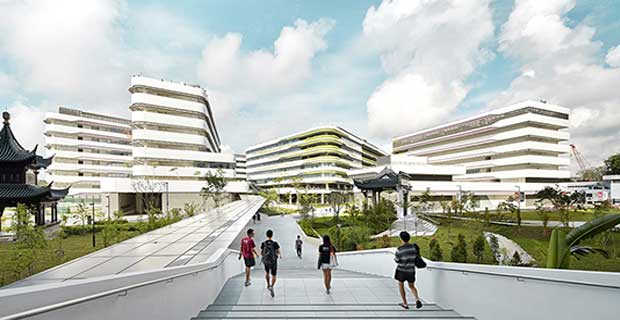 Singapore is both an island and a country and is best defined as a city-state. Singapore, in fact, has the fourth biggest financial centre which resides internationally significant banks, businesses and stock exchanges. Moreover, the country homes one of the world's five busiest ports. The country comprises the island of Singapore and 63 other smaller islands. The capital city is also called Singapore. The city covers about a third of the area of the main island. The official currency is Singaporean Dollar.
Languages and Religions in Singapore
English, Tamil, Malay, Mandarin, Chinese and Arabic are the languages spoken and understood in Singapore. It allows believers of all faiths like Muslims, Hindus, and Buddhists etc to pursue their religious rituals freely.
Multicultural Population
People from various cultures reside in Singapore as the highest population belongs to China; in fact, Chinese comprises more than 75% of Singapore's population, with Malays and Indians following as the next dominant races. Almost the entire population lives in modern apartments, and the average per capita income of the country is over US$12,000 which makes the country the most preferred study abroad destination that offers diverse employment opportunities.
Singapore as a Study Abroad Destination for Pakistani Students
Nowadays, Singapore has become the best Asian study abroad destination for Pakistani Students. The country is offering the most up to date courses in multiple disciplines. Top-ranked universities reside in Singapore that renders the latest academic curriculum at an affordable cost. According to the valid QS ranking the Singaporean National University (NUS) is ranked as the 15th best university in the world with National Technological University( NTU) following NUS.
Jobs for Pakistani Students
Students are allowed to work while studies in limited hours and the graduates can hunt job after completion of their studies. Eligible candidates can get a full-time job with a long term work permit opening paths for Singapore permanent residency and eventually to Singaporean Citizenship.
Financial Assistance for International Students
Singaporean Government has facilitated overseas students by offering effective tuition Grant Scheme. Singapore universities also offer scholarships and study loans to students who do not afford the high cost of tertiary education at Singaporean higher education institutes.
Entertainment, Food and Festivals
Marina bay sands, Singapore zoo, orchard road and many other places are the tourist favourites. The theatre is well flourished in the country. In fact, Singapore dance theatre is globally acclaimed. Kueh Tutu is Singapore's exotic traditional dish. It was named after the 'tutu' sounds which steamers release when water was boiling! The dish is stuffed with peanut or coconut and is served with Pandan leaves. A lot of festivals are celebrated throughout the country.
Thus life in Singapore has many shades and colours and the international students who want to choose Singapore as his/her study abroad destination can get many lifetime experiences while living and studying in this lively island
Latest Scholarships in singapore
TUM Asia-DAAD Scholarships in Singapore
For Masters in the fields of Business & Management
Apply by

31 Mar 2023

NTU Singapore – College funding for International Students
For Bachelors in the fields of Medical & Pharmacy
Apply by

01 Jan 2023

Pacific Prime Singapore International Scholarships, 2022
For Bachelors in the fields of Medical & Pharmacy
Apply by

30 Sep 2022
Study Abroad Consultants for singapore
X
FREE STUDY ABROAD

Free study abroad expert advice