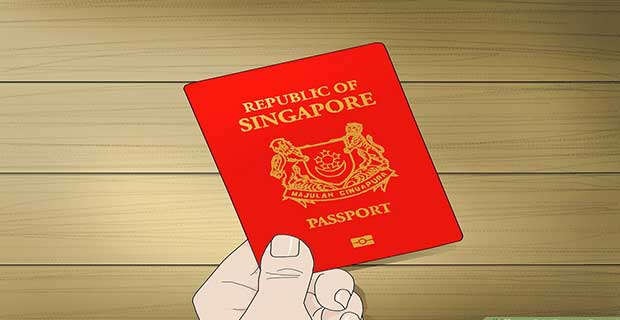 Singapore offers various opportunities for overseas students to begin their career in the country. These employees can apply for the Singaporean permanent residency if they have served the given period in Singapore. Singaporean Government has launched Selective Permanent Residence and Citizenship options to support the economy of the country. Since 2009, an average of 30,000 permanent residencies and up to 20,000 Citizenships annually were issued by the Government.
The Permanent Residency conditions of Singapore for Pakistani Students 2020
According to the immigration service of Singapore, a person can become a Permanent Resident in Singapore if he /she is residing in Singapore for six months and fulfil one of the following conditions.
1. The spouse or unmarried child of a Singapore Citizen or a Singapore Permanent Resident
2. An old Parent of a Singapore Citizen
3. An employee in Singapore holding the P, Q or S work pass
4. An investor or entrepreneur
5. Foreign student studying in Singapore
Getting a Permanent resident status in Singapore is comparably easier than other western countries as the Singaporean Government has established various schemes through which an immigrant can apply for a permanent residency. The schemes are as follows
Professional, Technical Personnel and Skilled Workers Scheme (PTS scheme)
This scheme caters legally employed foreigners in Singapore holding an Employment Pass (EP), Personalized Employment Pass (PEP), S-Pass or EntrePass.
Sponsored Scheme
The Sponsored scheme will provide a permanent residency to the spouse and Children / Step-children / Legally Adopted Children of a Singapore Citizen or Singapore Permanent Resident (PR).
Foreign Artistic Talent scheme (For Arts)
Foreign Artistic Talent Scheme provides recognition to the exceptional artist and their contribution to the culture of Singapore. It simply means that outstanding international arts professionals can become Singapore resident through their artistic talents. This scheme is meant for students who exhibit outstanding performance in the field of visual arts, literary arts, performing arts, design and/or media
Global Investor Program scheme (GIP Scheme)
is assisting individual investors and seasoned business-owners who want to set up their business in Singapore under set terms and conditions. The Global Investor Program scheme (GIP), allows them and their families to apply for a prompt Singapore Permanent Residence (PR) status. The study abroad consultants for Singapore can guide you better about these schemes
Foreign Students Scheme
Foreign students who are studying in Singapore can apply for permanent residence (PR) through their outstanding academic performance. However, these students must
• have resided in Singapore for more than 2 years
• have passed any national exam like GCE 'N'/'O'/'A' levels or PSLE or are enrolled in the Integrated Program (IP).
Employment option
Graduates from Singaporean higher education institutions can also take permanent residency if they get employment in the country. To get fulltime work in Singapore, these students need one of the following passes.
• Employment- passes for qualified professionals and graduates
• S -Passes for skilled foreign workers employed in Singapore.
Note that the prospective employer is responsible to apply for these passes on the international employee's behalf.
Applicants who want a permanent resident of Singapore have to primarily apply at the e-PR system. Here the applicant can continue his application as
A worker
Relative of a Singapore resident
An international student
The form will ask about the student's passport information, the academic and employment history, contact, family members and medical history.
Once the applicant begins this online application, he/she have to complete it within 96 hours for submission along with the required documents and payment. The fees for PR application is $120
Students also have to submit their transcripts and academic certificates.
Applicants are required to pay the processing fee via credit or debit card.
After the payment, the student ,studying in Singapore will receive a confirmation email about the successful submission
• The application processing time is 4-6 months.
• The applicant will get his result via standard mail within 4 to 6 months.
• Meanwhile, the applicants are allowed to check the application status via the e-PR system.
• Check your application status at the given website.
For an approved application, the letter will instruct the candidate to set up an appointment with the Permanent Resident Services Centre in Singapore. The applicant will receive his/her Re-Entry Permit and ID card at this service centre.
•It is essential for the PR applicant to visits the Permanent Resident Services Centre within 2 months of receiving the result of his/her PR application
According to a cited statistic, over the past ten years more than 80% of applicants obtained residency.
Benefits of Singaporean Permanent Residency
A permanent resident of Singapore gets a blue card and enjoys many benefits which include spouse and children entry in Singapore, tax relaxations, property purchase facilities, health care facilities and can apply for a long term work permit. They can easily switch the job without any legal permit. These individuals do not need a visa to re-enter Singapore. They can apply for various loans and has shares in the provident funds.
Citizenship of Singapore for Internatioanal Students 2020
Singaporean government, however, has set a condition for immigrant's permanent residency. The immigrant with Permanent Residence has to serve for the National Service (NS) of Singapore. However, Professionals/Technical Personnel and Skilled Workers (males) are exempted from this clause.
A permanent citizen who has been residing in Singapore for more than two years can apply for the citizenship if he has a valid job or he is married to a Singaporean resident. The application is made to the ICA office. The applicant has to fill a citizenship form and then submit it at the ICA website along with the required documents The fee for this process is around $100.The ICA will give the applicant an interview date. If the ICA authorities are satisfied with your status they will send you an e-mail. The applicant is then instructed to complete the further citizenship registration formalities and has to pay some fees. Finally, the citizen will attend a Citizenship ceremony.
Recently some global investment schemes are also launched which render prompt citizenship to the foreign investors.
X
FREE STUDY ABROAD

Free study abroad expert advice