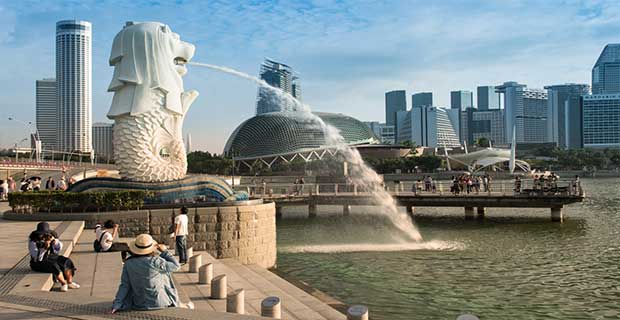 Singapore is one of the world's most prosperous island countries in Southeast Asia. It is located beyond the southern edge of the Malay Peninsula, right between Malaysia and Indonesia. Multiple languages are spoken and understood in Singapore however the official languages are English, Malay, Chinese, and Tamil. Singapore is the capital city of the country and its currency is the Singapore dollar (SGD).
Singapore economy is growing ahead because the country had strong international trading links with a (GDP) parallel to countries of Western Europe. Let's explore why students prefer Singapore as a study abroad destination
Up-to-Date Education System in Singapore for International Students 2020
The Education system in Singapore is highly developed. Singapore is considered as one of the most expensive cities in the world, yet it is preferred as a study abroad destination for the high-quality education the country is rendering to both local and international students. The country, in fact, ranked 15 in the QS Best Student Cities in 2019. More than 75 thousand international students are currently studying in Singapore.
Developed Asian Destination
Though living in Singapore is a bit expensive to study abroad students, still it is quite affordable as compared to the USA and the UK. The city is located in Asia, therefore, students from India, Pakistan, Bangladesh and other south Asian countries find it closer than the other overseas destination. The Airfare for Singapore is also less than a western destination.
High-Ranked Universities with Globally Recognized Degrees in Singapore 2020
The two globally-known universities of Singapore are the National University of Singapore (NUS) and Nanyang Technological University (NTU). Both of these universities are listed on top in the QS World University Ranking 2019.
National University of Singapore (NUS)
It is at 15th position in the QS World University ranking. The school is, in fact, ranked seventh in the subject of engineering and particularly ranked sixth for civil engineering. It's also listed within the top 10 for social sciences & management.
Nanyang Technological University
The university ranked 12th in the world and third in Asia. It's especially known for its engineering courses,
Singapore Management University
This is an another Singapore's leading institution, highly ranked in the disciplines of accounting, finance, computer science, economics, law and statistics. The overall university ranking is 500 and 78th in Asia.
Foreign University Campuses in Singapore for Pakistani Students
Moreover, many foreign universities have opened their campus in Singapore with or without collaborations. These include the US's Massachusetts Institute of Technology Yale-NUS College and China's Zhejiang University. is another international collaboration. Thus A recognized degree from Singapore means a gateway to reputed career around the world.
Tuition Grant Scheme
Singapore government is focusing on the betterment of international students. In this regard, the Tuition Grant Scheme was introduced by the Government to help international students through effective financial support. The Tuition Grant Scheme is currently assisting students enrolled for the full-time diploma or undergraduate courses in Singaporean Universities. However, the students who received the funds under the Tuition Grant Scheme should primarily apply for Tuition Grant and later they have to sign a Tuition Grant Agreement in which they are bound to work in Singapore for three (3) years after graduation.
Scholarship Offers in 2020 for Pakistani Students in Singapore
Besides this Tuition grant scheme, the country also offers valuable scholarships to eligible students. Some of these scholarships are in fact fully funded covering full tuition fees and most other expenses of the student.
Work While Study Options
Another way to support foreign students in Singapore is that international students can work while studying in Singapore. Many part-time jobs are available for students. However, these international students are restricted to work for 16 hours per session.
English Taught Courses in Singapore 2020 to Pakistani Students
The major reason to study in Singapore is the medium of instruction. Fortunately, the teaching language in Singapore is English. It is, in fact, obligatory to comply with the university's English language requirements as part of the application process. This normally includes a score from the language proficiency test like IELTS or TOEFL.
Visa-Free Entryof Singapore for Pakistani Students
The best thing to study abroad in Singapore is the visa-free option. It means that if the student has applied at Singapore University and successfully received an acceptance, then the university itself completes all the visa formalities and the approval letter will act as an entry to Singapore.
Comprehensive Techno-Based Teaching System
All current methodologies and techno integration are involved in the teaching system of higher education institutes in Singapore. Students will attend lectures to get the basic concept. In fact, practical work and tutorials help the student to comprehend their course. On-line studies,Audio-visual learning, printing materials thus everything is there in Singapore's teaching system.
Career Prospects
Singapore has a full-grown free-market economy. The economy is chiefly grown through the developments in information technology, pharmaceuticals and other financial dealings. The country is therefore considered by the World Bank as the easiest country to do business with. Singapore always welcomes investors and companies, therefore, giant multinational corporations have set up their chains in Singapore. This will lead to a wide range of employment opportunities for graduates and pass-outs
Familiar Environment
International students, especially from Asian countries, find a familiar atmosphere in Singapore as there are a lot of Pakistanis and Indian residing there. Singapore's multicultural society homes four ethnic groups: the Chinese, Malays, Indians and other minorities. Many religious followers are based in Singapore. Most of them follow Islam, Buddhism, Hinduism, and Christianity.
Safe and Clean Destination
Singapore is extremely clean. The country applies very strict anti-litter policies via charging a fine of SGD 1000 if anybody throws litter for the first time and a fine of SGD 5000 if the offence is repeated. Singapore is thus called the "fine city"! Moreover, the city is surrounded by lush green atmosphere making it the most appealing and scenic study destinations for international students.
Moreover, a temperate climate, vibrant nightlife, mouth-watering cuisine picturesque landscape ,techno-integrated living with multicultural people have made Singapore the best study abroad destination for Asian students.
X
FREE STUDY ABROAD

Free study abroad expert advice