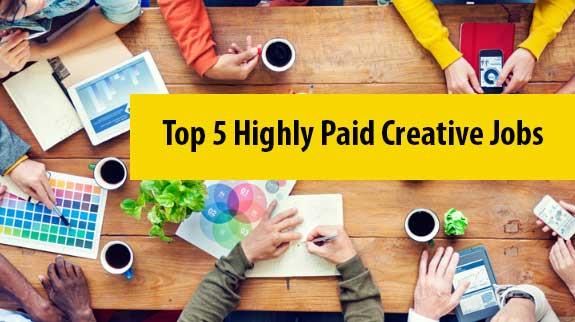 Students who think that creative studies will not good for their future or they cannot earn much money through creative degree. So read these top five highly paid creative jobs. After read this top five highly paid jobs, students have dream to get degree in creative arts for their brighter future.
Mostly students don't prefer creative arts degrees because they have myths about, they don't get highly paid jobs. We share with you the top five creative jobs that will change your destiny, if you have degree in creative arts.
Creative Director
Yearly income: normally, creative directors in the United States starting income is average US$44,000 to 83,000 with other benefits according to the PayScale.com.
The job: Advertising, Music, Media, graphic design and conceptualize creative projects manage by the Creative directors.
Entry routes: Bachelor degree in Marketing or graphic design will require with good portfolio. Experience of working in advertising agencies, brochures and online advertising will be benefits for them. A master's degree in visual communication, design and animation can also help to get this art director job.
Job fields: you can polish your skills to work in areas related to marketing, web design and multimedia design.
Art Director
Yearly Income: Art Directors will earn US$40,200 to US$61,000 average on yearly basis. Employers can earn more according to their degree, skills and work experience.
The job: execution of concept outlined to design staff is the main duty of Art directors. Manage and implement each and every project. Arts directors must have artistic skills, technical skills and project management abilities.
Entry routes: bachelors or Master's degree require in Photography, architecture and interior design. They have extensive experience to working as art director in an arts department. Related work experience will boost the career.
Senior graphic designer
Yearly income: according to the US the senior graphic designers earning is based on average US$56,000 to US$81,000 which is based on their skills and work experience.
The job: Graphic designers using photoshop, illustrator or other that kinds of software and media to create graphics for brands.
Entry routes: degree in graphic design or arts field will help out to become a good graphic designer. Work experience and skills will help them a lot.
Animator
Yearly income: according to US data average animator earns US$50,200 to US$79,700 as per their skills and work experience.
The job: applicants must have grip on Photoshop, animation software, flash and Morpheme to become a animators. They create cartoons, motion picture and related thing through hands.
Entry routes: animation course will be help for them to build a skills and abilities as animator. They must have work experience with good portfolio.
Game Designer
Yearly Income: The average earning of Video game designers based on US$38,000 to US$58,300 and its increased according to skills and work experience.
The job: Game designers effort for gaming companies in an office or studio together with programmers and artists to manage the imaginative way and programming of a video game. They may pay to the expansion of gameplay, plot, user line, typescripts and game instructions.
Entry routes: degree, skills, and work experience require to get this Game Designer position.
X
FREE STUDY ABROAD

Free study abroad expert advice