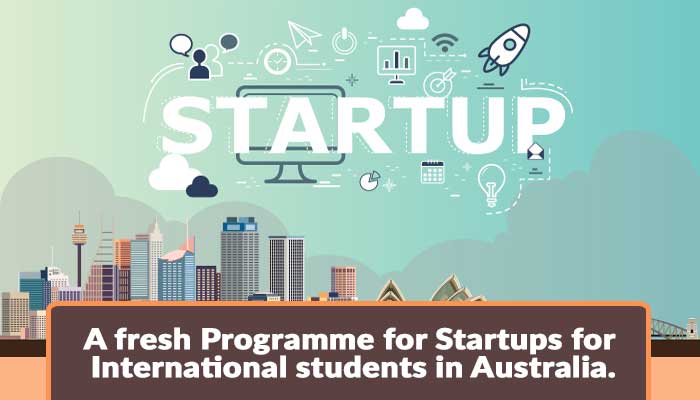 FFWD stands for Fast Forward. FFWD is a programme which is helping students in Australia fast forward their dreams into reality. This programme helps students converts their dreams and ideas into reality. This whole programme is of six weeks and it is funded by New South Wales (NSW) and Haymarket HQ. These programmes provide international student, an access to mentors and investors, and also provide practical experience to many international students who dreams to start something on their own.
What is FFWD?
The startup Muster report of Australia reported in 2018 that all the small startup has founders which were foreigners and majority of these foreigners has come to Australia for studies. International students who start entrepreneurship in Australia often are in need of additional support to run the startup businesses and that supports comes in form of business mentors and networks, so that the chances of the startup to succeed can soar.
Students who study at private higher education institutions in New South Wales who do not have any reach to the startup accelerator programmes, and this result in lack of support for the startup endeavors. A lot of students are seen abandoning their dreams and they move back to the country of their origin due to this issue.This serves as a loss to the economy of New South wales but also a major factor which contributes a brain drain in important field for instance AI and blockchain from Australia to surrounding countries.
Here FFWD comes to rescue, this programme helps all students from different geographical backgrounds to come together and learn from each other, and use their practical knowledge and skills to create amazing businesses.
How this programme helps international students in Australia?
FFWD is a hub with a diverse community, Haymarket HQ understands the fact that all the small startups have atleast one international co-founder or has an international team member.
Students coming to Australia have high hopes and ambitions to find success in the startup industry. Also finding a right support for your business plan in a country where you are completely new and unfamiliar with everything, is a challenge and success in itself.
This programme was developed to act as a bridge to remove the gap and become the reason to create more cross-cultural innovations in Australia. It is important for the students to explore their inner skills and find a purpose to create something on their own, students can get extremely motivated through this programme. Students can also stay connected to each other through virtual programmes.
Students who graduate from FFWD get the confidence which boost their ideas and help them to create any startup along with the right skills, network and resources to launch them. They are also familiarized with the group of people who share same thoughts and ideas regarding business all over the New South Wales.
The most important feature of this programme is that it helps to connect students with programmes like VC-backed accelerator programmes upon their graduation, in these programmes students who have potential to do something are invited before a panel of Judges and live audience, there are mentors, investers and other member of the startup community in the live audience. This gives a huge exposure to the wannabe entrepreneurs.
How to apply for this Program?
Regardless of the nationality, this programme is available to students from all educational institutes of New South Wales.This programme now has decided to add alumni and domestic students.
The application process for FFWD is very simple; you are required to fill a registration form. In this form students will have to answer a few preliminary questions regarding their idea, and the thought process behind it, and students are also inquired about what sort of customers they would like to interact with.
This course is designed to test student's creative abilities. They are required to create and develop new ideas throughout the course thus polishing their creative skills. Due to the recent lockdown situation a complete virtual programme has also been introduced so that students all around the globe can connect to this programme without any difficulty.
Sponsors of this Programme
Study NSW of the NSW Treasury along with the major Universities such as the University of New South Wales, Sydney School of Entrepreneurship, University of Sydney, University of Western Sydney and University of Technology Sydney are sponsors of FFWD programme.
X
FREE STUDY ABROAD

Free study abroad expert advice