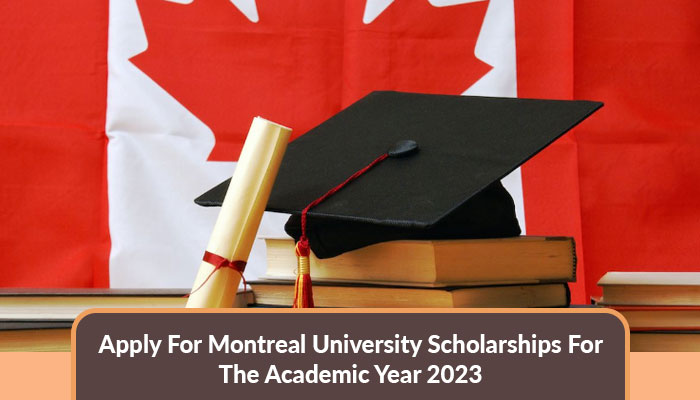 Large number of Pakistani students apply for higher education from Canadian universities on scholarships. Montreal University is one of the world's top ranked university of Canada. Fall, summer and winter admissions have been open there for the academic year 2023. Montreal University has 4th number in Canadian ranking system and listed on 73rd at world's ranking system. In terms of student's strength, Montreal University is the 2nd largest university of Canada.
Montreal University offer study programs for each study level including Bachelors, masters and doctoral in diverse study fields. Montreal University offer 600 study programs, and offers scholarships for undergraduate and graduate programs. 80% of university's students are foreigners.
Country: Canada
University: Montreal University
Degree Level: Bachelors, Masters, PhD and Postdoc
Financial coverage: Fully Funded
Deadline: 1st September 2022
Benefits Of Montreal University Scholarships
For Undergraduates:
Amounts are applied to cover tuition fee of 23,000 $ annually. Th3e scholarship is granted at three levels by the applicant's academic record
Level A: An amount of 11,998$ annually is applied to tuition fee
Level B: $5,718 annually is applied to student's tuition fee
Level C: 2,000$ is added annually to applicant's tuition fee
For Masters Programs:
An amount of $9, 240 /year is applied to $27, 300 tuition fee
For PhD Scholars:
Annually 19,993$ is applied to 24,300$ tuiton fee
Eligibility For Montreal University Scholarships
To be eligible for Montreal University scholarships, applicants must have to fulfill the following eligibility
Must be an international student

Must hold a study permit for Canada

Applicant must be enrolled full time in a study program
Documents Required For Montreal University Scholarship
Attested educational transcripts

Letter of recommendation (2)

Motivation Letter

A copy of passport
How To Apply For Montreal University Scholarship?
The application process for scholarship is online

Prepare all the required documents

Fill out an online application from Montreal University
Deadline For Applications
The last date to apply for Montreal University Scholarship is 1st September 2022.
X
FREE STUDY ABROAD

Free study abroad expert advice