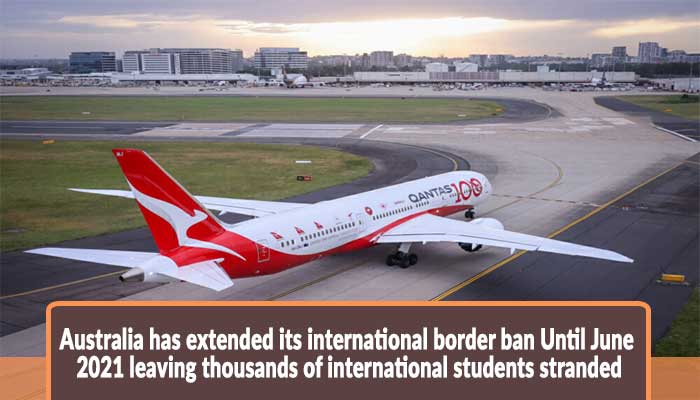 Australia was one of the first countries to impose the international border ban in order to contain the spread of the ongoing Coivd-19 pandemic. It has been a whole year since the Australian borders were closed to the whole world and since then international students have been eagerly waiting as to when the ban will be lifted and students will be allowed to move back to Australia to start and resume the degree programs.
Unfortunately, international students will have to wait a bit more as Australia has recently announced that its extending its international border ban until June of this year which means that students will have to wait two more months. Along with the international students this news is also a bad signal for the 40,000 Australians who are stranded across the globe due to the latest Covid-19 restrictions.
What does the Australian Government has to say about it?
Health Minister Greg Hunt has confirmed this extension and has elaborated that this extension has been implemented following the advice from the Australian Health Protection Principle Committee (AHPPC) and the Commonwealth Chief Medical Officer, Professor Paul Kelly, due to the ongoing emergency conditions.
According to the Government officials the exact date for the reopening of borders is June 17, 2021, however it depends entirely on the situation of the pandemic. The borders can be reopened soon if the situation gets under control.
However, reopening of Australian borders depends entirely on the swift completion of the vaccination program and its results against the new emerging deadly Covid-19 variants.
When will the international flight operation resume?
Regarding the questions about resuming the international flight operations the Australian Qantas Airline has announced that the international flight operation will most probably resume in October.
James Goodwin, Chief Executive of the Australian Airports Association, has said in an interview that, "We know that international travel is really necessary to get the sector and get the economy back on track, What we really want to see is a phased reopening of those borders to rebuild confidence to travel. And we want to get people filling those aircraft and filling our airports."
X
FREE STUDY ABROAD

Free study abroad expert advice