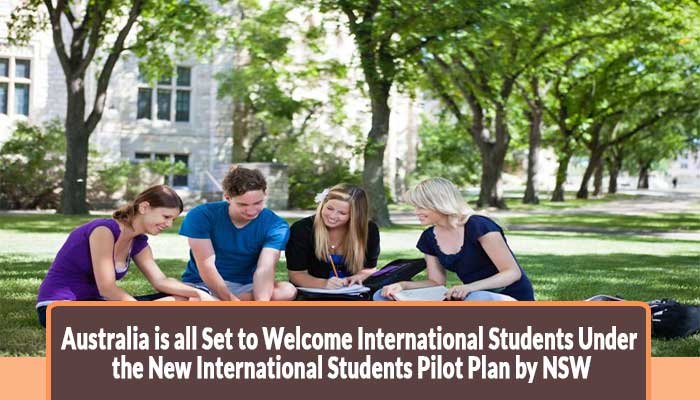 Since March 2020 Australia has closed its borders for international students, this situation has caused panic among the students, however things seem to head towards a positive end as the Government of New South Wales has established an International Students Pilot Plan, so that international students can be welcomed back to Australia as early as possible.
What is International Students Pilot Plan?
This unique program has been established for international students so that they can resume or start their studies in New South Wales institutions as early as July. The program was announced by NSW Treasurer Dominic Perrottet.
The first batch of students is expected to arrive in New South Wales over the next six to eight weeks.
The first goal is to welcome back 250 students to New South Wales every two weeks. Students who come to NSW must follow all quarantine standards and will be quarantined in student residences that have been expressly approved for quarantine purposes. By the end of this year, the present number is expected to rise by up to 500 students every two weeks.
Mr Perrottet said that, "This plan sends a message that no, we are giving international students priority, we just need time to prove to the wider Australian community that we can do it safely."
The Federal Education Minister Alan Tudge praised the Pilot plan and said that the plan is well put together and it meets the Government criteria. He said in a statement that, "We are keen to see international students return to Australia, but we don't want to risk further COVID outbreaks in Australia."
NSW Hotel Quarantine Plan
Mr Perrottet said that this plan will run parallel to the state's hotel quarantine program and assured that, "We will be running this alongside the 3,000 returning Australians that come into our hotel quarantine system every week, Importantly not one returning Australian will not get a seat on a plane as a result of this plan."
NSW Economy and International Students
International students benefit both New South Wales and Australia's economy. Mr Perrottet said that more than 50,000 international students are actively attempting to return to New South Wales in order to complete their studies, which have been badly impacted by the epidemic.
Talking about the impact of international students on Australia's economy Dominic Perrottet said, "We believe that the cost to our economy since the pandemic began particularly related to the international students is around $5 billion and if we didn't do anything that cost would grow by the end of next year to $11 billion.This is incredibly important because there is evidence particularly around the world in places like Canada, the US and the UK that are actively targeting this industry that NSW relies on so much."
Talking about the positive impact of this plan and how it will help the education sector he said that, "This [plan] will be well received by a number of other industries that rely on international students for work"
The international student Pilot Plan has been approved the Health and Police sector of New South Wales, and has also received a strong support from the federal government. All the costs regarding the student quarantine, their accommodation, flight charges, and security will be financed by the university sector of New South Wales.
X
FREE STUDY ABROAD

Free study abroad expert advice