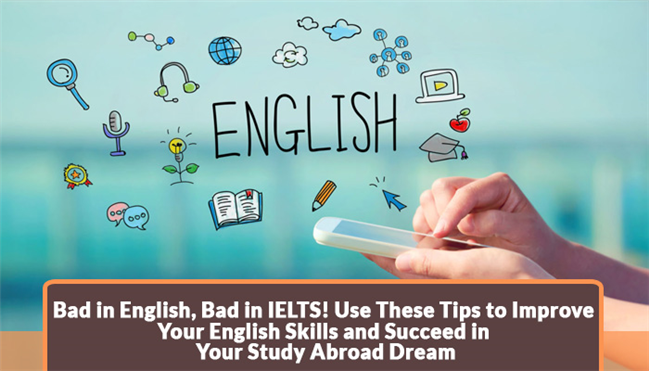 The English language is very important for both in academics and in the professional arena and IT acts as one of the major access to a wider range of information, connections, and opportunities. If you are looking out for your studies internationally I should tell you that the English language should be the first preference for you to go ahead, and then you can also look out for the local language. IELTS is used to test the proficiency in basics of English Language test in terms of Listening, Reading, Writing and Speaking and you have to pass IELTS for getting admission in foreign universities.
Nothing is impossible and everything is possible with the right amount of dedication and practice. So today in this article I will tell you how to get the perfect IELTS, and Tips to Improve English Skill and succeed in your study abroad dream.
"Practice doesn't make perfect. Only perfect practice makes perfect."
There are various easy ways to improve English:
Always Be Confident and don't be afraid to make mistakes. The best and easy way to learn English skill is to surround you in English. Spend more time in an all English speaking environment where you can learn passively.

Stay away from all that distractive things and tell your family and friends about your study plan.

Practice every day and Practice the 4 core skills: reading, writing, speaking and listening. They all need to be worked on for you to improve your English skill. Keep with you a notebook of new words you learn and Use them in sentences, try to say them at least 3 times when you speak

Create a list of Memorisation it is one of the most common ways of learning vocabulary for your test preparation. It's would be also a good exercise for short term studying because you often do not retain the information that you have learned for a test.

Give yourself a long term and a short term goal. Focus on working towards it and reward yourself when you achieve each one.
For IELTS test preparation
Figure out how you learn. It can be possible by memorizing, reading, speaking, summarizing or by using some other methods. Find out how you study and prepare for the test in the best way. It can be in a quiet place by you or with a group. If you are studying in a group Get help from your friends about all the difficult topics .
Take Breaks after every 30 minutes to refresh you

Try to Speak English as much as possible and don't be scared to make mistakes; we all do!

Learn prefixes (dis-, un-, re-) and suffixes and root words. They will help you to figure out the meaning and to build your own vocabulary.
You can't be able to learn English from a book. Like driving a car, you can only learn through doing it and don't translate into English from your own language. The best way to improve your English is to think in English for improving your fluency. The more natural way is Talk to yourself…but, not on the bus otherwise people will think you have gone crazy!
If you want to improve your writing skill start by writing a few sentences a day and then get into the habit of writing more. You can also start an online blog and share your writings with the world.
Read English Newspaper daily and listen to English radio on in your house. Even if you are not actively listening to it, you are training your ear.
X
FREE STUDY ABROAD

Free study abroad expert advice