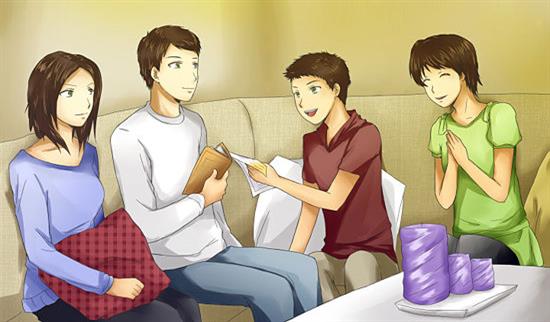 Parents can be pretty tough when given the idea that you will not be near them for a while. They do not like the thought of their kid, living in some strange country thousands of miles away. It is a natural phenomenon and a story of every household.
"No, no, there is no need for us to separate our kid and send him far away abroad", said my mother, when I shared my idea of studying abroad. Well, there is no helping it.
"I will let them know when I have my visa in my hand", said Arslan Javed, a BZU studied software engineer now preparing to go abroad for his MPhil, when asked for his opinion on the matter. But that is not really a proper way, is it?
All parents are at first worried. But when we share all our ideas and goals, they, somewhat, cool down. Almost every student studying abroad says that his/her parents were against their aim, but later, they understood.
Here are some Proper tips for you when you will need to convince your Parents to let you go abroad for studies.
Show How Serious You are
They might think that you are craving for an adventure and have no real interest in study or career whatsoever.
You have to make them believe that this is not just another game for you, but you really intend to do something in your life.
Be serious and tell them what it means to you, how you have been dreaming and struggling for this wish. Give them the idea that you have in your mind and how you wish to live this experience.
"Assure them that you are not just a kid anymore and have the capability of making right decisions, what this decision means to you and you know how to keep yourself secure sound" says Usama Awan, an Educational Journalist, Teacher, Study Counselor and Article Writer at Studyabroad.pk.
· [Do you know 4 Things Students Must Know about IELTS Exam]
Tell them about Benefits
One thing parents might ask themselves is, to suffer all that, for what? Affirm them that studying abroad is not just an adventure but it also has its benefits for career too. If you have studied abroad, it expands your chances of getting more and better jobs with more pay than any average applicant with no study abroad experience.
"Employers prefer an applicant with the study abroad experience on their Resume", says Ghulam Ali, CEO and owner of Soft Solutions, IlmKiduniya.com and StudyAbroad.pk. "It illustrates the expression that they are open to new experiences, flexible for any environment and well aware of team work with diverse personalities."
Going abroad to study broadens your horizon of the world. You learn new things and experience, you never knew existed. This opens up new ways and opportunities for you.
· [Learn here Why Foreign Education is Better than Pakistani Education System]
Look for Others Like You
I always wanted to go abroad alone, by myself. So, there I would meet new and different people and experience total of their lifestyle. If I am to go with someone from, or someone is already there waiting for me, I don't think it would be much fun for me. This way I might not really get along with those diverse natives because I will not have any need to.
Some independent students, like myself like the idea of going alone, but if you have some student like you going with you or already waiting in other country for you, this really means a lot to your parents. The thought that you will not be alone and there will always be someone they know, available for you, satisfies and fear.
· [What are Double or Joint Degree Programs]
"Having a friend or relative already living in that foreign country, you plan to go to, makes many ordeals easy for you", says Arslan Javed, a BZU studied software engineer now preparing to go abroad for his MPhil. Despite my unlike notion, I have to agree with him.
Keep them Involved
When you are preparing for abroad, try to involve parents in it as much as you can. Why and which country or university you plan to go? Let them know so, they feel like you are really prepared for it and it assures them you have got everything alright.
Show them the university website, where you are going, how you are going to live and all experiences you are going to experience there. All the things you prepare, ask for your parent's advice and tell them you how plan to do it. Make sure to give them a total simulated tour of what you are going to experience.
· [Some Funny and Weird Facts about Oxford University]
Ask a Senior for Consultancy
If your parents really are tough and not listening to you, here is best trick that works most of the time. Request some successful senior adult to come and talk to your parents. That senior can be your teacher, some older cousin, friend or colleague.
Your parents would listen to him more seriously than they ever did to you. If that person likes the idea of you going abroad, most probably, your parents will too.
But would that senior person agree to talk to your parents? Try to butter talk them first, and invite them to dinner or something at your house with request to favor you in front parents.
· [Most Funny and Weird Courses offered in Foreign Universities]
Problems Your Parents might have and their Complete Solutions
1 - They are not sure if it is worth sending you far away to a strange land:
· Why Foreign Education is better than Pakistani Education System
· 5 Best Reasons to Study in Australia
· and Top Reasons Why Study Master's from Abroad
2 - What Study Abroad Consultant scammed you:
· Myths about Study Abroad Consultants and Facts
· Things to look for in Study Abroad Consultancy
· Must read this before going to visit a study abroad consultant
· and a List of All Expert StudyAbroad.pk Registered Consultant for your City
3 - How you will afford all expenses and fees there:
· Here is Portal for all Latest and daily Updated Scholarships around the globe
· Latest Scholarship Offers, Their Eligibility and Registration for Pakistani Students
· Most Low Cost Abroad Universities for International Students
· Top 10 Countries Estimated per Semester Cost for International Students
· Top 8 Tips for Abroad Scholarship
· How to turn your Internship into permanent Job in Abroad
· How Some countries like France Support and Facilitates International Students
· Highly Paid Top 5 Creative Jobs for Pakistani Students
· Outstanding Tips for Students to Find out First Internship Program
4 - They are worried about your how will you survive, health and other issues, here is:
· How to Prepare for Medical Emergencies in Abroad
· Best tips on How to Find a Place to live
· Top 8 Problems During Study Abroad and their Solutions
· Unexpected Hidden Expenses You will have to Face when Studying Abroad
· and 5 Mistakes International Students do while selecting and Institution Abroad
5 - Not sure about that country and their Rules:
· Here are Complete Study Abroad Guides for each Country
· Myths and Facts about Studying Abroad in USA
· Interesting Dos and Don'ts in Germany for Pakistani Students
· Rules for Working while Studying Abroad in Germany and Basic FAQs
· Part Time Job Rules in USA for Pakistani Students
X
FREE STUDY ABROAD

Free study abroad expert advice