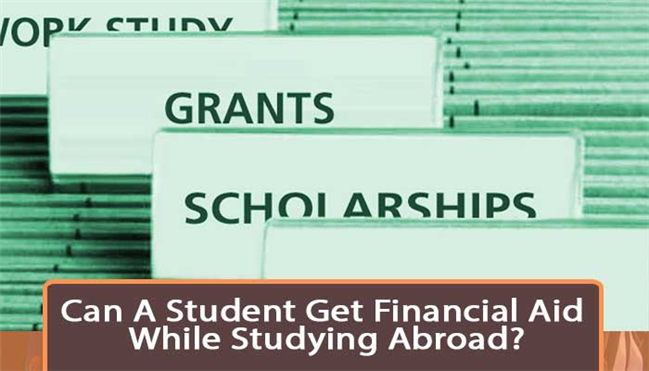 There have been always large number of students in Pakistan who want to study abroad but financial problems interrupted their dreams. Good news for such students is that now every month new scholarships call for students which take responsibility of living, food, medical and study expenditures of student while studying abroad. If you have passed your intermediate education and searching for financial aid or scholarships to study abroad then you will be glad to know that several countries are offering financial aid to Pakistani students for various educational areas of Undergraduate, Postgraduate (Masters), Doctorates (PhD). But there are some conditions on which Students Can Get Financial Aid While Studying Abroad.
Eligibility to Get Financial Aid/ Scholarships:
You need to be Pakistani citizen only.

You should have passed Intermediate studies at least.

Your English language skills must be good, or having excellent score in ILETS, TOEFL, English Proficiency Certificate.

Medically fit.

Must have attested proof of completed studies.

No criminal/ offensive character record

A good academic record increases the chances to get a Study Abroad Financial Aid.

Your application receiver may also ask you for some other mandatory things which are necessary for Eligibility to Get Financial Aid/ Scholarships.

For some scholarships, you need to pass a test. If you passed it, you will get eligible to get Financial Aid to study abroad.
Financial Loan Offers From 3rd Party as an Aid to Study Abroad:
Whether scholarships are the most suitable option to pay your study abroad expenses, but if you can't get it then there are other options too. Student grants are the financial aids which are for only need based candidates who want to study abroad. They don't need to return it back to the bursary office. You can get that only if you have a very low income or no income at all.

At the present time several banks offer study loans of up to Rs. 5,00,000/ year to cover the financial expenses of a student and usually student has to pay back this kind of financial aid when he/ she returns back after completing the degree of abroad study.

The Global Study Awards is the organization which gives prizes to winners in the shape of tuition fees to study abroad. You can register and apply for it and can be a lucky winner.
Through these ways You Can Get Financial Aid While Studying Abroad. You further can Consult Online on our website about which option is better for you.
Semi-Funded and Full-Funded Scholarships:
Scholarship is a type of financial aid. There are variety of scholarships for Pakistani students calling for several types of studies. The major countries calling Pakistanis for scholarships every year are China, Saudi Arab, Turkey, USA, Britain, UK, Australia, Hungary and many others which offer Semi-Funded and Full-Funded Scholarships. The main reason students prefer to study abroad is quality education along with many other facilities. Pakistan being a developing country, can become a developed, economically powerful, peaceful country by such youth who seek the knowledge from cradle to grave and apply it on their lives. For these study lover youth, Studyabroad.pk has collected the scholarships of allover the world which are being offered to Pakistani students.
Financial Aid/ Scholarships Grant:
If you have applied for a study abroad program, you should also have a look in your university financial aid office of your country because universities send their students/ employs on financial aid to study abroad. This kind of Financial aid is paid by federal government or state government. When someone gets scholarship to study broad, most of the scholarships are paid students for all the time period of study. While in some other scholarships, students need to apply every year to renew their scholarship to get fund/ stipend. These conditions are prearranged and written on scholarship form advertisement. You can access all the scholarships which we daily update on Studyabroad.pk or you can download Study Abroad App to keep visiting scholarships daily easily. You can also subscribe it by email where you will get daily scholarship updates.
X
FREE STUDY ABROAD

Free study abroad expert advice