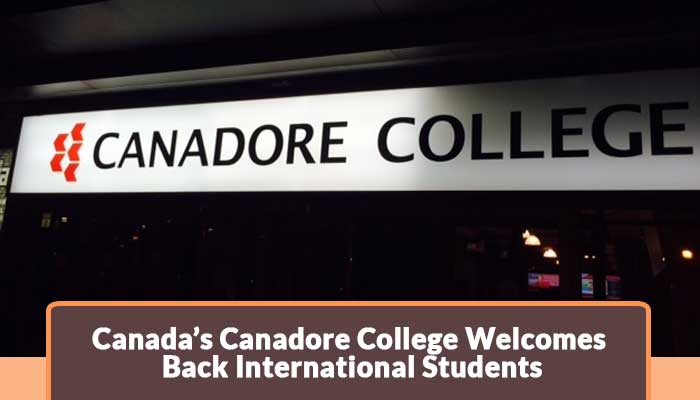 Canada has always held a special place for students who wanted to study abroad offering various international scholarships for Pakistani students. As the international education landscape is changing due to worldwide pandemic, International universities are taking rebound initiative by welcoming back its international students. Many International Universities and colleges are offering various scholarships for international students in Canada.
Canadore College is one such college who have openly welcomed back its first batch of 30 plus international students who were enrolled in healthcare administration and practical nursing for its first cohort for this year. Canadore college being founded in the year 1967 as Sudbury's Cambrian college becoming institution in the year 1972. Canadore college campuses are located at Ontario, Parry Sound and North Bay having enrolment consisting of over 3500 students.
Canadore college offers various post secondary study programs focusing on key academic field including management, community justice, culinary arts, biotechnology, health, human care and wellness, media and technology. Canadore college also offers part time study programs using online or face interaction including health sciences, information technology and law and justice.
Importance of International Quality Education
International student Rachana Kanai from India's Mumbai feels positive about making good choice "Selecting Canadore college as the best decision I have made". Thomson David another student from India also shares his opinion "Canadore staff is very friendly and understand international student's initial struggles".
Lee Ann Turner being Canadore's West Parry supervisor believes that return of international student is a boon to their community as there are cover the required health care and nursing shortage prevalent in the area. As international student community increase in Canada as many Canadian Universities offer international scholarships for Pakistani students therefore also increasing international students interests towards studying abroad.
Shortage and Demand of Health Care Workers
Shawn Chorney being vice president Strategic Infrastructure and learner service is of the opinion that filling in the demand for health care department workers through international student's induction at West parry campus they will become one step closer to filling in the required gap created.
George Burton being present and CEO expresses his opinion that international student will help reduce the healthcare's shortages in Parry Sound and Ontario through student job placements as this initiative will help international students become job ready upon their graduation.
Canadore college west parry campus have been working with business and communities to develop capacity for welcoming back international students by offering scholarships canada and by ensuring students have part time work and place to live.
International student Kanani express "people are so nice here to everybody and i like the quietness and am growing fondness towards the place".
International student David also express the importance of scholarships for international students as he recommends international students to come study at Canadore college in Canada and get high quality life and education at Parry Sound campus.
Lee Ann Turner also shares her opinion that Canadore college Parry Sound campus has "excellent community and infrastructure to support international student to study, live and work and facilitate student growth".
Importance of International Education
International students must not miss this opportunity to get high quality foreign education at international recognized institutes in Canada as it offers various benefits for international students by broadening their visions, incorporating new work ideas, enabling foreign work experience, giving practical knowledge of studies. So Pakistani students must not miss by Canada's leading universities and institutes offering international scholarships for Pakistani students as this is the opportunity of a life time and can greatly change their prospects of becoming successful doctor, engineer, Software engineer etc.
X
FREE STUDY ABROAD

Free study abroad expert advice