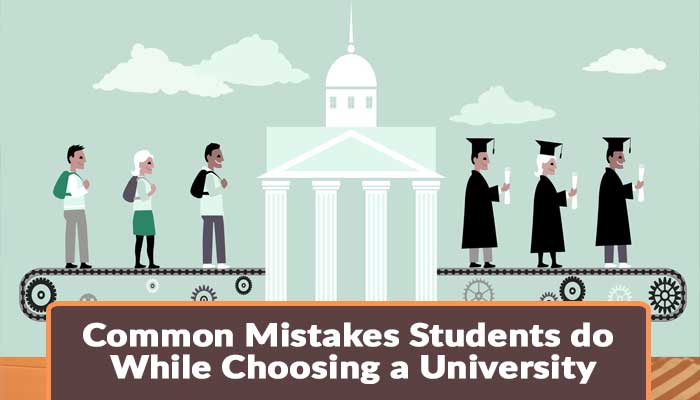 Choosing the right university is always a hard task both for parents and students. Once the primary and secondary education is complete, students start looking for options where they can continue their education. But there are certain mistakes that students make while choosing the right university for themselves.
Restricting to few options
Students often consider just two or three universities for themselves. They shortlist the minimum number possible just to avoid the application process for their ease which is very wrong.
Followers
Some students choose a university just because their friends are applying in that particular institute. They may or may not be interested in the major offered. But just to spend some fun time with friends they choose wrong for themselves. They should keep in mind that they will make new friends and meet new people where ever they go who will help them adjust well. Students often enroll themselves in a university because their siblings or parents went to that same university.
Location
Some students consider subject options in universities closer to their home area. This is usually a problem for female students living in smaller cities where parents don't let them apply outside the vicinity of their city or even abroad if they want to pursue higher studies. So, they opt for local colleges or universities near their home.
Choosing a major based on scope
This for me is one of the major mistake students make while selecting a university. Choosing a field or area that interests them is important. It makes studying easy. If you are really passionate about something, then you learn fast and perform well. Education is never wasted. Students should know that if they are good at something they will create a niche of their own.
Not visiting
Students should visit the university before applying, to get the feel of the institute. To see if the belong there. They can always talk to the native students to get a general idea. They should not just go after the name or ranking in some advertisement.
Misjudgment
Some students are too hard on themselves. They undervalue their abilities and are often too afraid of failure and rejection. They do not apply to prestigious institutes assuming that they will not get selected or are not worthy. Contrarily, there are students who are too confident about themselves possibly due to their academic background that they do not apply in universities other that the highly selective ones. Its good to be aware of your abilities but having options to be on the safe side is a good thing!
Avoiding research
Students ignore the best resource they have these days when applying to a university. Internet opens a wealth of information for all students. They should search for the programs, facilities, research, financial aid/ scholarships, as well as student life at the university campus before applying, to be sure of their needs and also what a university offers. They can seek career advises offered by universities to help them decide better.
So, to all the students looking for study options, the world is your oyster. Study what you are passionate about. Our website studyabroad.pk can be helpful if you are faced with the dilemma of choosing the university abroad. Look for the sections Universities, Scholarships, as well as Guides. We are hopeful that they will provide the assistance you need to decide the best university for you!
X
FREE STUDY ABROAD

Free study abroad expert advice