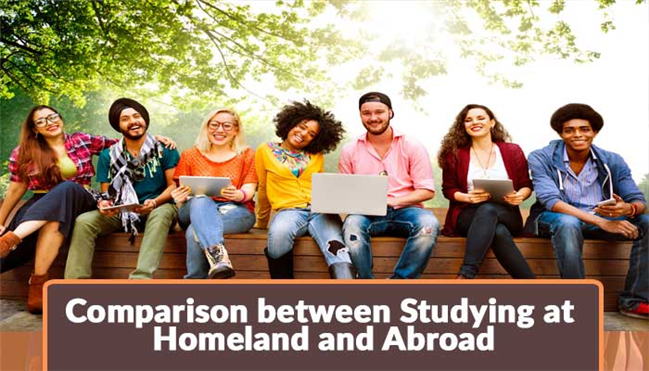 Comparison between Studying at Homeland and Abroad
The students pondering between the ideas of studying abroad or pursuing further study in their homelands must think about the challenges and outcomes of each. Studying in homeland is comfortable and secure whereas studying in abroad is adventurous and life changing. Is studying abroad a mere trend or it brings benefits? Or studying in homeland will bring about similar career success as studying abroad? To give elaborated answers to all your questions, below is the comparison defining which has what benefits.
The Perks of Studying in Abroad:
Quite obvious, while studying in abroad you will be among diverse cultures and multitude of ethnicity. You will learn a great deal about unexplored world, different outlooks and life perceptions. Being in a global platform, you will have several career dimensions and opportunities. (Visit Study Abroad Guides)
Going out of your comfort zone accepting change and hostile atmosphere is not easy at first. But it brings forth transition from within and outward. You will become a better version of yourself eventually because of going through this rigorous life changing process.
If we follow experience and current surveys on how degree from abroad elevates your CV value, then studying in abroad is a worthwhile challenge to accept. Multinational firms at your homeland or in foreign accept foreign graduates because of their high adaptability potential, language proficiency and excellence of education.
Mostly students travel to abroad to enhance their knowledge and skills. Certainly, there are many top rated universities in Foreign which are famous for modern teaching methodologies, innumerous options of courses, research based education and career focus education.
The Challenges to Attain Study Abroad Visa:
You might have to take an entrance examination for admission in a foreign university.

Complex visa procedure

Tricky eligibility criteria for admissions

Expensive and meritorious

You might experience a cultural shoc
The Perks of Studying At Your Homeland:
There are Top Rated Universities at Your Homeland:
Pakistan has many top rated universities in Pakistan like Comsats, UET, Quaid-e-Azam University NUST and Air University which are highly ranked by world best universities global lists. They are acclaimed for their excellence in academics and skills.
Affordability Factor and No Additional Costs:
Evidently while living in your homeland you will not have to take care of your expenses much. The expenses and fees can be managed as there is no need to worry about rent, food and transport.
The most counted and admitted factor of studying in homeland is staying in your comfort zone. The whole studying abroad process is quite challenging and is not everybody's cup of tea. You might even get homesick and the whole adjusting and adaptability make you leave the course in the middle.
Opportunities for Career:
If you are able and talented then nothing can stop you from excelling in your career. The goal of studying is attaining knowledge and skills and the ones studying with this aim could not be stopped by any hurdle. After getting a degree you have same career chances as someone studying in abroad has.
X
FREE STUDY ABROAD

Free study abroad expert advice