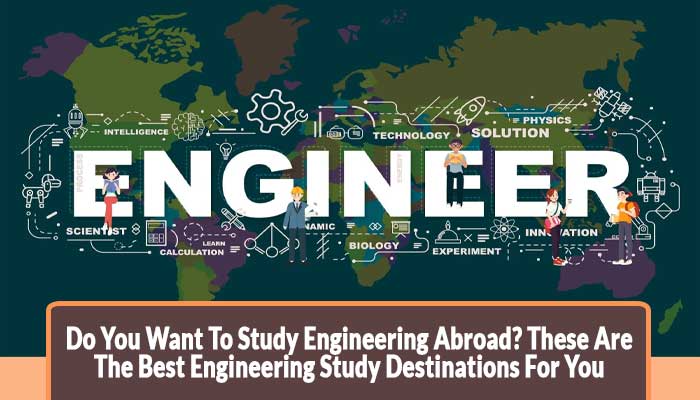 Are you aimed to contribute to the worldwide biggest manufacturing projects or to bring new inventions in the engineering field? Well, it sounds good. But, to be professional and exceptional depends upon the direction or pathway you choose. Here we come with the list of the top study abroad destinations that are unique in providing engineering programs or institutes. Check out that why these destinations are the best recommendations. Additionally, we have also listed the best engineering institutes of all these destinations. This will help you choose the perfect option for you. So, let's begin now;
USA
For international students, who want to pursue engineering studies, the USA is a natural choice. The US universities are well established and well-equipped. Moreover, once after finishing your engineering studies in the USA, you can have better employment opportunities not only in the US but you can have worth worldwide. This is the reason that the experience of studying engineering in US universities is exceptional. Almost 62% of foreign students are enrolled in engineering schools located in the USA. Students who want to pursue higher education in any of the engineering fields, the USA is the first recommendation for them.
The following are the top 5 engineering higher educational institutes in the USA:
1. Massachusetts Institute of Technology
3. University of California—Berkeley
4. California Institute of Technology
UK
After the USA, the UK is the next recommendation to study engineering subjects. Engineers are highly demanded in the UK. International students who complete their engineering studies can have more career opportunities as compared to students with other study programs. Moreover, while studying engineering in the UK you will have outstanding engineering faculties. Almost all the engineering schools or universities in the UK are well-resourced and well-established. We advise students to choose the best engineering school according to their chosen engineering subjects or programs.
The following are the top 5 engineering higher educational institutes in the UK:
Australia
When it comes to enlisting the worlds' top-ranked study abroad destinations, Australia occupies the central position. This has become possible because of the excellent education environment offered by Australian universities. Australian universities are well-equipped to such an extent that they offer international students a practical environment that does not only provide students qualifications but exceptional skills to perform practical tasks. Aerospace, Architectural, Manufacturing, Aeronautical, Software, Applied Physics, Environmental engineering, and many others are the majors of many technical or engineering universities in Australia.
The following are the top 5 engineering higher educational institutes in Australia:
1. The University Of Queensland
3. University of Technology Sydney
Germany
Among the top-ranked universities not only in Europe but throughout the world, Germany occupies a good position. Today, Germany has established so many technical or engineering institutes that are remarkable in providing both theoretical and practical experiences throughout the study duration. Keep in mind that this is your chosen institute that can make you super in your chosen field or subject. Moreover, some other reasons that make Germany a perfect study abroad destination, for international students to study engineering subjects, are the tuition-free universities and the English-taught engineering programs.
The following are the top 5 engineering higher educational institutes in Germany:
1. Technical University of Munich
3. Karlsruhe Institute of Technology
4. Technical University of Darmstadt
5. University of Duisburg-Essen
Sweden
This is another European study abroad destination that has become more popular among international students because of some genuine reasons. The core reason is that the Sweden universities are well-equipped to study engineering programs. Almost all major engineering faculties you can find in the Sweden universities. Moreover, working opportunities and outstanding living style are the plus points in choosing Sweden as your study abroad destination.
The following are the top 5 engineering higher educational institutes in Sweden:
1. KTH Royal Institute of Technology
2. Chalmers University of Technology
5. Lulea University of Technology
Start Your Engineering Study Journey Today
If you are interested in any of these mentioned study abroad destinations to start your engineering studies then you are near to the destinations of your dreams. We recommend you send us an assessment form today and our professional consultants will start guiding you according to this assessment. All consultants are well aware of the application process and will start your applications accordingly. In case of any other queries do not hesitate to contact us and we will contact you back as soon as possible.
X
FREE STUDY ABROAD

Free study abroad expert advice