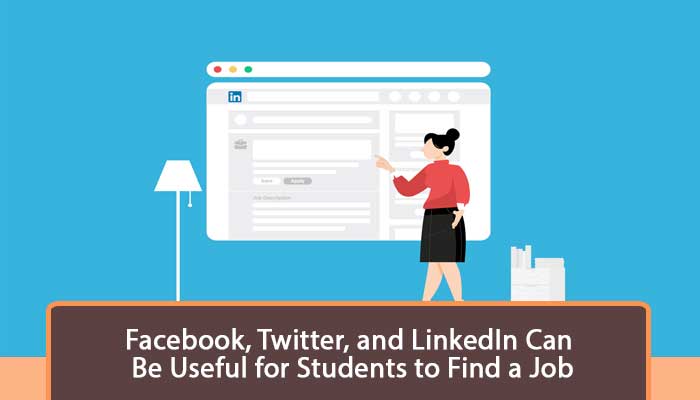 Back in the day, it was never an easy task to hunt a job. To apply for a job was destined to create a tremendous resume and drop it and post it on your own to several employers or companies. Alternative to that is to have a look at the newspaper adverts to be updated with the latest job announcements. In the end, the job was possible after competing with a plethora of people.
Now, we are breathing in an environment where digitalization is presiding. Thanks to the social media platforms because of which it is no sweat at all to find a job today. Where we spend plenty of time scrolling memes and watching stories of friends, at the same time, we can get potential solutions to rummage a job if we give a little focus. Here we have discussed that why one should choose social media platforms, how they work, and all other potential discussions that can be the reasons for you to get a perfect job through social media platforms like Facebook, LinkedIn, and Twitter, etc. So, here we go:
Is Social Media Worth In Finding A Job
If you are asking that why social media is worth finding a job, then we will ask that why not it is? Can you have access to a glut of people at one time? For sure it is not an easy task to do physically. But, social media platforms tie you with a copious of people in one moment. The following chart is showing the active users on different social media platforms:
| | | |
| --- | --- | --- |
| No. | Social Media Platforms | Worldwide Active Users |
| 01. | Facebook | 2.85 billion |
| 02. | LinkedIn | 756 million |
| 03. | Twitter | 290.5 million |
Potential networking can bring potential opportunities for you. So, having engaged with billions of people you can easily make networking and can find better options for you.
How To Use Social Media To Grab Potential Opportunities
Indeed, on social media platforms like Facebook, Twitter, and LinkedIn you can find billion of people. But, it doesn't mean that all of them could be helpful for you. Not all people are looking for employees on social media and not all people are according to the particular field you are master for which. So, you have to use social media to its full capacity to have maximum results.
Create Networking: We advise you to make networking to the relevant audience as much as you can. On Facebook, you can join groups and like pages that offer you instant updates. The same case can be seen on Twitter and LinkedIn that these social media platforms offer such public groups and pages.

Information Does Matter: Keep remember that your information does always matter. Always keep your social media profiles updated. When you send your proposals, employers can find needed information through your social media profiles that who you are. At the same time, employers can also search on their own that who is eligible for a certain vacant position.

Keep Searching For Employers: Social media platforms also help you reach a number of employers that is not possible to search them physically. For example, while using LinkedIn you can add a maximum of employers or HR officers to your contact lists.

How #Hashtags Work: Hashtag works to precise your search. When you add a particular word on the search bar of the social media platform then it gives you all the related results or posts using that particular keyword.
Never Give Up
Sometimes, by using the right tools we can get the best opportunities, but fate is not always kind to you. You may get failure in hunting the right options for you. Our foremost tip for you is that whatever situation you are tackling with never give up at all. Your incessant hard work and persistence will open the potential doors of opportunities for you a day.
X
FREE STUDY ABROAD

Free study abroad expert advice