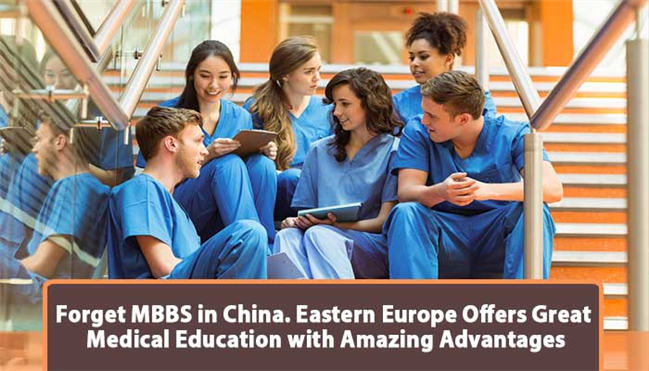 MBBS is known as Bachelor of Medicine and Bachelor of Surgery. It is the combination of two professional degrees in medicine and surgery. Throughout the world, the degree is of great importance. Pakistani students are also showing their great interest in this field. Because of rarer opportunities in Pakistan, every year a large number of Pakistani students move abroad for obtaining the MBBS degree.
Study Abroad is not an easy deal. So, that is why students try to find cheap and affordable destinations to make their dreams come true. MBBS in China has become a common subject by Pakistani students. But, students are to inform that there are more destinations, reasonably cheap and affordable, they can get than China. Moreover, these destinations offer the best and valued MBBS degree than that of China. Eastern European countries are well-known in this case. Here, first of all we are going to make you familiar that why China is not a preferable destination to study MBBS.
Disadvantages of MBBS in China
There are many students every year go to China for MBBS studies. China offers a reasonably easy study system but at the same time, there are some disadvantages involving in the education way of China. You have to know these below-mentioned elements of disadvantages.
FMGE Passing Percentage is Very Less
A very low rate of FMGE passing percentage every year comes to see. For example, in 2016, 3,772 candidates appeared but out of these only 261 got enrolment. It was about 6.9 percent result.
It is compulsory for students to get proficiency in Mandarin, the official language of China. It is a very difficult language to overcome.
English is Weird Language in China
In China English is known as a weird language. Chinese people are less familiar with this language. They can't even know the basics phrases. In such condition, students cannot communicate properly with the education faculty.
There are 35 % of universities are listed under MCI Approved universities. These universities are 'C' grade universities and offer low-quality education.
During the internship period, students are not allowed even to touch the patient. Students are allowed to practice with dummies. Under such conditions, students cannot get proper practice.
Advantages of MBBS in Eastern Europe Countries
There are almost 08 Countries listing under Eastern Europe. Here you can find all these countries and you can also compare the MBBS study by these countries than that of China:
List of Courtiers located in Eastern Europe
Ukraine

Russia

Belarus

Armenia

Georgia

Azerbaijan

Kazakhstan

Russian Soviet Federative Socialist Republic
Following are the amazing advantages to study MBBS in Eastern Europe:
Worldwide Recognized Education System: A valued international exposure education Ukraine offers to international students.

Admission Process: Students go through an easy admission and simple entrance examination process through the Medical Universities of Eastern Europe.

Member of Bologna process: Ukraine is one of the Eastern European Country. At the same time, it is one of the members of the Bologna process. That is why the Ukrainian MBBS degree is valid in all other European countries and non-European developed countries.

English Language Tests: No IELTS or TOEFL is required to apply for MBBS in Ukraine, Russia, Armenia, and other Eastern European countries.

Cost of Living: A reasonable cost of living student face as living there in Eastern Europe.

More Individual Attention: Classes are of small sized so students get more individual attention.

Highly Equipped Hospitals: They are highly equipped with heavy technologies hospitals and medical institutes are available in Ukraine.
Under such circumstances, Ukraine could be the best destination for MBBS studies. All these countries are comparatively the same in the above-mentioned qualities. So, forgetting exceptional valued MBBS degree, our first recommendation is to choose any of the Eastern European countries.
X
FREE STUDY ABROAD

Free study abroad expert advice