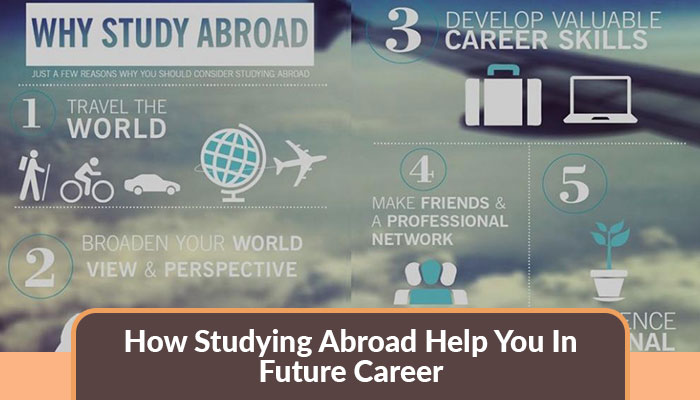 Studying abroad is not limited to providing educational exposure only to the candidates but it offers you much more such as traveling, meeting new people, and learning new things as well. By getting the opportunity to study abroad the candidates can get better chances to get the dream job. Gone are the days when people did not like to travel but nowadays traveling provide you the complete insight into many new things that you must explore at least once in your life. Following are some of the reasons that provide the guideline to the students that why they should go abroad for the betterment of their future career.
Chance To Know New Languages
While traveling to the other country one factor that must be considered by the candidates is to learn the new language. However many countries have the native language English that makes it easier for the candidates to speak with the local people there. But there are a number of scholarship programs offered to the students that usually offer the basic language course on arrival so that they do not have to face the language issues for the purpose of communication. Moreover, the candidates can also join the language courses in the host country and it is very important to integrate into society and make new friends. One of the great ways to practice the new language is to communicate with other people. It is pertinent to mention here that the knowing native language is very important for the candidates even when applying for jobs. Furthermore having different language skills is the plus point for the candidates to stand out among the other people.
Management Skills
It is a matter of fact that studying abroad is not an easy task and you have to leave your friends and family to move to another country. But it provides you with a whole new experience for a lifetime. While studying abroad you make new friends and manage everything alone. Moreover, by staying alone in a foreign country you become independent and adapt to the new culture. These types of skills make you grow up and with these additional skills, you can have better job chances as many recruiters demand such skills in the candidates that depict that you have flexible and management skills and you have the ability to complete the daily tasks on time to meet the deadlines.
Networking
Studying abroad allows broadening your connections as you meet and live with various people. This helps you to have better career opportunities and to explore that what you want to do in your future career. By studying abroad you can get to know about the career goals in a better way and work on them to achieve them. There are many options for the candidates such as they become the CEO, doing business with international friends, and developing partnerships depending upon their interests and skills. Networking and connections play an important role in finding a new job as the people guide you about the available career options as by sharing the applications you can find a suitable job faster in your appropriate field of work.
Moreover, international connections can also assist you during the hiring of the people for your company.
International Environment
Studying abroad will not only expands your skills but also provide you with a new perspective to look at the world. In this way, you will feel more open to the variety of cultures and you will practice living in a multicultural setting where you manage to communicate with the people and spend time with them. Through living in an international environment you will learn to live in other countries and be respectful and open-minded to many things.
Increased Employability
By studying abroad the candidates can have an increased chance of employability. Many candidates enrolled through the scholarship program can get a job in the host country. The recruiters are well aware of the skills of the candidates that ate studying abroad and look for such people. So make sure to add such experience to your CV and also share the language skills and your level in each language.
Final Words
In short, studying abroad is a great chance for the students that they must avail. It will not help you in your educational career but also offers an advantage for applying for jobs. So explore the other countries and grow as a person.
X
FREE STUDY ABROAD

Free study abroad expert advice