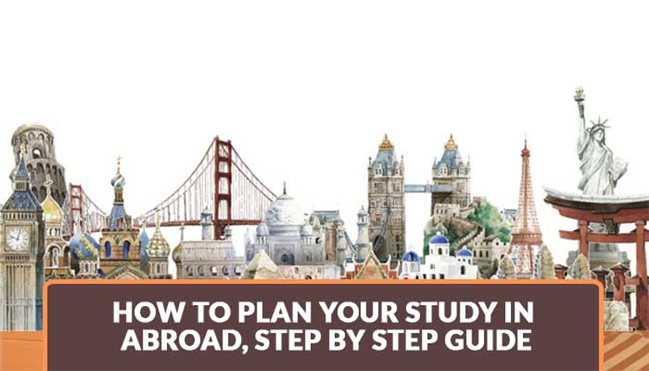 As the world has turned into a global village and connecting to the world from one place to another is just one click away. People from under-developed or developing countries seek to plan a living abroad in developed nations mostly in UAE, USA, Australia, UK and Europe. Since Pakistan is taking steady steps to reach the level of a developed nation but we see a widespread scenario of people migrating from here. Students show keen interest to study abroad. Some try their luck and get a chance whereas some try harder but still hurdles like financial limitations or poor educational background etc. hinders their chance of getting education abroad. This article emphasizes on some important steps that are needed for a student, if he/she is applying for pursuing an admission in overseas.
To get enrolled in colleges/universities in other countries, Pakistani students apply for the student or study visa. It is a matter of luck and of course the capability of a student that they get an opportunity through this to brighten up their future. Generally, you will need
Passport

Sponsor letter from the university

Written proof that you have adequate amount of money in your bank account

Biometrics

Passport quality photos
Step 1:
Choose your area of study and the country that you wish to study in. This is the first step from where you build up your whole career plan. Every country has its own requirements. Click here and get the information about study visa in your desired country.
Step 2:
After selecting country, search for colleges/universities according to your area of interest/study. You can visit universities to look for affordable institutions in the country that you have chosen to study.
Step 3:
Prepare for the English proficiency tests like IELTS, GRE, TOEFL, SAT, GMAT etc. whatever is required by your college/university. There are many institutions throughout Pakistan that offers test preparation classes. Every country offering you an opportunity to study wants to know your English proficiency and therefore, these test are a gateway. You can go to the link provided to get detailed information about these tests.
Step 4:
The most important part is funding or scholarships because many students remain at the back because of financial constraints and therefore, finding scholarships to finance your study is very important. Apart from looking at grants or scholarships, try to dig out ways like study loans or working together with your study. You can take loan from your local government or from the country that you are pursuing your career in. To look for scholarships, visit our website.
Step 5:
Living in another country is a challenge but you can overcome it by careful planning. Look for affordable accommodations in housing apartments or staying with a group of friends. Colleges and universities also offer hostel facilities, so look for that and search for it earlier to avoid any uneasiness.
Step 6:
While gearing up themselves for studying abroad, student most of the time ignores a very sensitive issue and that is of health insurance and vaccinations. Health insurance of students differs from country to country. Research about the diseases or epidemics in the country in which you are going and look for vaccines that needs to be injected; to protect you from any fatal disease, which can hinder your educational and social life in abroad.
Above mentioned are some very important steps when you are planning to study abroad. For detailed guidance about your desired country, visit our country guide section and start your planning NOW!
X
FREE STUDY ABROAD

Free study abroad expert advice