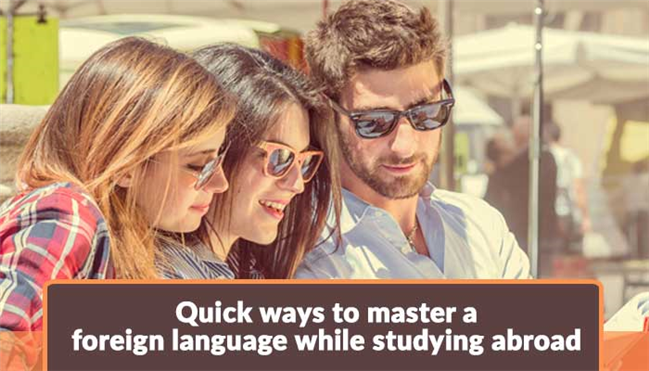 How to Sharpen Your Language While Study Abroad
The best way to make someone understand about your feelings is to communicate with someone. For this purpose you need to make structure of good words and language to make people understand that what you want to say. But, if the same case you want to apply on the people who do not understand your language then you will get a great disaster. Mostly, these kinds of problems our students or Pakistani people face while living/studying abroad. So for living or Study in International Destinations the very basic thing that you must learn at firs hand is the language of the country where you are going to take start an education career. Linguae is more important the idea of which we can take from the fact that there are Foreign Universities that teach the International Language. Anyhow, it is not an easy task to learn a new language within less time of period but I hope that by following the below mentioned tips you may get fast result to sharpen a language.
Watch TV Shows
TV shows is the wonderful idea to improve your language skill. In the television shows there are reality shows and cultural shows publish. So, under these circumstances you will get a good chance to sharpen the foreign language. Try to listen sharply that how they speak and what are the pronunciation they are using for offering the words. Make a fine practice on daily basis to get a quick result.
Apply Language in Phone or Social Accounts
We spend our much time on the cell phones or social media accounts. So, the best suggestion is to learn or sharpen the language through phones or social media accounts. For this purpose just change the language of your profiles and phones. Make text in the language that you want to sharpen. No doubt, you will face many difficulty in understanding and typing the text and posting but with the passage of time you will face that it is going good for you.
Talk to Native Speakers
Linguae will enhance your Study Abroad Experience. There is another best way which is that to make friendship with the natives and talk to them. By talking with the local people you will make familiar with the accent properly that how to speak actually. Do not feel hesitation and tell the native people to make your help in learning language.
Download Practice Apps
There are different kinds of apps we see available in the app stores that help to learn the language. There are proper practice activities are available in the mobile apps that help to overcome the language barrier within less time period.
Grabs the Vocabulary
Vocabulary is the thing that make you expert that how to talk with using proper wordings. So, try to add more and more vocabulary into your mind. For this purpose you can take the help from the internet web browsing and mobile apps.
Take it as an Entertainment
The best suggestion for the language learner is that take this task as an entertainment instead of taking this as a challenge. The challenges are, somehow, difficult to chase. However, entertainment a person get with full of joy and in relax mood.
X
FREE STUDY ABROAD

Free study abroad expert advice