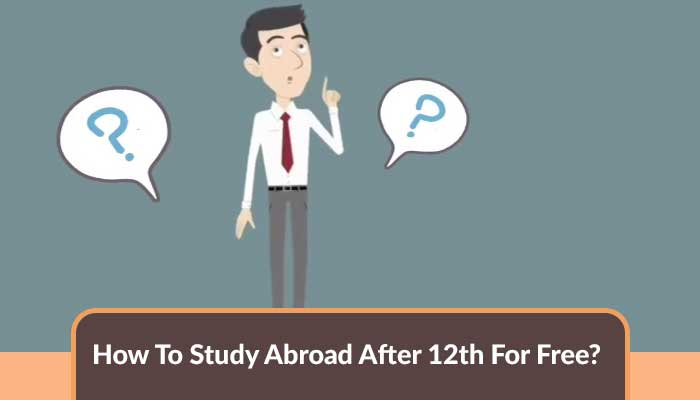 A large number of Pakistani students aim to study abroad after the completion of their intermediate. The most challenging thig for those students is finance. It is hard for many of students to manage the study abroad expenses. As finance is the main reason for students to find the ways for free after 12th in any foreign country.
It is possible to fulfill the dream of study abroad on scholarship for any undergraduate program. Though it takes time and may be difficult but not impossible, as many Pakistani students getting education form abroad universities for free or exchange for a very small amount.
Important Points That Can Help Students For Study Abroad
Here are some important points for those students who want to pursue their education for free
Pass the IELTS/TOFEL or any other English language proficiency test with a valuable score

It makes the student's admission possible in top universities on scholarships, if they achieve good marks in GRE and GMAT exams

Choose the country with less living expenses

To get the student visa ad scholarships easily, it is advised to choose the right course relevant to previous study course
Steps To Study Abroad For Free After 12th
Here are some important steps that students have to follow for admission in any foreign university
Country Selection
Students who want to pursue quality education within affordable budget should select the country carefully. Selection of university comes first, before going to select the respective institutes for studies. Selection of suitable country helps the students in managing finance. Countries which are less expensive and have excellent advanced education system are best for Pakistani students. Here is list of countries where Pakistani students can go for studies after 12th
Austria

Germany

Turkey

Italy

Norway
Part Time Job Options For International Students
It is expensive to live in another country, though expenses for education may be covered by some scholarships source but other expenses like clothing, food and traveling sometimes harder to manage. Some countries allow the students for part time jobs where students can support themselves financially. So where scholarships cover the tuition fee, students can cover their living expenses through part time jobs.
College/ University Selection
After selecting the country, next is the selection of suitable college/ university. Students must be careful about the scholarships, courses and its fee structure while choosing the university. There are a lot of private and public universities, so students have to choose the public university for studies because fee structure for private universities is not affordable for students. Here is a list of top universities/ best ones to be selected
University of Helsinki

University of Oslo

Aalesund University College

University of Salzburg

University of Vienna

University of Natural Resources and Life Sciences

Humboldt University of Berlin

University of Cologne

UiT The Arctic University of Norway
How To Apply For Study Abroad?
First of all select the university

Fid the course you are going to apply

Fill an online application and submit all the required documents there

Wait for the acceptance letter and after getting an offer letter from university, students have to proceed for student visa.
If you have further queries, you can book your free counselling session.
X
FREE STUDY ABROAD

Free study abroad expert advice