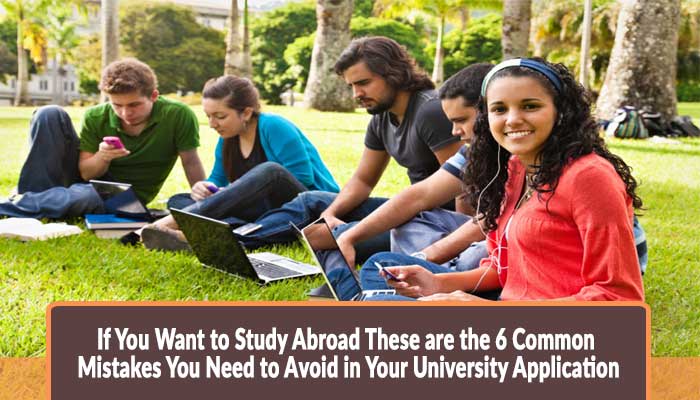 If you aspire to study abroad then you must have received several pieces of guidance from various sources, but we all agree that studying abroad is a unique and a personal experience. Only by personally dealing with the technicalities, one will obtain insight into them.
Applying to study at a university in a foreign country for the first time can be nerve-wracking. One of the most crucial steps in realising your goal to study abroad is submitting an application to a university. If you're applying to a foreign university, here are five typical mistakes to avoid in your university application.
A Missing Document
It is important that you attach all the relevant documentation to your university application when applying to study abroad. Every year, it is estimated that nearly 70% of university applications are rejected due to this reason.
To stop making this error, go to the university's official website to look at the list of required documents for admission, or email them directly. Secondly, double-check after completing the admission form to ensure that no required documents are missing.
Unnecessary information
You need to provide your personal information when you are applying for the university application, but there is always a limit to the information which you are providing.
Only provide information which is necessary and asked for. Make sure that you do not overdo it. Only attach those documents which are required by the university.
Invalid Passport
If you're applying to study overseas, your passport is the most valuable thing that you will need. When filling out your university application, make sure you have a valid passport and if there is an error in your passport, your application will be withheld or denied.
A passport that is valid for six months at all times, or that is it is at least valid for six months at the end of your program, is required by most foreign university. So, if your passport is about to expire, make sure that you have renewed it.
Grammatical mistake in your University application
Grammatical mistakes in university application are a big no. If you want to study abroad, you are required to at least have basic level of written and spoken English skills. Make sure that there are no spelling errors and punctuation mistakes. The context of your university application should be accurate and grammatically inclined.
If you're having trouble filling out your university application or don't understand anything, get it double-checked by someone with a better understanding of the English language.
Delay in payment of your application fee
Many students are unaware that universities frequently charge a fee when they submit an admission application. These fees must be paid as part of the application process and are not included in the tuition fee.
If you are applying to a university, you should be aware that nearly all universities have a non-refundable application fee policy, which means you would not be able to get your money back if your acceptance application is denied. The estimated application fee ranges between $80 and $90.
Do not miss the application deadline
Sending your application late can adversely affect your admission process. Timely submission of a university application will have a positive effect as majority of the universities monitors when students send their applications. It demonstrates your regard for the value of time as well as the institute to which you are applying. Furthermore, late application submission will derail your hope of studying at a reputable international university.
Furthermore, if you submit your application early, you will have plenty of time to correct any errors, such as submitting your application to the wrong email address or to the wrong place, or if you have a missing paper.
X
FREE STUDY ABROAD

Free study abroad expert advice