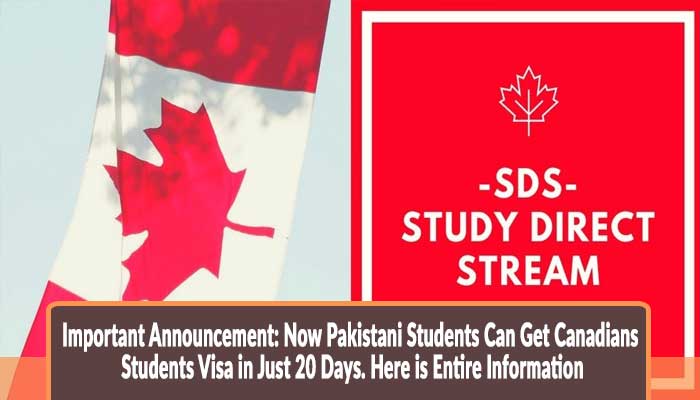 The Canadian Government is including Pakistani students in its Student Direct Stream (SDS) programme. The announcement was made on 26th July 2019. The Student Direct Stream (SDS) programme will allow Pakistani students to process their student permit within 20 days duration. The SDS Programme extracts more up front information of language tests, financial proof and additional information from prospective students and the process of document authentication and visa requirements can be executed more efficiently through it. SDS programme is fastest way for Canadian Student Visa attainment for Pakistani students now. The entire process of SDS is explained here: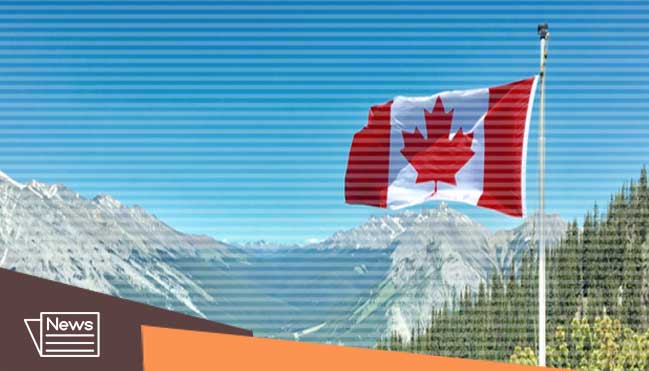 Eligibility Requirements to Apply for Canadian Students Visa Through SDS
Pakistani students will provide following documents in order to be eligible for Canadian Students Visa:
An official letter of acceptance issued on a name of student by Canadian Designated Learning Institution is required.

Medical examinations certificate issued by designated medical center of Canadian Embassy in Pakistan. The letter must be confirming the candidate is in good health and does not suffer from contagious diseases.

Providing Guaranteed Investment Certificate (GIC) of $10,000 is necessary

Prove of tuition fee payment for the first year of study programme in Canada.

Proof of language proficiency: Pakistani students must prove either they have studied or passed higher secondary school diploma in Canadian curriculum or provide IELTS TEST SCORES (at least 6 bands) fir English language of instruction course or NCLC 7 for French taught course.

The fee of Student Direct Stream (SDS) is USD 150.

The students will also provide biometric details to Canadian Embassy.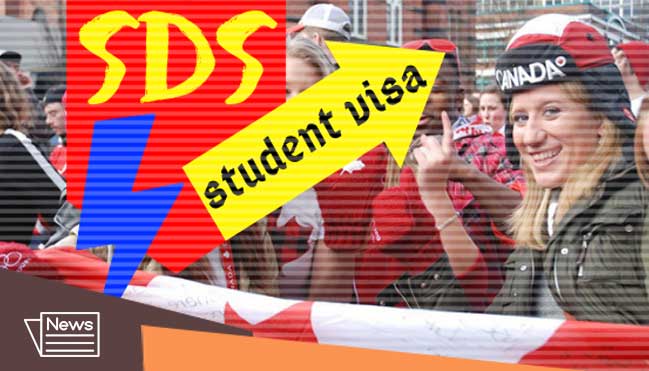 Application Process
Pakistani students who meet the above mentioned eligibility criterion can submit the student visa application at Visa Application Centre (VAC) located in your city. Immigration, Refugees and Citizenship Canada (IRCC) will issue Point of Entry (POE) letter to the applicants whose applications are accepted for visa. The Point of Entry Letter will serve as proof of student permit approval for students. The application will be processed within 20 days and if your application is being approved you will receive Point of Entry letter of introduction and also temporary resident permit visa enabling you to enter Canada.
What is Benefit of SDS?
SDS is fastest way of getting Canadian Student permit for students. The applications will be reviewed immediately and the process will be executed within 21 days only. Moreover, if SDS does not approve application of some student, the IIRC will process the application as regular study permit application. Currently, there are only 5 countries included in this programme namely: Pakistan, China, Vietnam, Morocco and Philippines. International students of these countries will have Canada Student Permit Visa fastest than other residents of other countries.
High Commissioner of Pakistan to Canada Raza Bashir Tarar Has Appreciated Canadian Government for SDS Participation
High Commissioner of Pakistan to Canada Raza Bashir Tarar has appreciated Canadian Government for including Pakistani students in this programme. In his meeting with Canadian officials, he said that Pakistani students are academically thriving and they come second to none in the world. He further said this initiative will facilitate Pakistani students in getting visa to study in Canada efficiently. He high commissioner thanked the Canadian parliament members and Immigration Minister Ahmed Hussen for making this programme applicable for Pakistani students.
X
FREE STUDY ABROAD

Free study abroad expert advice