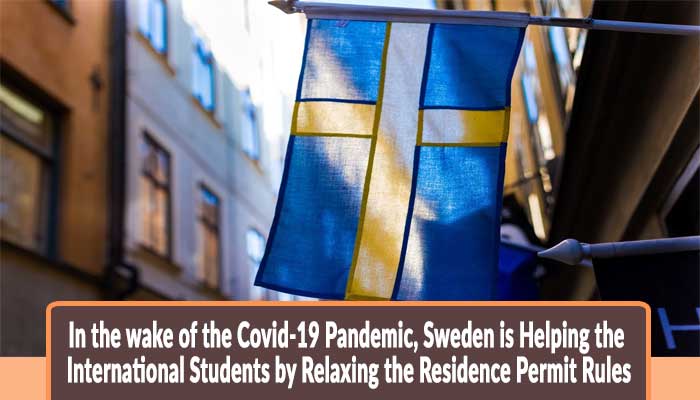 Covid-19 has wreaked havoc on the planet, and the deadly third wave of this pandemic is worsening the situation, especially for international students. Millions of students are clueless and feel stranded due to the current crisis as many foreign countries have closed their borders for international students. Sweden, on the other hand, has spoken out in favour of international students, and in order to make it easier for them during these trying times, the government has declared that it will loosen its Residence Permit Requirements for international students. This measure was taken to make it easier for foreign students to resume their studies and obtain a residence permit in the midst of the pandemic.
Prior to the pandemic, foreign students were expected to be on campus for 50% of their course in order to obtain a Residence Permit. However, in order to make it easier for foreign students, this condition has been lifted by the Swedish Migration Agency.
A special exception has been made for non-EU students attending online lessons. Previously in order to get a residence permit it was necessary for students to be on-campus, however in 2021, students have put forward their concerns about online learning while living in different time zones and how challenging it is for them to manage their studies. Furthermore, travel and border restrictions forced them to return to their home countries, preventing them from renewing their residency permits. It has been confirmed that on-campus attendance will not determine whether or not a foreign student will be granted a residence permit. Now students will be able to get the permit as many Universities in Sweden are offering courses online.
The Swedish Migration Agency, stated that its prior exemption of not requiring student permit holders to leave Sweden during the summer holidays in order to apply for a new permit for the forthcoming semester would be maintained for the current year. Furthermore, regardless of the start date of the course, applicants will be eligible to obtain a student permit for university studies beginning August 1, 2021.
Top Universities in Sweden for International Students
Sweden provides many benefits to foreign students. Thus, if you wish to study in Sweden, here is a list of Sweden's best higher educational institutes.
Karolinska Institute (KI)

Lund University (LU)

Uppsala University (UU)

Stockholm University (SU)

University of Gothenburg (GU)

Chalmers University of Technology (Chalmers)

KTH Royal Institute of Technology (KTH)

Umeå University (UMU)
Study in Sweden.
Sweden is an excellent choice for students who choose to study abroad. This country is well-known for its outstanding educational faculty. As a country where English is not the first language, Sweden offers several degree programmes in English, especially the Master's and Doctorate degrees. A recent study by Times Higher Education World University Ranking 2021 included 12 Swedish universities in its list, with nearly 5 of them ranking in the top 200. Studyabroad.pk has a large number of experienced advisors that provide consultancy for study in Sweden.
X
FREE STUDY ABROAD

Free study abroad expert advice