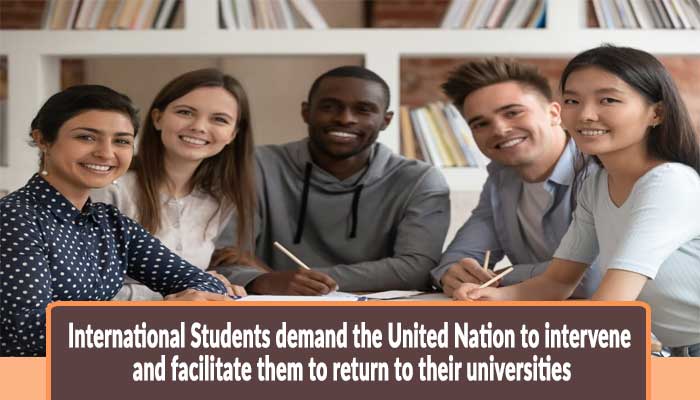 In March 2020, the whole world was paused due to the ongoing Corona Virus and the extreme surge in the number of Patients. This caused many international students to move back to their countries and hometowns as countries closed their borders to stop the virus spreading further. Now after a whole when on one hand many countries are providing clear news regarding the return of international students, countries like Australia, Japan, and China still have not allowed the international students to return to their universities.
This is causing anger and anxiety to the students and students are getting more and more frustrated as they are unable to return to their universities due to Covid-19 border restrictions.
What Does the Students Demand?
"With our deepest request, We humbly request your help to make sure the governments of China, Australia and Japan will soon resume issuance of new visas for international students." said the students in a letter to United Nations. This letter was signed by over 20,000 international students and in the letter the students demanded that it is high time that United Nations should intervene now and help the students in returning to their universities in Japan, China and Australia.
In the letter the students emphasized why studying in the host country is important and listed their concerns in points. The letter read that " As international students it is crucial for us to be physically present in our host countries since real language learning is only possible when immersed in the environment. Our inability to be present will result in a detrimental effect on our learning and this will even have a negative impact on our health as we will need to follow the online courses with a jet lag, as many of us would have to take online classes enduring the time difference which might take a toll on our mental health. Some of the students are waking up at 3AM to take online lectures and to follow our course."
Another statement in the letter was about the cultural exchange between students while studying in an international land, "Many of our academic programs require the cultural exchange that many international students provide to enrich the experience and knowledge of Chinese, Australian, and Japanese students enrolled in the university."
International students studying PhD and Medical
They also highlighted the importance of being physically present for lab courses, especially for students of PhD and Medical, who need physical access to labs for their work, and thesis preparation, "Many of our graduate programs in our host countries require the realisation of a thesis as a requisite to get the diploma. The thesis must be constantly checked and assessed by a university professor and in-person collaboration is essential to the quality of the work. PhD students require physical access to labs for their work as well as medics who need labs and clinics too for their study and internship years. Because of this they have been forced to suspend their studies indefinitely."
International students are continuously seeking an answer from the authorities and governments of these countries. International students all across the globe including Pakistani students are demanding the opening of international border as the border restrictions are causing them trouble and their precious time is being wasted. According to students they had to start their courses in April 2020 and October 2020, but they has to postpone it for the academic year 2021, and even after a whole year and have no clarity as to when they will be able to start. A lot of the students claimed that as they were originally scheduled to arrive before April term, they left their jobs, and apartments and are not stranded.
X
FREE STUDY ABROAD

Free study abroad expert advice