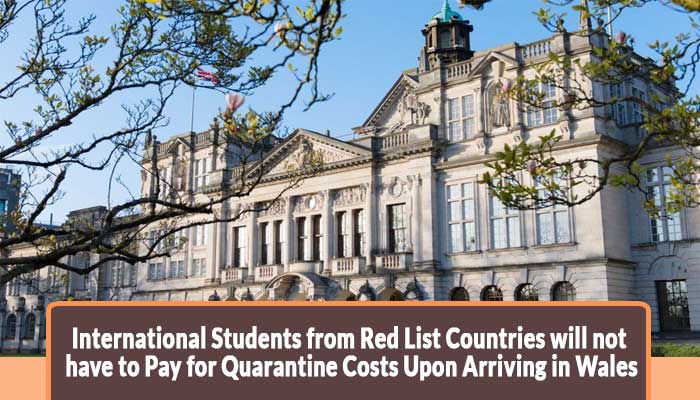 During the third destructive wave of the novel Corona Virus, United Kingdoms announced a nationwide lockdown. The three-tier measures separated the countries into three different lists, green, amber and red list. Each list had its own set of restrictions for arrival into the United Kingdom. And the latest update in the system was announced on July 14th.
International students and citizens from Red list countries will have to quarantine for 10 days upon arrival in UK, at their own cost and will have to take two Covid-19 tests.
Universities in Wales to offer financial support to international students
However the Government of Wales has extended its helping hand to international students. Prestigious Welsh institutes such as Bangor University, the University of South Wales, Cardiff University and Swansea University have offered help to international students, the institutions have volunteered to cover the quarantine costs for international students, and the total cost ca mount up to £1,750. Aberystwyth University, on the other hand, has chosen to offer roughly £1,000 per student to cover quarantine costs.
Whereas other Universities such as Cardiff Metropolitan University and the University of Wales Trinity Saint David (UWTSD) has announced that online learning will be available to international students until they can fund their quarantine expenditures.
The Welsh Government has advised the international students to get in touch with their respective university and seek guidance regarding this matter.
Backlash Against this Scheme
However, many find this varied support for international students unfair. The National Union of Students (NUS) Wales said that all students pay equal tuition fees between £10,000 and £20,000 every year so why are they not provided equal funding.
NUS Wales president Becky Ricketts said that, "International students already pay far higher tuition fees, without which universities would face financial collapse, It is also wrong that some international students will have their quarantine paid for, some will have to pay, and others will have to wait and learn online, all the while paying the same high fees as students in the classroom. Financial support should not be dependent on which institution you choose to attend." And if the government fails to pay the costs then universities need to "step up" she added.
Cara Aitchison, Cardiff Metropolitan University's vice-chancellor has said that, "There will be students arriving from red list countries. That's obviously much more complicated. Not least because they'll be arriving into England and then coming on to Wales after completing their quarantine."
She further added that international students are already facing many challenges in their home countries, so it is entirely their own decision as to when they want to travel to wales.
She further told that United Kingdom has now allowed the international students to postpone their arrival in UK until April 2022. Meaning the students who are unable to pay their quarantine fee at the moment can stay in their home country and start their online course there.
The Government of Wales on the other hand has said that considering the high costs of quarantine the universities are open to provide any kind of financial support and that, students should contact their universities for further information on this matter.
"Welsh universities are considering how they can support international students to start their courses remotely to allow them to delay travel while case rates and risks in their home countries are high." The Welsh Government said.
X
FREE STUDY ABROAD

Free study abroad expert advice