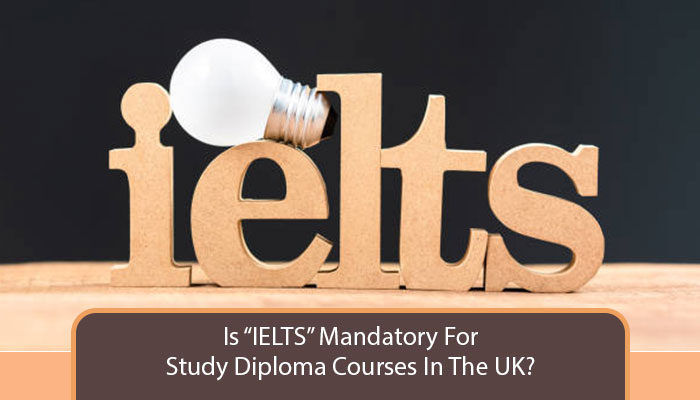 International English Language Testing System (IELTS), is a normalized language evaluation test utilized by colleges overall to survey their imminent worldwide students and their language abilities. The IELTS test comprises 4 areas: reading, writing, listening and speaking. After taking a 3 hour test students will get a total score on the entirety of their fundamental English language abilities.
You might know about the information, how students apply in the "UK WITH IELTS" test because they want to get higher education with international premises.
But the question states, is IELTS mandatory to study diploma courses in the UK? Since getting a higher education degree acquires at least 2 years and a diploma is completed in 6-12 months. Each University has a different eligibility criteria as some of the universities do not offer diploma courses without IELTS while others universities allow diploma courses without IELTS.
Requirements For Diploma Courses In UK Without IELTS
Each university has a different eligible criteria, some does not acquire IELTS or any other requirements while others may want you to fulfill some eligible option and here those following requirements:
English as a medium in your previous education, you're proficiency in English language is the key to apply in the UK for diplomas.

Having at least 60-70% marks in English Language, either in high school or our bachelors.

Choosing English as a major in your Bachelor's degree, this shows the institution that you have a strong grip and familiarity with English Language.

Online interview for the conduction of your language skills and confidence for choosing the degree programs.

English assessment or pre-sessional English.

You can apply if you have completed at least 11 years of your education.

You can also take an English proficiency test with a minimum required score.

You can also take the Test of English as a Foreign Language (TOEFL) or Pearson English Language Test (PTE).

If you want to acquire a diploma in management then Graduate Record Examinations and Graduate Management Admission Test are essential.

There are some courses for 16-18 years old students that does not require IELTS.
Universities That Does Not Acquire IELTS For Diploma Courses
London Southbank University

Northumbria University

The University of Bolton

The University of Northampton

The University of Plymouth

Portsmouth University

Aston University

The University of Warwick

Birmingham City University

The University of Bristol
Diploma Courses in UK for International Students
Birmingham City University
ACCESS TO HIGHER EDUCATION DIPLOMA (BUSINESS)

ACCESS TO HIGHER EDUCATION DIPLOMA (SOCIAL SCIENCE AND HEALTH)

ACCESS TO HIGHER EDUCATION DIPLOMA (COMPUTER SCIENCE)

BUSINESS Level 3 National Foundation/National Extended Diploma
Aston University
Postgraduate Diploma for Overseas Pharmacists (OSPAP)

Foundation Programmed in Science: Health Science
Northumbria University
Legal Practice Postgraduate Diploma

Bar Skills Course
Benefits Of Diploma Courses In UK
There are various students that pursue diploma courses in UK for beneficial reasons and here are some of the following reasons:
After you complete your diploma, you can get excess of several career opportunities and find jobs instantly.

These courses are beneficial for students who're looking for an instant earning option.

These course are completed in 6-12 months and higher education requires a long time.

They offer diverse course range, whether you want a part time, full time course or short courses.

These courses are also good for those people who wants to peruse entrepreneurship.

These courses can develop an efficient skill that can be proven helpful.

You can also travel and explore that country until your course is complete.

You can get a chance to opt for a diploma course in an internationally recognized university.

The parameters of quality of education in the UK is quite more vigilant than any other country.

Diploma courses are available in an eligible economic range.

You can easily merge with the multicultural society because people belonging from different ethnicities live there.
Diploma Courses In UK After 12th
Here are some of the diploma courses you can avail after your 12th standard:
Diploma in Marketing

Diploma in Journalism

Diploma in Film Making

Diploma in Psychology

Diploma in Forensics

Diploma in Art & Design

Diploma in Fashion Design Technology

Diploma in Business Analytics

Diploma in Supply Chain & Logistics Management

Diploma in Sales

Diploma in Tourism & Hospitality Management

Diploma in Business & administrative studies.

Subjects allied to medicine.

Diploma in Biological sciences.

Diploma in Social studies.

Diploma in Creative arts & design.

Diploma in Engineering & technology.

Diploma in Computer science.

Diploma in Languages.
Note:
You can acquire your visa for the UK without IELTS, with a valid passport, financial proof with bank statement, medical certificate and consent certificate of your parents if you're less than 18. You also need the acceptance document from the university and a certificate that justifies you as an eligible candidate to study in the UK without IELTS.
X
FREE STUDY ABROAD

Free study abroad expert advice