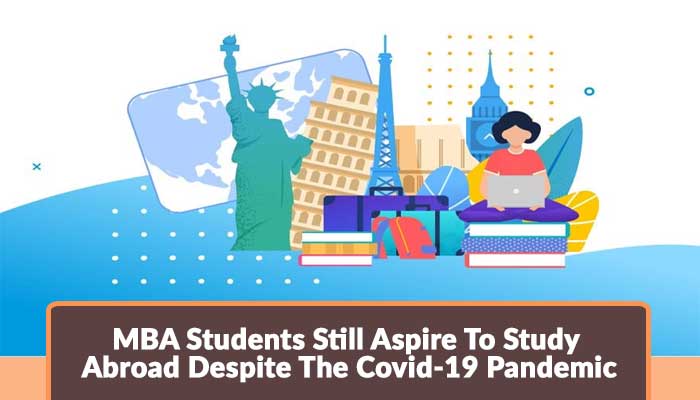 Covid-19 deeply affected the study abroad programs all around the globe, due to the pandemic international students studying in abroad had to leave due to the lockdown situation and border closures across the globes, and during this time students were introduced to the new term of learning known as Remote learning or Online learning.
Almost after a year of this pandemic students are now being eager to start and resume their courses and that is the same case with Business students. The latest report by Graduate Management Admission Council (GMAC) which was released recently showed that almost 70% of the business school candidates still want to study abroad to pursue a degree in business despite the ongoing threats of Corona Virus.
The research has also shown that the number of students who were concerned about studying on campus last year due to ongoing covid-19 situation has also decreased, as the number fell from 43% to 33%. Graduate Management Admission Council (GMAC) surveyed students who were planning to enroll in business programs in 2021.
The CEO of GMAC said that "As vaccines become increasingly available prospective students around the world are seeing light at the end of the tunnel regarding the global pandemic."
The idea of remote learning has not settled quite well with international candidates. As they are continuously in support of learning on campus. The major reason being the desire to study and work abroad.
Almost 78% of the students plan to study abroad because of the work opportunities they will get after graduating from a foreign and a well-reputed international university, and also to enjoy the multicultural and diverse study environment in foreign universities.
The reason behind why business students are applying to study abroad in great numbers is because according to them remote learning does not offer the same opportunities as in person learning and it the idea of studying online will be deeply effecting their work life after graduation. Almost 43% of the male candidates taking part in this survey highlighted that the career opportunities in the future were getting worsened because of online studying.
Soojin Kwon, GMAC board director and managing director of the full time MBA program at Michigan Ross School of Business, said that "COVID-19 has fundamentally disrupted the future of work and the skills that are required for future success,"
X
FREE STUDY ABROAD

Free study abroad expert advice