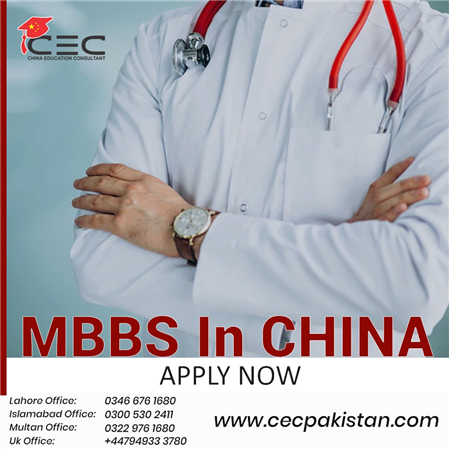 What types of universities do they have in for MBBS?
The area of higher education in China is multisided. Different types of universities offer different specific subjects.
How can I apply For MBBS in China?
To apply at a MBBS in China University, you need a university entrance requirement.
Affordable Fee Packages of MBBS in China
Globally recognize medical degree in China
Excellent public security in China
Easy for admission of MBBS in China
Plenty of internship of MBBS in China
Long-standing history and profound culture of China
Do not required any entrance test for pursuing an MBBS in China
Because of the minimum acceptability criteria, it is easy to take admission to MBBS in China.
WeChat:
https://cecpakistan.com/mbbs-in-china/
Cell: 0346-6761680 / 0333 4961680
cec.pakistan@yahoo.com
Consultant Info
X
FREE STUDY ABROAD

Free study abroad expert advice