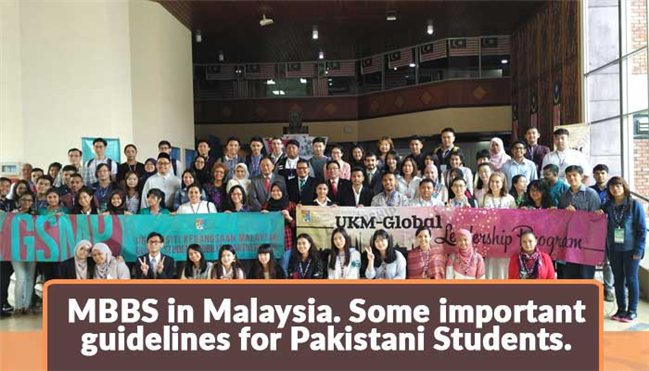 Malaysia is one more favorite study abroad destination for international students because of having aspects of quality education, affordable fee and living cost, English taught courses, presence of multi cultural environment, security factor and affiliations with world class Universities. Malaysia is center of high quality education in Asian countries. The education system in Malaysia is designed in a manner to give career focused education, up to dated teaching techniques and work facility while studying. MBBS degree from any Malaysian University is equivalent to that acquired from any other world class University. Here are some important guidelines regarding pursuing MBBS degree in Malaysian University.
World Wide Approved MBBS Degree:
The MBBS Degree offered by Malaysian Universities is accepted worldwide. The graduated doctors will not have any hurdle attaining jobs anywhere in the world. International students including Pakistani students can also get an accredited degree through twinning programme of Malaysian Universities with Universities of UK, USA, Australia and Canada.
International Standard of Course:
MBBS Degree is a 5 to 6 years course in Malaysia. Most of Malaysian Universities have accreditation programme with Universities of Ireland, UK, Canada, Australia and others. The MBBS degree is comprised of two phases such as:
Pre- Clinical

Clinical Training
The students have an option to complete the first 2 to 3 years of Pre-Clinical phase in overseas through twinning program in UK, Ireland and others and the next phase of Clinical Training must be done in Malaysia. The MBBS degree is approved by Ministry of Health (MOH) and MMC (Malaysian Medical Council).
Merit for Admissions:
Admissions requirements might be a bit different in different Universities for MBBS. But particularly the merit includes:
Academic entry requirements ( above 70% academic score)

English language proficiency

Age requirements. (Must be 16 to 18 years)
Course Structure:
During Pre-Clinical phase of MBBS Course, the students will be taught most basic and fundamental concepts. The students will be taught subjects:
Biochemistry

Anatomy

Pharmacology

Pathology

Microbiology & Genetics

Hematology & Immunology

Ethics & Behavior
During Clinical Training the students will be given practical training in hospitals approved by Ministry of Health (MOH).
Living Cost and Part Time Job:
The Students are allowed to work 20 hours a week and minimum wage in Malaysia is RM5.05 an hour. Living cost is almost RM100 including travelling, socializing, movies, clothes etc. The Quality of education you will get in Malaysia cannot be attained with same cost anywhere else.
Best Medical Universities of Malaysia Approved by WHO (World Health Organization), MQA (Malaysian Qualifying Authority), WHO (World Health Organization) WDOMS (world directory of medical schools, FAIMER (The Foundation for Advancement of International Medical Education and Research), WFME (World Federation of Medical Education) are as below:
Lincoln University College.

Universiti Kebangsaan Malaysia Medical Centre

Universiti Sains Malaysia School of Medical Science

University Malaya Medical Centre

International Medical University

Universiti Putra Malaysia Faculty of Medicine and Health Sciences.

Universiti Malaysia Sarawak Faculty of Medicine and Health Sciences

International Islamic University Malaysia Kulliyyah of Medicine

Penang Medical College

Universiti Kuala Lumpur Royal College Medicine of Perak
X
FREE STUDY ABROAD

Free study abroad expert advice