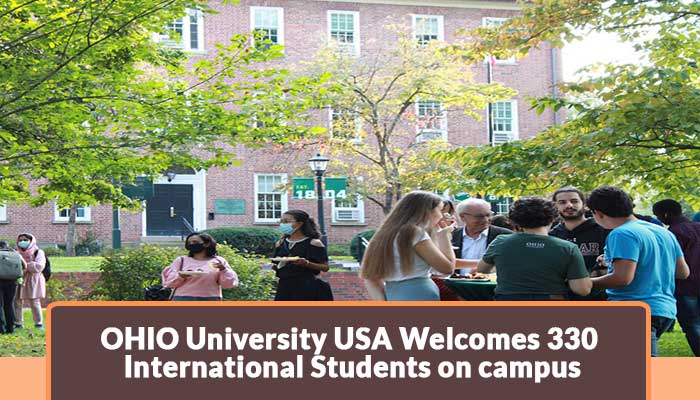 It is the dream of every bright student to study abroad and in a well reputed university or college and get a world class degree. The University of Ohio provides various programs for study in usa for international students as Universities around the world are starting their fall semesters due to international border reopening following declining cases of the ongoing pandemic.
Ohio University is one of the oldest universities being established in the year 1804 in the state of Ohio. The university is home to faculty, staff members and students from across the world. Students can avail Ohio University scholarships for international students as Ohio greatly awards bright students and provides international students scholarships regarding financial assistance. Students from all over the world including 330 students have recently joined the Ohio university community. President Mr.Hugh Sherman on september 28 welcomed the new international students on campus by arranging a welcome party.
Students To Feel at Home
Mr.Sherman expressed his views that international students contribute towards their culture and add diversity to their community and that he is proud that they have chosen OHIO as their study destination and that his team is committed towards students attaining success. Students before starting their semester participated in the International Student Orientation program organized by International Student and Faculty Services. Critical information is provided to international students such as information regarding University culture, special events and academic support facilitating students to quickly adjust to new environments and provide a sense of belonging.
Welcoming & Preparing International Students For Future
ISFS or Globalizing the Campus Committee of the University International Council has implemented various steps regarding feedback from students to enhance available resources and information. The Director of International services and operations Diane Cahil expressed that "pandemic had greatly impacted flights availability, quarantine needs, consular offices as ⅓ of the students had arrived after orientation"
Fall Semester International Student Preparations
Diane Cahill is of the view that "Students who participated in person expressed great excitement to back on campus as we have have also greatly missed student engagement. For arrangements of fall semester we implemented focused group interactions, collaborative social security card procedure with collaboration with Athens social security office and hiring graduate students by booking appointments. Students should feel well settled after orientation and they prepare their student toolbox equipped with all necessary resources to tackle the various challenges for semester one before walking into class on the first day.
International Student Corona Pandemic Hurdles
2020's coronavirus pandemic grealy affected international students as they faced and handled many challenges including travel restrictions, visa delay, border closures, financial problems and immigration restrictions. The Athens community members, ISFS OHIO and Spearhead organization formed by the International student task force organization contributed their support and commitment towards international students through various programs like student grant fund for foreign students, community engagement crowdfunding and emergency relief fund for international students.
International students arrival
International students' arrival at OHIO University shows the dedication and resilience towards having excellent academic experiences at the University campus. Navin Prakash graduate student studying English from Nepal express his views "Experiencing everything like arriving and settling in athens like getting used to new culture, new place was the pursuit of knowledge as it takes certain time to learn the ways and feel comfortable"
Interim Executive Director for Global Affairs Ms. Ji-Yeung Jang says " International students had to go through many obstacles to get here as we feel thrilled to welcome students whose presence enhances our learning and living community at the university campus. Everyone must try to provide a welcoming environment as much as possible towards international students so that they enjoy equity, feel at home and become part of our society at all levels". International students must utilize this opportunity regarding study in usa for international students as the University of Ohio facilitates international students.
X
FREE STUDY ABROAD

Free study abroad expert advice